Coronavirus: Virus isolation period extended from seven to 10 days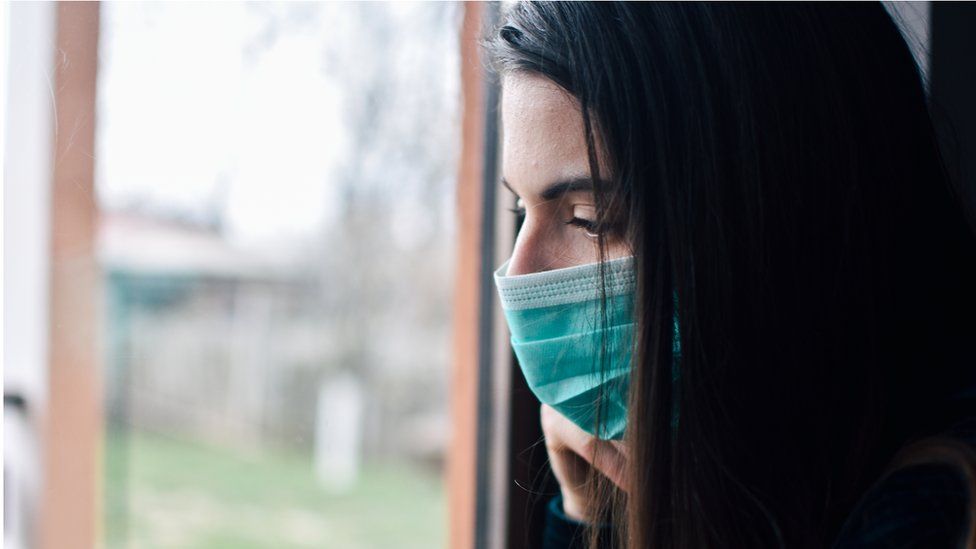 People who test positive for coronavirus or show symptoms in the UK must now self-isolate for at least 10 days, rather than seven.
Until now, those showing key symptoms - a new continuous cough, a temperature or loss of taste or smell - have had to self-isolate for at least a week.
The new advice is in line with World Health Organization guidance.
The chief medical officers said the change is "particularly important to protect those who have been shielding and in advance of the autumn and winter when we may see increased community transmission".
Evidence shows that people with Covid-19 have "a low but real possibility of infectiousness" between seven and nine days after falling ill, they said.
People are most contagious just before they first display symptoms and for the first few days afterwards. But scientists say evidence that they could pass it on up to nine days later has "strengthened".
Advice on the length of isolation varies between countries. For example, the Irish Republic says those who have symptoms should isolate for 14 days, while in the US those with symptoms are told to isolate for 10 days and can only leave isolation if they have had at least 24 hours without a fever.
Speaking on BBC Breakfast before the announcement, Health Secretary Matt Hancock said the government wanted to "take a precautionary approach" and "protect people from that wave reaching our shores".
Frank Atherton, chief medical officer for Wales, said the change was "vital" and "nobody should be under the illusion that coronavirus has gone away".
The government has also confirmed that registered health and care professionals travelling to the UK from high-risk countries will be required to self-isolate for 14 days. An quarantine exemption for health professionals had been in place since June.
Meanwhile, the government is expected on Friday to announce a decision on whether to ease restrictions in Leicester, a month after the city was put into extended lockdown following a spike in cases.
The mayor of Leicester, Sir Peter Soulsby, expressed frustration at the delayed decision, originally expected on Thursday.
"We haven't got a clue what's going on, we really haven't," he said.
'The brakes are beginning to come on'
Two or three weeks ago the message from the prime minister was that, hopefully, we would be back to near-normality by Christmas.
The direction of travel was one of lockdown easing, with pubs and restaurants reopening, as well as a feeling that we seemed to be getting through it.
Now, there's a real sense of the brakes beginning to go on.
We saw it with the quick quarantine measures imposed on people returning from Spain. Luxembourg may well have similar restrictions soon and they're keeping an eye on Belgium too.
We had restrictions imposed in Oldham to curb the virus there and now there's been an extension of the self-isolation period.
The real apprehension is that what is happening in the rest of Europe may, in time, happen here.
To some extent, that has been the story of coronavirus: we have tended to follow what has emerged in mainland Europe.
Official figures published on Thursday showed that 43,119 people who tested positive for Covid-19 in England had their cases transferred to NHS Test and Trace since its launch in May.
The tracing system successfully contacted just over 77% of these - but just over 23% were not reached.
The figures, from the Department of Health and Social Care, also showed that of 222,589 people identified as close contacts of those who tested positive, 83% had been reached and asked to self-isolate.
Prime Minister Boris Johnson's pledge - that by the end of June everyone tested in person would receive results within 24 hours - is still not being met, with about three-quarters (76.4%) of people getting results on time in the week up to July 22.
For those using home testing kits, 76.9% received results within 48 hours.
But the government is concerned that some people are not coming forward for testing, hampering its ability to track outbreaks, because they wrongly think they have to pay for it or that they are not eligible.
'A decision that could have been taken months ago'
The UK requirement for people who test positive or show symptoms to isolate for seven days was always on the low side - plenty of other countries require 10 days or even longer.
As coronavirus is new, there is still a lack of certainty over how long someone remains infectious, which is why there are a variety of approaches.
UK health officials say there is enough evidence now to point to a "low, but tangible" risk of transmission from seven to 10 days, even for those with mild to moderate illness.
This is a decision that could have been taken weeks, even months, ago in truth.
But officials are describing it as a "value judgement" based on a variety of reasons.
For one thing the easing of restrictions means we have more social contacts than we did previously - so even with the low risk of transmission post seven days, the chances of passing it on increases.
The availability of widespread testing also means only those with a positively confirmed infection need to continue isolating - earlier in the pandemic the lack of testing meant a blanket approach had to be taken so anyone with symptoms was asked to isolate.
But it is about sending an important signal too. Levels of infection are low, but the message is clear: we can't be complacent.
The government is launching a TV and online advertising campaign on Thursday night stressing that anyone with symptoms should get tested, which is free and available to all.
Only about a third of people infected are thought to come forward for tests, although some of the untested cases may be people who do not have any symptoms.
Those in a household with anyone who tests positive or shows symptoms are told to self-isolate for 14 days.
Ministers are also looking for a way to reduce the current 14-day quarantine period for arrivals to the UK, meaning that quarantine and self-isolation time periods could be standardised at 10 days.
Mr Hancock told Today that the government is looking at using testing to reduce the length of the quarantine period - but there would be no imminent changes.
On Thursday evening, Luxembourg was removed from the quarantine-free list, meaning people arriving in the UK from the small land-locked country from midnight will need to self-isolate for two weeks.
A senior government source told the BBC that Belgium would stay off the list - for the moment - but case numbers would continue to be monitored.
Leading travel and airline industry figures called on Wednesday for coronavirus testing at airports in the UK but the source said that "any new system had to be workable and at the moment it isn't".
Mr Hancock told Breakfast that the "big scientific challenge" with testing arrivals at the border is that people "can incubate this disease for many days without displaying any symptoms, and that wouldn't show up in a test".
What are the rules on self-isolating?
Self-isolating means staying at home and not leaving it.
Anyone who has either tested positive for coronavirus or shown symptoms should isolate themselves for at least 10 days, and those who show symptoms should arrange to get tested.
a loss of, or change in, your normal sense of taste or smell
They should continue to self-isolate if they still feel unwell after that initial period.
Other members of their household should isolate for 14 days and not leave their homes.
If you test positive you will be contacted by contact tracers, who will establish who else you might have passed on the infection to.
Anybody they deem to be at risk will have to isolate themselves for 14 days from the point of contact.
Are you currently isolating? Will you be affected? Share your experiences by emailing haveyoursay@bbc.co.uk.
Please include a contact number if you are willing to speak to a BBC journalist.