Coronavirus: Matt Hancock rejects face masks and coverings for offices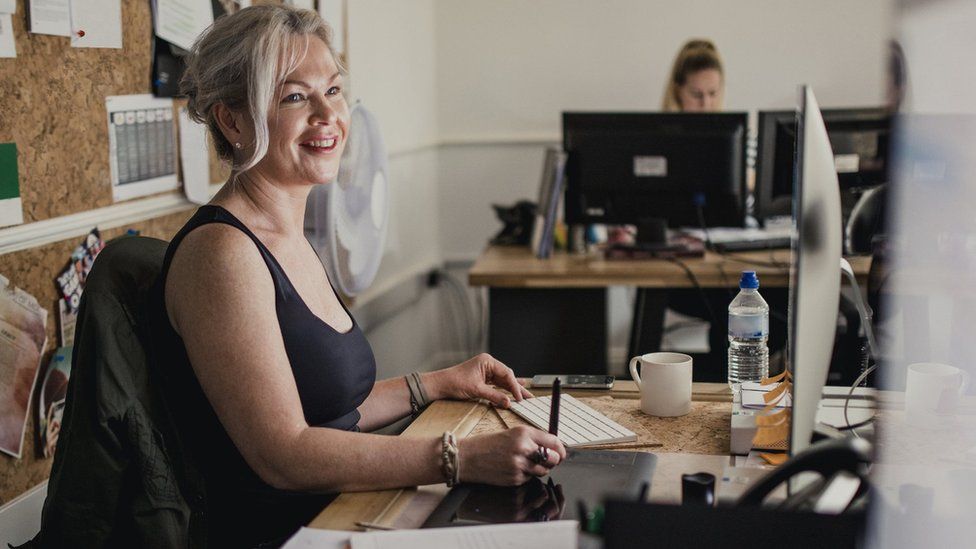 There are no plans to make face coverings mandatory for office workers in England, Matt Hancock has said.
The health secretary told the BBC people working in offices would not need to cover up, despite a newspaper report suggesting they would.
"It is something we've looked at and rejected," he said, but added masks would be worn elsewhere by the public "for the foreseeable future".
Face coverings in shops will become mandatory in England on 24 July.
Those who fail to comply with the new rules on wearing face coverings in England's shops will face a fine of up to £100.
Children under 11, those with certain disabilities, and people working in shops will be exempt.
Scotland already requires shoppers to cover their faces while Wales and Northern Ireland are both weighing up similar policies.
It comes as the UK recorded a further 85 deaths of people who tested positive for coronavirus, taking the total number of deaths to 45,053.
Mr Hancock said face coverings helped prevent spread during short interactions with strangers, but that social distancing and hand washing were more effective for contact with people over long periods of time.
There is a difference between visiting a shop for a few minutes and working alongside colleagues at a desk for several hours, he told BBC Breakfast.
"When you're in close proximity with somebody that you have to work closely to, if you're there for a long time with them, then a mask doesn't offer that protection."
"The same logic applies for schools - we're not recommending masks for schools because if you're in a classroom with kids all day then a mask doesn't give you protection," he added.
Labour leader Sir Keir Starmer's spokesman said the party was not calling for the compulsory wearing of face coverings in offices "at this stage".
Speaking at Prime Minister's Questions in the Commons on Wednesday, Mr Johnson declined to say he would implement the recommendations of a government-commissioned report into a potential "winter wave" of coronavirus infections later this year.
The PM instead said the government was busy "getting on with implementing the preparations for a potential new spike" and is "engaged in record investments in the NHS".
Mr Johnson went on to hail the UK's coronavirus "Test and Trace" scheme as being "as good as or better than" any other system in the world, although Sir Keir cast doubt on its success in ensuring people self-isolate.
It comes as a council in Blackburn, Lancashire, told residents they must wear face coverings while in all public settings as it worked to combat a "rising tide" of coronavirus cases.
Prof Dominic Harrison, Blackburn with Darwen's director of public health, said he hoped the use of coverings, alongside other specific measures, would prevent a Leicester-style local lockdown in the area.
Leicester became subject to the UK's first local lockdown on 4 July following a spike in Covid-19 cases. There are limits on social gatherings and hotels, pubs and restaurants have not been allowed to reopen.
Health officials in the city said there was "mounting evidence for the value of wearing face coverings".
Meanwhile, questions were raised about exactly where face coverings would need to be worn by shoppers in England after various cabinet ministers were seen with and without masks buying takeaway food.
Photographs of Cabinet Office Minister Michael Gove showed him without a face covering while at a Westminster branch of Pret on Tuesday, while Trade Secretary Liz Truss was seen in the same shop minutes later wearing a bright blue mask.
Mr Hancock told BBC Radio 4's Today programme he was "not frankly interested" in the pictures, adding: "Those photographs were taken before I announced the change in policy to the House of Commons yesterday afternoon."
Downing Street then suggested face coverings will not have to be worn when buying takeaway food in England, with official guidance due shortly.
The PM's official spokesman said his understanding "is that it wouldn't be mandatory if you went in, for example, to a sandwich shop in order to get a takeaway to wear a face covering".
In response to the comments, Mayor of London Sadiq Khan tweeted: "This is frankly ridiculous. The virus doesn't know if you're in a takeaway or a supermarket. The government is risking the health of the public to cover the back of a cabinet minister."
Mr Hancock said the public needed to get used to wearing face coverings in shops and at NHS facilities "for the foreseeable future".
"People have got to play their part," he said.
Mask-wearing has been compulsory on public transport in England and at NHS facilities across the UK since 15 June.
Meanwhile, more than £5m has been donated to the UK's Disasters Emergency Committee (DEC) in its first day of fundraising to help some of the world's most vulnerable through the pandemic.
The DEC, which is made up of 14 of Britain's largest aid charities, will spend donations on providing food, water and medical care to people in countries such as Syria, Yemen and South Sudan.
Do you work in an office? What are your feelings about wearing a face covering at work? Email haveyoursay@bbc.co.uk.
Please include a contact number if you are willing to speak to a BBC journalist.