Coronavirus: Prof Chris Whitty warns public over gatherings in hot weather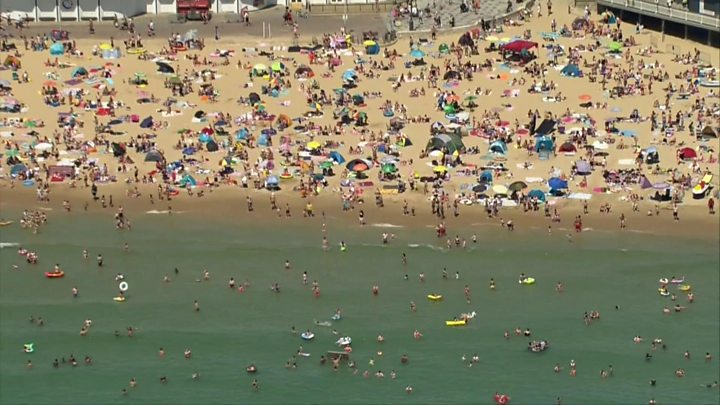 People must follow social distancing guidance while enjoying the sun, or Covid-19 cases "will rise again", the UK's chief medical adviser has warned.
Prof Chris Whitty's remarks on social media came after a major incident was declared in Bournemouth when thousands of people flocked to the Dorset coast.
"Naturally people will want to enjoy the sun but we need to do so in a way that is safe for all," he said.
The UK's coronavirus death toll is now 43,320, a rise of 149 since Wednesday.
The latest figures, released by the Department for Health and Social Care, showed 307,980 people have tested positive across the UK.
Health Secretary Matt Hancock has said the government has the power to shut down beaches if necessary.
Speaking on talkRADIO, Mr Hancock said he was reluctant to use it "because people have had a pretty tough lockdown" but he added: "If we see a spike in the number of cases we will take action."
Bournemouth, Christchurch and Poole Council said Bournemouth Beach was "stretched to the absolute hilt" on Thursday, while Dorset Police said there were reports of gridlocked roads, fights and overnight camping.
Council leader Vikki Slade said they were "absolutely appalled at the scenes witnessed on our beaches".
And in Glasgow, police cleared hundreds of people from Kelvingrove Park, prompting First Minister Nicola Sturgeon to say that, while she understood the desire to enjoy the hot weather, people should "follow the rules".
On Twitter, Prof Whitty said: "Covid-19 has gone down due to the efforts of everyone but is still in general circulation.
"If we do not follow social distancing guidance then cases will rise again."
BBC health correspondent Nick Triggle said that six weeks ago, when the PM announced the first steps out of lockdown, the number of newly diagnosed infections was around 4,000 a day.
"Those numbers have fallen four-fold since, with under 1,000 being recorded on average over the past week," he added.
"Government experts believe with the testing and tracing system in place the virus can continue be suppressed - but only if the public plays its part."
Since May, people in England have been able to meet in groups of up to six people in outdoor spaces such as parks or private gardens - provided they observe social distancing and remain two metres apart.
The government has since announced a further easing of lockdown restrictions in England - to come into effect from 4 July.
This includes the introduction of a new "1m plus" rule - meaning that if a distance of 2m is not possible then 1m will be acceptable if certain precautions are taken, such as the use of face coverings.
'Note of caution'
The announcements at the prime minister's Downing Street briefing this week on the reopening of pubs and other venues in England in early July and the new "1m plus" rule made all the headlines.
But the note of caution struck by the senior official advisers, Professor Chris Whitty and Sir Patrick Vallance was all too obvious.
There were repeated comments that the easing of lockdown restrictions was not risk free and that the virus would be circulating right through the winter.
Prof Whitty said it was "really critical" that people took social distancing rules seriously otherwise chains of virus transmission would be re-established.
He clearly feels the rules are not being taken seriously on the beach in Bournemouth and has felt the need to repeat his warning.
This further underlines the concerns felt by health leaders that people will drop their guard and create mass gatherings in the hot weather and holiday season which will allow the spread of the virus to pick up again.
On Thursday, for the second consecutive day, the UK recorded its hottest temperature of the year so far, with highs of 33.3C (92F) at Heathrow Airport.
Both Wales and Scotland also individually recorded their hottest days of the year.
In Wales, the temperature reached 30.7C at Gogerddan, near Aberystwyth, beating the previous high of 30C from Wednesday. And in Scotland, a high of 30C was recorded in Prestwick.
In Northern Ireland, a high of 25.5C was recorded in Aldegrove.
Temperatures are expected to drop after Thursday with thunderstorms forecast for Friday.
An amber level three heat-health alert, issued by the Met Office, was extended on Thursday to take in Yorkshire and the east and south of England as well as the West and East Midlands.
That means people should drink plenty of fluids, avoid consuming excess alcohol and "look out for" young children, babies and those with underlying health conditions, the Met Office said.
Commenting on the crowded scenes in his constituency, Bournemouth East MP Tobias Ellwood said he had asked the government to dispatch additional officers to Dorset if needed to deal with traffic and antisocial behaviour.
"It is very sad to see a number of people being selfish and also acting dangerously," he said.
Mr Ellwood said it was "not practical" to close Dorset's beaches altogether but suggested signs warning about overcrowding could be put up at railway stations and on approaching motorways.
He added the government needed to be "dynamic" in its response to beach crowding, otherwise the lockdown would have "been for nothing".