Coronavirus: UK arrivals could face £1,000 fines if they break quarantine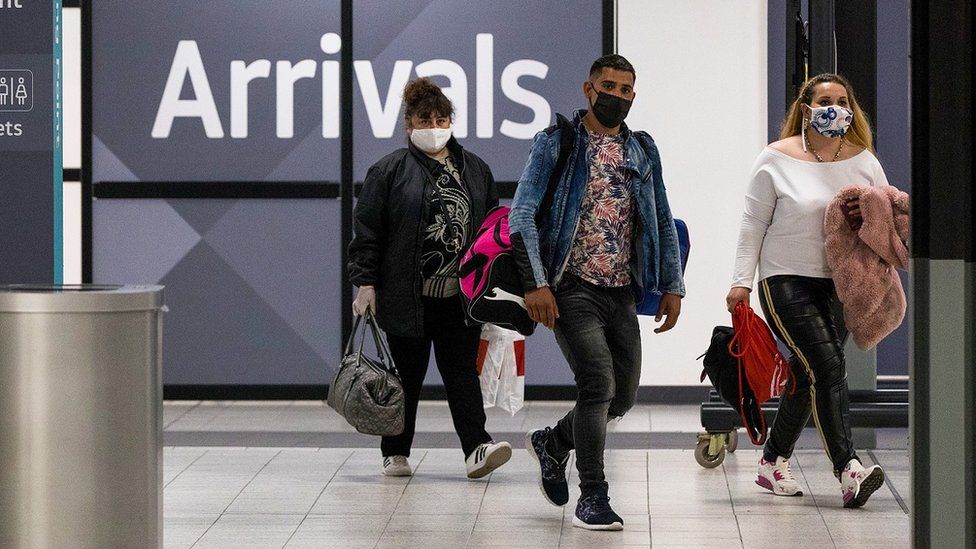 Anyone arriving in the UK from abroad could be fined £1,000 if they fail to self-isolate for 14 days, the government is expected to announce.
Under the plans, health officials would be able to carry out spot checks to check whether people were complying.
The new rules to help tackle Covid-19, which will also apply to British people returning from abroad, are not expected to come into force until next month.
Home Secretary Priti Patel will give more details at the daily briefing.
The number of people who have died with coronavirus in the UK has reached 36,393 - a rise of 351 on Thursday's figure.
As part of the quarantine proposals, which are aimed at guarding against a second wave of coronavirus infections, any passengers arriving in the UK by plane, ferry or train would be asked to fill in a form with their contact information.
They would need to provide UK Border Force officials with an address where they would self-isolate, otherwise accommodation would be arranged by the government.
Road hauliers and medical officials would be exempt, as well as those arriving from the Republic of Ireland.
Northern Ireland Secretary Brandon Lewis said: "The reality is we are saying to people if you are going to go abroad you need to look at the fact you may well need to do quarantine when you come back."
Shadow health secretary Jonathan Ashworth backed the plans, but said there were "lots of questions as to why we didn't do this sooner".
He added: "I would urge the government to get on with it and give us the details about how it's going to work in practice."
Many other countries already require arriving passengers to enter a 14-day quarantine, including New Zealand, South Africa, South Korea, Spain and the US.
Former head of Border Force, Tony Smith - now chairman of the International Border Management and Technologies Association - said he was "surprised" quarantine measures hadn't been brought in sooner at UK borders.
He told the Commons Home Affairs Committee on Friday that he would have expected a more "incremental approach" from the government "that might have reduced the transmission from abroad".
Also speaking to MPs, the boss of the Airport Operators Association, Karen Dee, said there had been no "specific discussions" as yet on how a quarantine would be implemented, but said it would be "odd" to introduce them now.
She said quarantine proposals were a "blunt tool" because it would apply "to everybody in all circumstances" and airports would prefer a risk-based approach, with agreements between countries.
Airlines have warned quarantine measures could make an already critical situation worse for them, as air travel has plummeted by as much as 99% due to the pandemic.
Virgin Atlantic said the government's proposal would "prevent flights from resuming" before August because there "simply won't be sufficient demand".
A Ryanair spokeswoman said the plans were completely "unenforceable" and the isolation measure would not work unless passengers arriving in UK airports from abroad are "detained in airport terminals or hotels" for the 14-day period.
She added: "If this measure had any basis in science, then the Irish visitors would not and could not be exempt."
Tim Alderslade, chief executive of Airlines UK - which represents the industry - said introducing a quarantine at this stage "makes no sense".
He said the government should support "a common-sense approach" involving "health corridors with low-risk countries" - these have also been called air bridges and would allow tourists to travel between two countries without needing to quarantine.
Downing Street previously said its plans would be reviewed every three weeks once they were introduced.
The government currently recommends international travel only when absolutely necessary, and nobody should travel if they display any coronavirus symptoms.
Meanwhile, the scientific advice given to the government which informed plans to send some pupils in England back to school will be published later.
It comes after more than 35 councils warned that not all of their primary schools will be ready to reopen to children in Reception, Year 1 and Year 6 on 1 June.
Schools in Wales will not reopen on 1 June, while those in Scotland and Northern Ireland may not restart before the summer holidays.
On Thursday, Health Secretary Matt Hancock said a new coronavirus test that gives results in 20 minutes is being trialled.
The swab test - which would show whether someone currently has the virus - does not need to be sent to a lab.
He also said more than 10 million antibody tests - that check if someone has had the virus in the past - will begin to be rolled out next week.