Coronavirus: Virus test with 20-minute results being trialled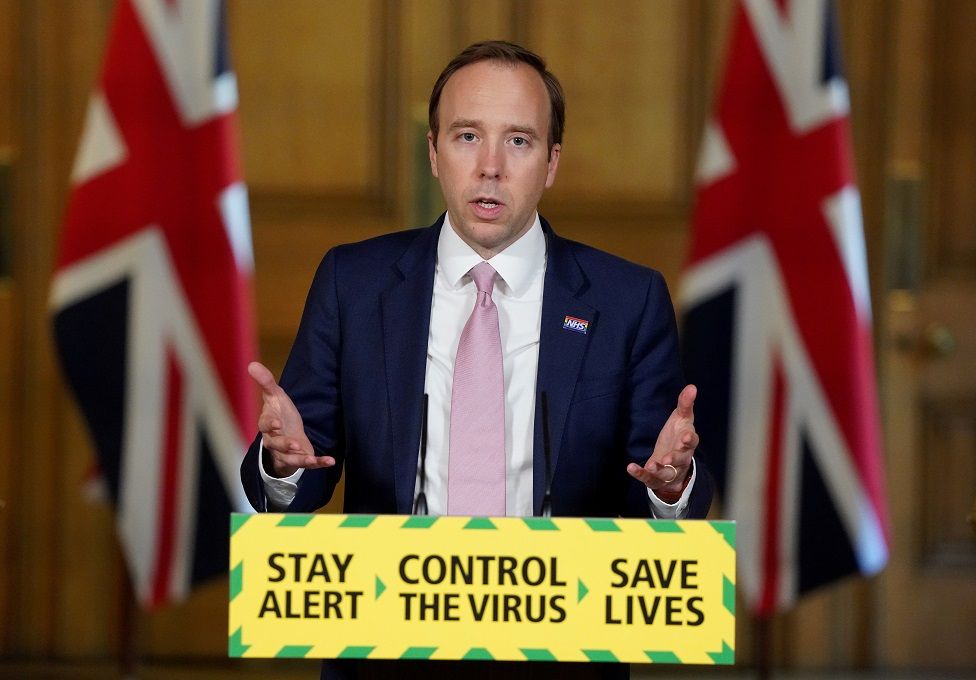 A coronavirus test that gives results in 20 minutes is being trialled, Health Secretary Matt Hancock has announced.
The new swab test - which would show whether someone currently has the virus - does not need to be sent to a lab.
Mr Hancock also said more than 10 million antibody tests - that check if someone has had the virus in the past - will start being rolled out next week.
Non-EU migrants currently have to pay the health immigration surcharge, which is £400 per year and set to rise to £624 in October.
But after mounting pressure from MPs, Boris Johnson decided foreign NHS staff and care workers should be exempt.
There are currently two types of test for the coronavrius.
Swab tests are already available to all adults and children aged over five on the NHS. They involve taking a swab up the nose or from the back of the throat and indicate if a person currently has Covid-19.
The antibody test is a blood test that looks for antibodies in the blood to see whether a person has had the virus. Antibodies are made by our immune system as it learns to fight an infection.
The new swab tests will be trialled in Hampshire in some A&E departments, GP testing hubs and care homes. The trial will run for six weeks and test up to 4,000 people.
Speaking at the Downing Street briefing, Matt Hancock said the new swab test "is interesting to us because it is so fast," adding: "You get the result on the spot."
"We want to find out if it will be effective on a larger scale. If it works, we'll roll it out as soon as we can."
Mr Hancock also spoke about antibody tests, saying the government had struck a deal to supply 10 million of them to the NHS. They will begin being rolled out to the NHS next week.
"We've signed contracts to supply in the coming months over 10 million tests from Roche and Abbott," he said.
"From next week we will begin rolling these out in a phased way, at first to health and care staff, patients and residents.
He said the UK government's deal will cover all of the devolved nations, and each will decide "how to use its test allocation and how testing will be prioritised and managed locally".
These are both significant announcements in regards to testing.
The trial of a new on-the-spot swab test to see if someone has an infection has the potential to make a huge difference.
Currently samples need to be sent off to a laboratory and then take several hours to process. This has left some people waiting days for their test result.
If the process can be speeded up that will be a major benefit, not just for the testing programme, but also the tracking and tracing.
The quicker you can identify positive cases the more effective you can be in trying to contain spread.
The antibody test development does not have the potential to have such an immediate impact.
We still do not know how strong any antibody response is and therefore the potential for long-term immunity.
So the logic in offering it to health and care workers is to help with that research.
They will not suddenly be casting aside their PPE at work.
Instead, officials will be keeping an eye on whether those who have antibodies are at lower risk of re-infection.
Having antibodies does not automatically mean you cannot get sick or harbour the virus and pass it on to others, BBC health correspondent James Gallagher says.
Mr Hancock said the tests will help scientists understand if people who have antibodies "are at lower risk of catching coronavirus, of dying from coronavirus and of transmitting coronavirus".
Learning more about antibody tests would help develop "systems of certification" to tell people who have antibodies "what they can safely do", he added.
Mr Hancock also said a study suggests 17% of people in London and around 5% of the rest of the nation have virus antibodies.
It comes as the NHS Confederation, which represents health service trusts, warned that time was running out to finish a test, track and trace strategy. It warned a contact tracing system was critical to prevent a second wave of the virus.
In England, Prime Minister Boris Johnson said 25,000 contact tracers, able to track 10,000 new cases a day, would be in place by 1 June.
Contact tracing identifies those who may have come into contact with an infected person and warns them via phone, email or an app.
Mr Hancock told the briefing "we don't know if we'll ever get" a vaccine, but said he hoped everybody would have it if one was developed.
"We are doing everything we can to get a vaccine and we will only recommend a vaccine if it is safe," he said.
"That means that if we get a vaccine - and I very much hope that we will and we are working incredibly hard for that - and people are asked to take that vaccine, then they absolutely should because we will only do it on the basis of clinical advice that it is safe.
"The question of whether it is mandatory is not one we have addressed yet, we are still some time off a vaccine being available.
"But I would hope, given the scale of this crisis and given the overwhelming need for us to get through this and to get the country back on its feet, and the very positive impact that a vaccine would have, that everybody would have the vaccine."
Content available only in the UK