Coronavirus: Five and overs in UK now eligible for test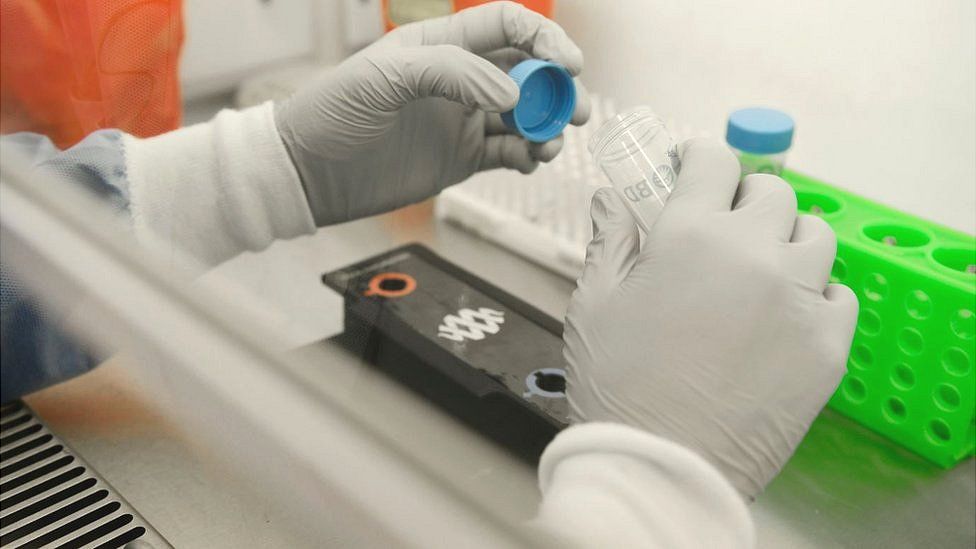 Everyone aged five and over in the UK with symptoms can now be tested for coronavirus, Health Secretary Matt Hancock has announced.
Mr Hancock said the government was "expanding eligibility for testing further than ever before".
He added 100,678 tests had been conducted on Sunday.
Testing in England and Scotland has been limited to people with symptoms who are key workers and their families, hospital patients, care home residents, over-65s and those who need to leave home to work.
In Wales and Northern Ireland it was just key workers, hospital workers and care home residents.
Mr Hancock said that priority for testing would still be given to NHS staff and care home workers and residents to "protect our most vulnerable".
A further 160 coronavirus deaths have been recorded in the UK as of 17:00 BST on Sunday taking the official total to 34,796 - the highest figure in Europe.
The UK government has ramped up testing and made it part of its five goals to meet in order to leave lockdown.
The prime minister has set a target for a daily capacity of 200,000 by the end of the month and last week the UK had reached a capacity of 150,000 a day.
So far the most tests done in a day is 136,000, on Friday, but this included kits posted out and not necessarily returned.
NHS Providers, the association of NHS trusts in England, said the average test return was five days with the longest wait being 13 days.
Chief executive Chris Hopson said the testing regime was "still a very long way from being fit for purpose" and said that the gap between the tone struck in public statements and the reality on the ground was "painfully wide".
One person who had been tested at Lea Valley in north London, Michael Saunders, told the BBC's Hugh Pym it was "disappointing" that he had been waiting for five days for his result.
"If you are going to make testing a central part of how we deal with this virus you have got to make it right," he said.
Shadow health and social care secretary Jonathan Ashworth pressed the government on the time taken for results to be received on whether someone had Covid-19 or not.
He also asked if facilities could be set up to allow poorer people to be able to self-isolate if they are required to do so and whether those in insecure work would be guaranteed sick pay if they were asked to isolate.
The expansion of the testing programme may grab the headlines.
It is a significant milestone - in less than two months the UK has gone from only being able to test hospital patients and health and care staff to offering it more or less population-wide.
But it should not mask the difficulties that remain getting the test, track and trace system up-and-running.
This will be essential to contain local outbreaks as we ease ourselves out of lockdown.
One particular concern is that the app does not yet let users know if the person they have had contact with ends up testing positive. Instead, it has only let them know if the contact has developed symptoms.
That is a major problem. It means people have been left in limbo and incorporating that feature into the app will be important.
Progress is being made, but getting a workable and efficient system in place soon is still a monumental challenge.
Mr Hancock also said the government is in the "closing stages" of negotiations to purchase new Covid-19 antibody tests.
A test developed by Swiss pharmaceutical company Roche was approved for use by Public Health England last week.
Mr Hancock said developments in tracking and tracing meant England was on course to meet the requirements for the next stage of easing lockdown restrictions on 1 June.
He told parliament 21,000 people had been recruited to conduct contact-tracing in England, including 7,500 healthcare workers.
This is when people who have come into contact with someone with the virus are tracked down and potentially asked to self-isolate.
The new recruits will be trained to identify people and advise them on whether to isolate.
Speaking at the Downing Street press briefing, Foreign Secretary Dominic Raab defended the government's record on testing and the development of the test and trace app.
He said: "We are learning all the way as we go through this pandemic, not just on the scientific side but on the innovation that we need to get a grip on it.
"We are making good progress on the testing and on the tracing and on the pilot in the Isle of Wight in relation to the app."
The foreign secretary said the app would be ready in "the coming weeks" but could not confirm it would be ready before children start returning to school.
England's deputy chief medical officer Prof Jonathan Van-Tam told Monday's press briefing that only once there was a vaccine "really capable of suppressing disease levels" will the country be "out of this".
"So from that perspective we may have to live, and learn to live, with this virus in the long-term, certainly for many months to come if not several years," he said.
He added it was unclear if there was seasonality to the virus and whether it would come back in autumn and winter.
On Sunday the government announced it had an agreement for 30 million doses of a vaccine if a trial at the University of Oxford was successful.
Anosmia - the loss of smell - has officially been added to the main symptoms of Covid-19 but Prof Van-Tam said it was rare for it to be present without other symptoms.
Testing eligibility, like lockdown measures, is devolved for individual nations to set their own rules. Mr Hancock made his announcement on the extension of testing across the UK after all four nations agreed to the change.