Coronavirus: Money worries in pandemic drive surge in anxiety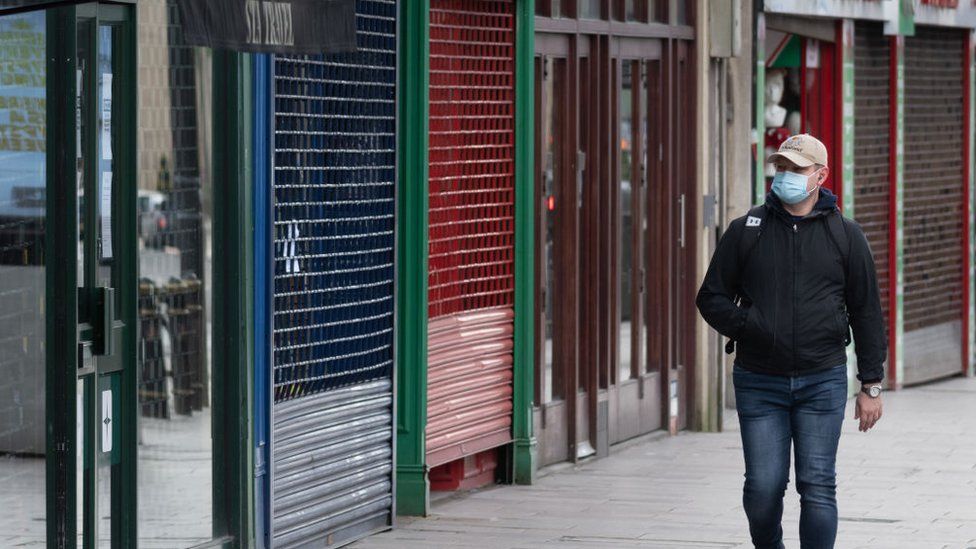 Nearly half of people in Britain experienced "high anxiety" as the country's lockdown began, an Office for National Statistics survey suggests.
Anxiety levels were highest among an estimated 8.6 million people whose income fell, according to the weekly survey on the impact of coronavirus.
Renters and the self-employed were also particularly affected.
Measures of well-being were at their lowest levels since records began in 2011, the ONS said.
The survey's finding suggested that more than 25 million people - 49.6% of over-16s in Britain - rated their anxiety as "high", more than double the amount who did so at the end of 2019.
Those suffering the greatest level of worry were an estimated 2.6 million people who said they were struggling to pay bills.
The survey data suggested that 8.6 million people had seen their income fall, with this group also reporting anxiety levels 16% higher than average.
Women reported anxiety levels 24% higher than men on average, with the ONS saying the difference might be because a larger proportion of women were either economically inactive, in lower paid jobs or working part time.
'I can't risk bringing the virus home'
David Shaw, who has been signed off work with anxiety, is trying to juggle providing for his family with the care of his severely disabled 16-year-old daughter, who has scoliosis.
Mr Shaw, who manages a supermarket in Brandon, Suffolk, said: "My daughter would be extremely vulnerable to the virus and I can't risk bringing the virus home to her."
The 43-year-old said his employer was a good company and gave him two weeks carers' leave, but he added he was no longer being paid.
Mr Shaw said: "I can get a mortgage holiday but that is just one bill. I am not sure if the doctor will keep signing me off so I don't know what I will do."
He added he felt guilty that his colleagues were working while he was not but that he had to put his daughter's safety first.
Lucy Tinkler, head of the quality of life team at the ONS, said: "All measures of personal well-being, which include anxiety and happiness, are at their worst levels since we began collecting data in 2011."
"The most recent data showed a slight improvement in anxiety compared to previous weeks, but remained much higher than before the pandemic."
The ONS is carrying out a weekly opinions and lifestyle survey of about 1,500 people to understand the impact of the coronavirus on Britain, and comparing it with the results of a similar survey it normally carries out monthly.
It found the average reported anxiety level rose from 2.97 out of 10 at the end of 2019 to 5.18 at the end of March as the lockdown was beginning.
In the most recent survey, from 9 April to 20 April, that fell slightly to 4.2.
Am I experiencing anxiety?
Most people feel anxious from time to time but if it is affecting your life then there are things you can do to help yourself and ways to seek help.
Symptoms of anxiety can include headaches, a faster heartbeat, feeling tense, difficulty sleeping, problems concentrating and not being able to enjoy leisure time.
The proportion of Britons reporting low happiness also rose sharply from 8.4% at the end of 2019 to 20.7% at the end of March.
Finances were the biggest worry for an estimated 5.3 million people, while 6.2 million were most concerned about their work and 8.5 million most concerned about their well-being, the survey suggested.
Lucretia Thomas, a project adviser at Citizens Advice Enfield, said it had had a "spike" in people asking for advice about employment, benefits and debt issues as the pandemic prevented many people from working.
"The loss of income has really had a devastating effect on families, because their normal household expenses have increased," she said, explaining that families were often missing out on free school meals.
People were also reporting that landlords had been issuing notices in preparation for when evictions might resume in June, she said, adding to the stress for some families.
Others are saying that their employers are preparing to make them redundant once the furlough period is over.
"People are ringing us for reassurance, thinking that we might have a timeline for when this is over. A client asked me, 'When do you think my husband might be able to go back to work?' I'm not able to answer that question," Ms Thomas said.