Coronavirus: Johnson reveals 'contingency plans' made during treatment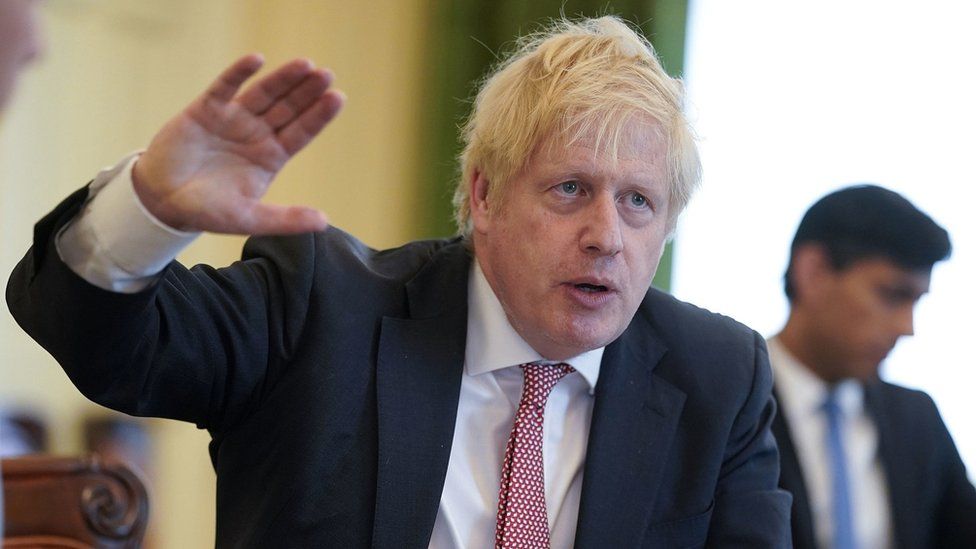 Boris Johnson has revealed "contingency plans" were made for his death while he was seriously ill in hospital with coronavirus.
"That was when it got a bit…  they were starting to think about how to handle it presentationally," he said.
"It was a tough old moment, I won't deny it," he told the paper.
He said he knew at the time that doctors had devised a plan in the event of his death.
"They had a strategy to deal with a 'death of Stalin'-type scenario," he said, in reference to the former Soviet Union leader, Joseph Stalin.
Mr Johnson said he was given "litres and litres of oxygen" to keep him alive and credited his recovery to "wonderful, wonderful nursing".
"I get emotional about it . . . but it was an extraordinary thing."
Mr Johnson was diagnosed with coronavirus on 26 March and was admitted to London's St Thomas' Hospital 10 days later. The following day, he was moved to intensive care.
"It was hard to believe that in just a few days my health had deteriorated to this extent," he said.
Describing the seriousness of the disease, he said: "I've broken my nose, I've broken my finger, I've broken my wrist, I've broken my rib. I've broken just about everything. I've broken all sorts of things, several times in some cases.
"But I've never had anything as serious as this."
He said his week in hospital had left him driven by a desire to both stop others suffering and to get the UK "healthy again".
On Thursday, Mr Johnson said the UK was "past the peak" of the coronavirus outbreak, but stressed the country must not "risk a second spike".
The number of people being treated in hospitals for the virus has fallen by 13% over the past week, according to England's deputy chief medical officer Dr Jenny Harries.
The total number of reported coronavirus-related deaths in the UK now stands at 28,131 - an increase of 621 on Friday's figure.
On Saturday, the government pledged £76m to support vulnerable children, victims of domestic violence and modern slavery, who were "trapped" at home during the lockdown.
The announcement followed reports of a "surge" in violence in the weeks since the lockdown was introduced.
Ms Symonds said the newborn's second middle name, Nicholas, was a tribute to "Dr Nick Price and Dr Nick Hart - the two doctors that saved Boris' life".
Dr Nick Price and Prof Nick Hart offered their "warm congratulations" to the couple.
They said in a statement: "We are honoured and humbled to have been recognised in this way, and we give our thanks to the incredible team of professionals who we work with at Guy's and St Thomas' and who ensure every patient receives the best care.
"We wish the new family every health and happiness."