Coronavirus: UK hospital deaths pass 20,000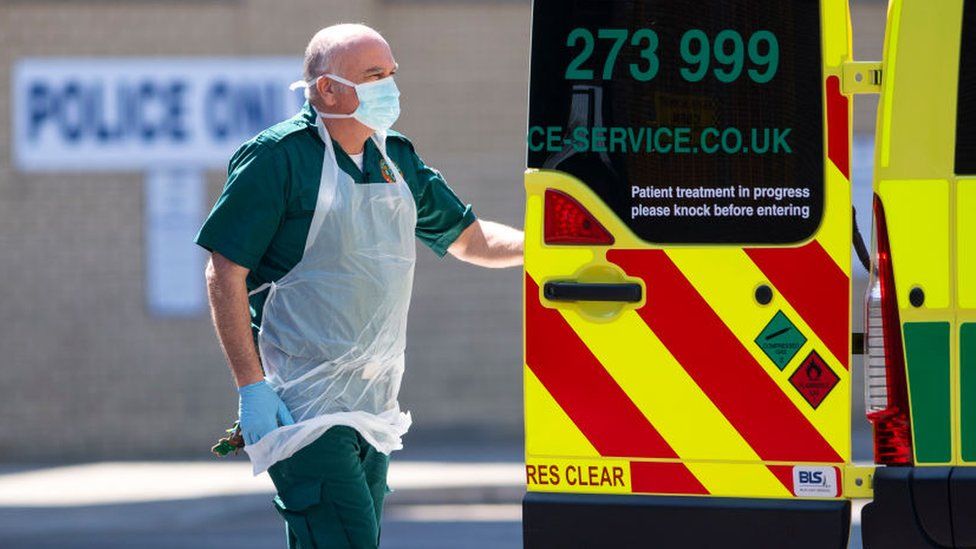 Another 813 people have died with coronavirus in UK hospitals, bringing the total to more than 20,000, the Department of Health has announced.
At the government's daily briefing, the home secretary described the figure as a "tragic and terrible milestone".
Last month, the government's chief scientific adviser, Sir Patrick Vallance, said keeping deaths below 20,000 would be a "good outcome".
Meanwhile, the PM will return to work in Downing Street on Monday morning.
It is just over two weeks since Prime Minister Boris Johnson was released from St Thomas' hospital in London, where he was treated in intensive care for coronavirus. He has been recuperating at his country retreat, Chequers.
According to the latest official figures, a total of 20,319 patients have died in hospital after testing positive for Covid-19.
The first virus-related death was announced in the UK 51 days ago.
At the Downing Street briefing, Home Secretary Priti Patel said: "As the deaths caused by this terrible virus pass another tragic and terrible milestone, the entire nation is grieving."
She warned that "we are not out of the woods yet", and said people must continue to follow social distancing measures to curb the spread of the virus.
The government's figures do not account for deaths that have happened in care homes, at home, in hospices or elsewhere in the community.
These are measured separately by the Office for National Statistics, based on death certificates, and a weekly figure is announced each Tuesday.
Last week that figure indicated that there were at least 1,662 deaths, up to 10 April, that were above the hospital-based number.
The fact we have now passed the grim milestone outlined by Sir Patrick Vallance in less than two months is both a tragedy for the families affected and a worry to the rest of the country.
There are strong signs - at least in hospitals - that we have passed the peak of deaths.
The fact that may have happened without the health service being overwhelmed in the way Italy's was is at least some good news.
However, the deaths in care homes, which the daily figures from government do not include, are rising rapidly and could prove very difficult to get under control.
In fact, if we included them we would have passed the 20,000 mark some time ago.
On 17 March, Sir Patrick told MPs "the hope" was to keep the death toll below 20,000. At the time the number of deaths in UK hospitals stood at 71.
That ambition was later echoed by NHS England medical director Prof Stephen Powis, who said the UK would have "done very well in this epidemic" if deaths remained below that figure.
Speaking at Saturday's briefing, Prof Powis said it was a "very sad day for the nation", adding that his "heart goes out to families and friends of those loved ones".
Asked about his and Sir Patrick's previous comments, Prof Powis said: "What we were emphasising is that this is a new virus, a global pandemic, a once-in-a-century global health crisis.
"And this was going to be a huge challenge not just for the UK, but for every country."
He added that it was unlikely the UK and other countries would recover from the pandemic in the next few weeks.
"This is not a sprint, this will be a marathon," he said.
Four other countries to date have announced an official number of coronavirus-related deaths exceeding 20,000 - the US, Spain, Italy and France.
Globally, more than 200,000 people have died with coronavirus, according to Johns Hopkins University, with confirmed cases standing at more than 2.8m.
Ms Patel said the government was working towards returning the UK to normal, but said five tests must be met before lockdown measures can be lifted. "Quite frankly that is not right now," she said.
Making sure the NHS can cope
A "sustained and consistent" fall in the daily death rate
Rate of infection decreasing to "manageable levels"
Ensuring supply of tests and personal protective equipment (PPE) can meet future demand
Being confident any adjustments would not risk a second peak
Prof Powis said the virus would start to "spread more" if social distancing measures were lifted.
He said it was clear that "gains" were being made by following social distancing rules and orders to avoid non-essential travel.
Some 28,760 coronavirus tests were carried out in the UK on Friday. The government has set a target of 100,000 tests per day by the end of April.
At Saturday's daily briefing, the home secretary also took the opportunity to speak about the impact the pandemic was having on crime.
Despite a fall in overall crime during the outbreak, Ms Patel said some criminals continued to "capitalise on this horrendous crisis".
Praising the "outstanding frontline police officers", she singled out a successful raid earlier in the week which uncovered cocaine with a street value of £1m concealed in a shipment of face masks. She also revealed more than 2,000 online scams linked to coronavirus had been taken down.
She criticised some "extraordinary dangerous driving" witnessed by police during lockdown, with one London driver caught doing 134mph in a 40mph zone.