Coronavirus: Gown supply 'critically low' in some hospitals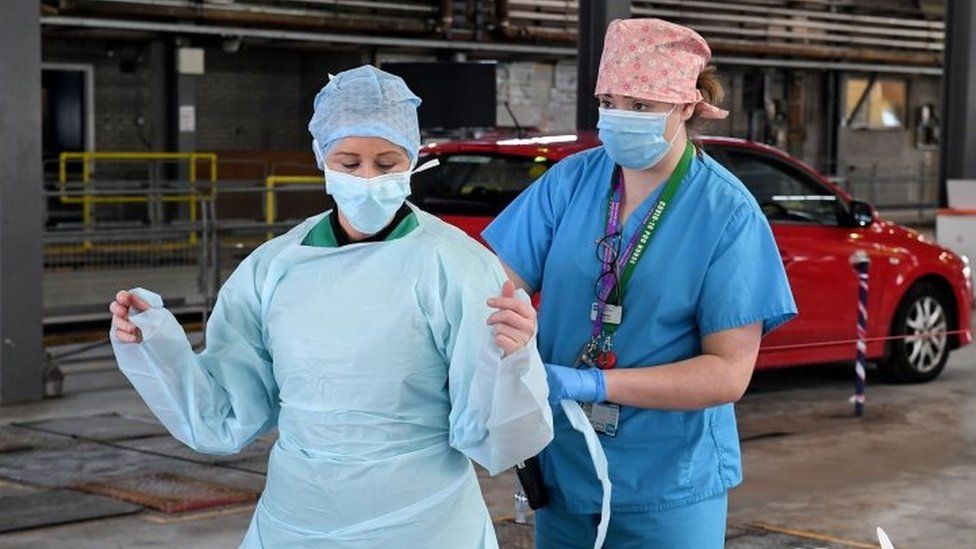 An NHS boss has warned the number of protective gowns available to front-line staff in parts of the country has become "critically low" in recent days.
Chris Hopson, chief executive of NHS Providers in England, has called for a "more sustainable supply" of gowns, which are imported from China.
On Sunday, the health secretary said the amount of available PPE - personal protective equipment - was increasing.
It came as deaths in UK hospitals rose to 11,329 - up by 717 since Sunday.
The Department of Health said a further 4,342 people had tested positive for coronavirus as of 09:00 BST on Monday.
Meanwhile, a review of the UK's lockdown measures will take place later this week.
Mr Hopson, from NHS Providers in England which represents hospital trusts, told BBC Breakfast that the number of protective gowns available to NHS staff in some parts of the country was "very, very low".
Mr Hopson said that the NHS ordered "a whole load of stock" weeks ago, but delays have been caused by the gowns sometimes failing safety tests, while other batches have been mislabelled - meaning the NHS has ended up with additional masks.
He added: "If everything had been flowing exactly as had been ordered and if all of the material had properly passed its safety test, there would not be an issue.
"This is all really hand-to-mouth in terms of gown delivery, and we need to get to a more sustainable supply."
At the government's daily briefing on Sunday, Health Secretary Matt Hancock said the government was "working night and day to make sure we get the right PPE".
"I'm glad to say there are now record amounts [of PPE] in the system," he said, adding: "Daily we're delivering millions of items to the frontline."
On gowns, he said: "In the last two days 121,000 gowns have been delivered around the country and more are going out today and in the week to come."
Mr Hopson said that "the vast majority" of preparations for the outbreak within the NHS had gone well, with "nearly all" stocks of PPE "flowing in the way that trusts would like".
"The bit where there's a particular problem was gowns," he said. "We know that over the last 72 hours some trusts have run critically low on gowns.
"No trust, as far as I'm aware, has actually run out but some of the stocks are very, very low."
Chancellor Rishi Sunak has confirmed public services will receive more than £14bn from the government's coronavirus emergency response fund, including more than £6bn for health services.
The Treasury said the funding would go towards freeing up hospital beds and delivering "urgent priorities" such as acquiring ventilators, diagnostic tests and protective equipment for NHS staff.
A gown is a piece of PPE used to protect the body of those who might come into contact with coronavirus.
It should be made of water-resistant material and have long sleeves. If the gown is not water resistant, a waterproof apron is needed underneath to protect the wearer from droplets containing the virus.
They should also be used by those handling coronavirus samples in labs and healthcare workers, cleaners and ambulance crews in places where patients with suspected coronavirus symptoms are seen.
Public Health England guidance says hospital staff can sometimes use gowns for a whole session, such as a ward round or when caring for several patients in ICU. Otherwise, a single use is recommended.
It comes as Downing Street denied that cabinet minister Michael Gove's daughter being tested for coronavirus was an example of "double standards". Tests are not yet available for most people and mainly reserved for seriously ill patients in hospital.
The prime minister's spokesman said the test was carried out "on the advice of the chief medical officer and in line with medical guidance".
The spokesman said Mr Gove's job is a "central role in the government's response" and the test meant he "could get back to work".
Latest government figures show 18,000 tests were carried out on Saturday. There are 23 drive-through testing sites now open for NHS staff, No 10 said.
Meanwhile, No 10 has said Mr Johnson will recover at Chequers - the PM's official country residence - as it was "considered to be a suitable place". The spokesman added Mr Johnson will not be carrying out government work.
Mr Raab is currently in charge of running the government.
On Sunday, Mr Johnson thanked NHS staff after being discharged from hospital in London, where he was being treated for Covid-19 - the disease caused by the coronavirus.
It is unclear whether the prime minister will take part in the lockdown review, which is due to be carried out by Thursday.
NHS England said on Monday that a further 667 patients with coronavirus had died in the country, while a further 15 deaths were recorded in Wales, and a further nine in Scotland.
Recently widowed Hannah - not her real name - has told how her husband of more than 40 years died after contracting coronavirus.
She told BBC Radio 4's Today programme that her husband was in hospital for about a week before he died, and was put on a CPAP machine, which delivers oxygen to the lungs without needing a ventilator, to aid his breathing during that time.
Describing his death, she said his breathing was "really laboured". "It is not a nice, quiet way to go," she said.
Hannah added: "This is such a cruel disease. Apart from the medical staff that he saw when he had to, [my husband] was alone for a week."
Wendy's father fell ill with coronavirus around a month ago and he has now been taken off a ventilator in hospital.
"They've given him medication to keep him calm and relaxed and it is a matter of just waiting now for him to fade away peacefully," she told the BBC's Victoria Derbyshire.
"The nurses are with him, they are holding his hand, they've been absolutely marvellous," Wendy added. "We had to make the decision for the ventilator to be removed and for him to pass away peacefully."
Sam Monaghan, the head of the UK's largest charity care provider MHA, told BBC Breakfast that about 150 of its residents had died with confirmed or suspected coronavirus, as well as two staff members.
Have you been affected by the coronavirus? Please share your experiences by emailing haveyoursay@bbc.co.uk.
Please include a contact number if you are willing to speak to a BBC journalist. You can also contact us in the following ways: