Coronavirus: Police told to be 'consistent' with lockdown approach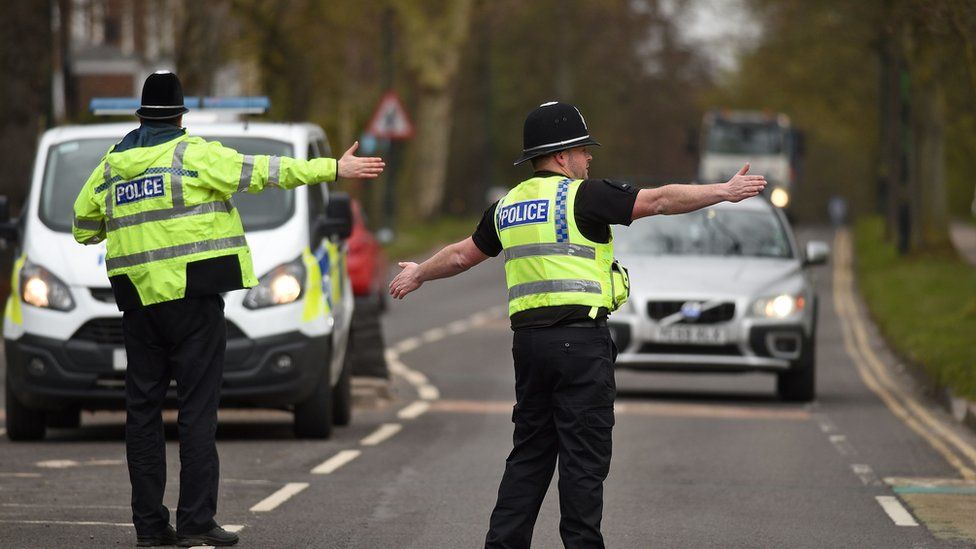 UK police officers have been told to take a "consistent" approach when ensuring people comply with emergency measures aimed at curbing coronavirus.
Guidance to officers calls on forces to "coordinate" efforts and emphasises the importance of professionalism.
It comes amid criticism of the way some forces have handled the new measures.
But Transport Secretary Grant Shapps said police forces were doing a difficult job and being sensible about enforcing social distancing measures.
As of 17:00 BST on Monday, the total number of people who have died with coronavirus in the UK rose by 381 to 1,789 - the biggest daily increase so far.
NHS England said 28 people, aged from 19 to 91, who died in England did not have underlying health conditions.
BBC News online health editor Michelle Roberts said the latest increase was "not unexpected and does not suggest things are spiralling out of control".
"Had deaths continued to grow at the recent daily rate of roughly a third a day, we might have expected to see 350 new deaths on Sunday and 450 on Monday," she said.
New guidance was issued to police on Thursday when officers were given powers to fine people who gather in groups or refuse to return home, following social distancing measures introduced by the government last week.
The document from the National Police Chiefs' Council and the College of Policing, seen by the BBC, says:
communities must receive a "consistent" level of service from officers as well as a "single style and tone"
police should keep an "inquisitive, questioning mindset" when finding out why people are outside
new enforcement measures should not be used if people are vulnerable and cannot safely return home
However, some forces have adopted different approaches, particularly around the issue of driving.
Derbyshire Police used drones to film people parking their cars for walks in the Peak District.
Lancashire Police issued 123 enforcement notices over the weekend, while Cheshire Police summonsed six people for various offences, including travelling to purchase "non-essential" items.
On Monday, Lord Sumption, a former Justice of the Supreme Court, said the actions of Derbyshire Police "shamed our policing traditions".
'Conversation and explanation'
Derbyshire's chief constable, Peter Goodman, told BBC Radio 5 Live's Emma Barnett the decision to deploy a drone in the Peak District came after supermarkets in villages were emptied and beauty spots were inundated with sightseers.
"Some forces will be doing not enough, perhaps, some forces have probably gone a bit too far and some sit in the middle. Some would say we in Derbyshire have gone too far," he said.
"I genuinely believe that we haven't because we are trying to do everything through conversation and explanation."
There have been discussions among senior officers about the need for police to exercise common sense and sound judgment.
Forces were "finding their way" in dealing with the unprecedented measures, Martin Hewitt from the National Police Chiefs' Council told BBC Radio 4's Today programme.
The chief constable of Avon and Somerset Police, Andy Marsh, said officers want to work with the public in promoting social distancing. "We're not going to enforce our way out of this problem," he said.
Meanwhile, Downing Street has suggested that the target of testing 25,000 people per day for coronavirus may not be met until the end of April.
The prime minister's spokesman added that NHS trusts had been told to use any spare capacity for testing of NHS staff.
As of 09:00 BST on Tuesday, the number of people tested in the UK for coronavirus reached 143,186.
An average of about 7,500 new people were tested per day in the seven days up to Tuesday, compared to a daily average of about 5,700 in the previous seven days.
Sir Patrick Vallance said at the government's daily coronavirus news briefing that the NHS was seeing around an additional 1,000 patients a day and described this daily rise as stable "which may suggest that we're already beginning to see some effect".
The new ONS data includes how many deaths were registered up to the 20 March - the day that pubs and clubs were ordered to shut down to help tackle the outbreak.
What's different about the data is it looks at community deaths - people who died at home or in residential care who doctors recorded on the death certificate as probably having Covid-19.
There were 103 - 1% of all deaths.
The ONS also trawled a few days ahead of the 20 March to capture any deaths stuck in a recording backlog - bringing the total to 210 deaths involving coronavirus.
That's 40 more than the 170 deaths that the government announced at the time - those were all hospital deaths of patients who had tested positive for coronavirus and so definitely had the infection.
In comparison, there are not enough tests to check how many people in the community are infected, or how many deaths are linked to Covid-19, the disease caused by coronavirus.
So these community death figures are interesting, but they don't give us a clearer idea of the true toll.
How have you and people you know been affected by coronavirus? Share your experiences by emailing haveyoursay@bbc.co.uk.
Please include a contact number if you are willing to speak to a BBC journalist. You can also contact us in the following ways: