Coronavirus: 20,000 former NHS staff return to fight virus, PM says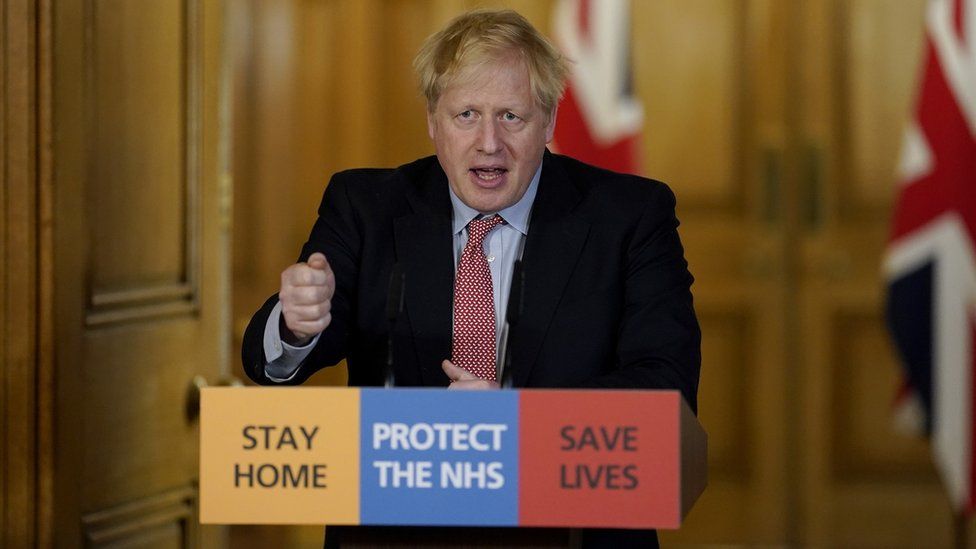 Some 20,000 former NHS staff have returned to work to help the fight against coronavirus, Boris Johnson has revealed in a video posted online.
The prime minister, who is self-isolating after testing positive for the virus, said the country would get through the crisis "together".
The number of people who have died with the virus in the UK has reached 1,228.
Among those to have died is Amged El-Hawrani, a 55-year-old ear, nose and throat consultant at Queen's Hospital Burton.
Prof Andrew Goddard, the head of the Royal College of Physicians, said "about one in four" of its workforce was currently off work, either with symptoms or isolating because family members have symptoms.
"I've got lots of colleagues sitting at home... They themselves don't have symptoms and are chomping at the bit to try and get back to work," he said, adding that widespread testing would mean staff who are well can return to work.
Labour has called on the government to scale up testing to "sufficient levels", giving the example of Germany, which is reportedly testing up to 500,000 people a week.
It comes after confusion over the number of tests being carried out, after ministers said the government had hit its target of 10,000 tests a day at the weekend. But care minister Helen Whately said on Monday that, while there was capacity to carry out 10,000 tests, the actual number tested was more like 7,000.
PHE said the number of people tested may be lower because some people use more than one test.
Meanwhile, the prime minister has continued to lead the country's response to the pandemic while self-isolating in his Downing Street flat.
On Monday, a No 10 source confirmed Dominic Cummings, his chief adviser, has developed symptoms of the virus and was self-isolating at home.
In the PM's video, which he posted on Twitter, he contradicted the view of Conservative prime minister from 1979-1990, Margaret Thatcher, that "there is no such thing as society".
Thanks to everyone who has been staying at home.

By delaying the spread of the disease we can reduce the pressure on our NHS, and that's how we hope to save many thousands of lives.#StayHomeSaveLives pic.twitter.com/kxdqItMYSE

— Boris Johnson #StayHomeSaveLives (@BorisJohnson) March 29, 2020
Thanking the doctors, nurses and other former professionals who have returned to the NHS, as well as the 750,000 members of the public who have volunteered to help the country through the pandemic, he said: "We are going to do it, we are going to do it together.
"One thing I think the coronavirus crisis has already proved is that there really is such a thing as society."
Mr Johnson said the public appeared to be obeying the restrictions set out by government to slow the spread of the virus, adding that train use was down 95% and bus use down 75%.
Prof Neil Ferguson, from Imperial College London and author of a report into the pandemic, told BBC Radio 4's Today programme there were "some early signs of slowing in some indicators" in the UK.
"If we look at the number of new hospital admissions per day for instance, that does appear to be slowing down a little bit now. It's not yet plateaued, so the numbers can be increasing each day, but the rate of increase has slowed."
Asked how many people may have been infected in the UK, Prof Ferguson said it varied across the country.
"(In) Central London it could be as many as 3% to 5% of the population has been infected, maybe more in individual hotspots. In the country as a whole, the UK, maybe 2% or 3%."
A breathing aid that can help keep coronavirus patients out of intensive care has been created in under a week by University College London engineers working alongside clinicians and Mercedes Formula One
Police in Scotland issued 25 fines over the weekend to people breaking the coronavirus restrictions, such as businesses that were still open. The force also said it received a significant number of calls including from people reporting others who were breaking rules
Airline EasyJet has grounded its entire fleet of aircraft due to the pandemic
The boss of the UK's largest regional airline, Loganair, has said his firm plans to ask for government help to get through the pandemic
Meanwhile, thousands of EasyJet and Virgin staff, are being offered work in the new NHS Nightingale Hospital, which is being set up at the ExCel Centre in east London. The chief nursing officer for England, Ruth May, said around 100 cabin crew have expressed an interest
The UK's main internet providers have agreed to remove data caps on fixed-line broadband during the coronavirus pandemic
A rapid response unit within the Cabinet Office is working with social media firms to remove misinformation about coronavirus
Convenience stores selling Easter eggs are facing interference from "heavy-handed" officials suggesting chocolate eggs are non-essential, a trade body says
In South Korea, there are calls to deport a British man in his 30s, who broke quarantine guidelines and may have spread the virus while travelling through the country. Instead of spending 14 days in self-isolation after arriving, he visited four different cities and later tested positive
In the US, social distancing restrictions will be extended until at least 30 April, President Trump has said
On Sunday, England's deputy chief medical officer Dr Jenny Harries said the government would review the lockdown measures for the first time in three weeks' time - but she added: "We must not then suddenly revert to our normal way of living."
She said although normal life may not return for six months, this does not mean the country would be in "complete lockdown" for half a year.
Instead, she said social distancing measures would be reviewed every three weeks and reduced gradually over a period of around three to six months.
Are you a former NHS worker who is returning to help deal with the coronavirus outbreak? Share your experiences by emailing haveyoursay@bbc.co.uk.
Please include a contact number if you are willing to speak to a BBC journalist. You can also contact us in the following ways: