Coronavirus: Testing rolled out for frontline NHS staff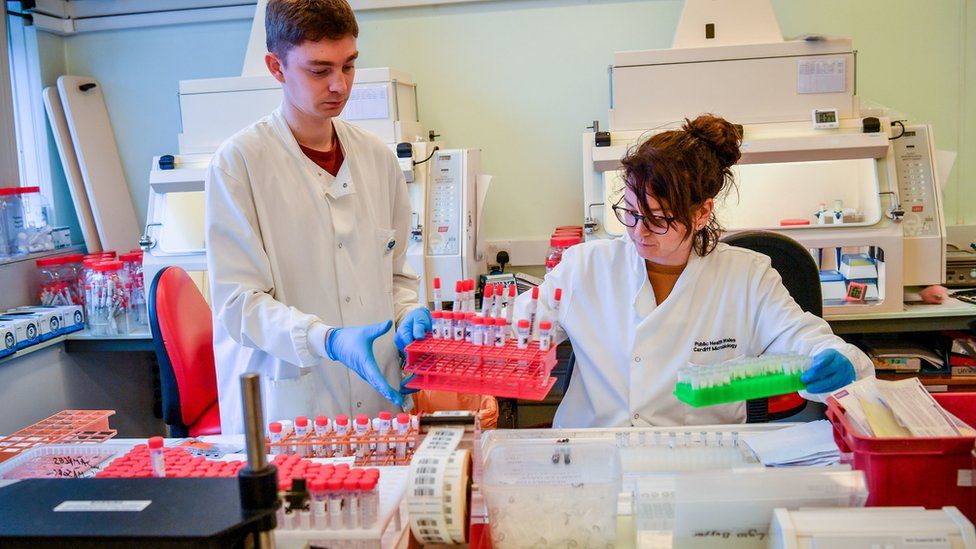 Frontline hospital staff in England are starting to be tested to see whether they have coronavirus.
Workers with symptoms and those who live with people who have symptoms will be checked - starting with hundreds of critical care doctors and nurses.
Tests for A&E staff, paramedics and GPs are expected to follow, and later social care staff will be tested.
It comes as the number of people who have died with the virus in the UK rose by 260 to 1,019 on Saturday.
In Wales and Scotland, health workers are already being tested, while Northern Ireland's testing begins on Monday.
Until now, only patients in English hospitals with flu-like symptoms were being routinely tested but this had led to concerns that without testing, many health and care workers would not know whether they were safe to return to work.
Meanwhile, Scottish Secretary Alister Jack is the latest politician to announce he is self-isolating after showing mild symptoms.
Former Cabinet Secretary Gus O'Donnell said politicians needed to "obey their own rules much more strictly" on social distancing.
"They do need to learn a lesson from this," he told BBC Radio 4's Today Programme when asked about pictures from the House of Commons earlier this week which showed several members of the cabinet crowded near the Speaker's chair.
The Mayor of Greater Manchester and former Health Secretary Andy Burnham expressed concern about the safety of politicians, saying it was "very hard" for people working in Westminster to maintain safe distances.
Currently, about 6,000 people are tested daily, which the government wants to increase to 10,000 a day by the end of March and 25,000 a day by mid-April.
The British Medical Association said the move towards testing NHS staff in England was "long overdue".
"For every healthy member of staff at home self-isolating needlessly when they do not have the virus, the NHS is short of someone who could be providing vital care to patients on the front line," the BMA's chairman Dr Chaand Nagpaul said.
What are the tests for coronavirus?
There are two main types of coronavirus test that are useful in fighting the epidemic:
The antigen or "have I got coronavirus now?" test will tell you if someone is currently infected and risks spreading it to others. That's the one that is being used to check very ill patients in hospitals and will now be rolled out to NHS staff too.
The antibody or "have I recently had coronavirus" test is not available to the public yet but Public Health England is ordering it in the millions and will distribute it as soon as they are confident about its accuracy. That would help tell us how many people got coronavirus with no or only mild symptoms.
Both are vital to get a better handle on how to stop the spread of this deadly disease.
The first of three new testing laboratories is expected to start operating over the weekend, initially processing around 800 samples, the government said, with the others opening soon. Samples will be taken around the country, initially focusing on coronavirus hotspots such as London.
Dozens of universities, research institutes and companies are lending equipment for the labs.
Analysis suggests the rate of infection in the UK has been doubling every three to four days, the government said on Friday.
Experts predict further increases over the next two to three weeks, before the effects of social distancing measures and restrictions on everyday life begin to have an impact.
Mike Adams, from the Royal College of Nursing, said he was "still getting inundated with messages" from staff who were finding PPE was not available or in short supply or saying there was inconsistent messaging around when to use it.
County councils are warning residents some services, such as recycling centres or adult education centres, will be significantly scaled back or stopped to prioritise keeping people safe from coronavirus
The Local Government Association says council workers are being physically and verbally abused for implementing the government's social distancing policy. Workers have been spat at, sworn at and racially abused, it said
The Mayor of Greater Manchester, Andy Burnham, said he had received about 300 complaints from employees and the public about businesses not following social distancing guidelines.
The HCSA hospital doctors' union said potential supply issues should not delay the reported introduction of more stringent guidance on the use of personal protective equipment by frontline NHS staff
Two new temporary hospitals will be set up in Birmingham and Manchester to help the NHS cope with the virus.