Coronavirus restrictions 'will last more than three weeks'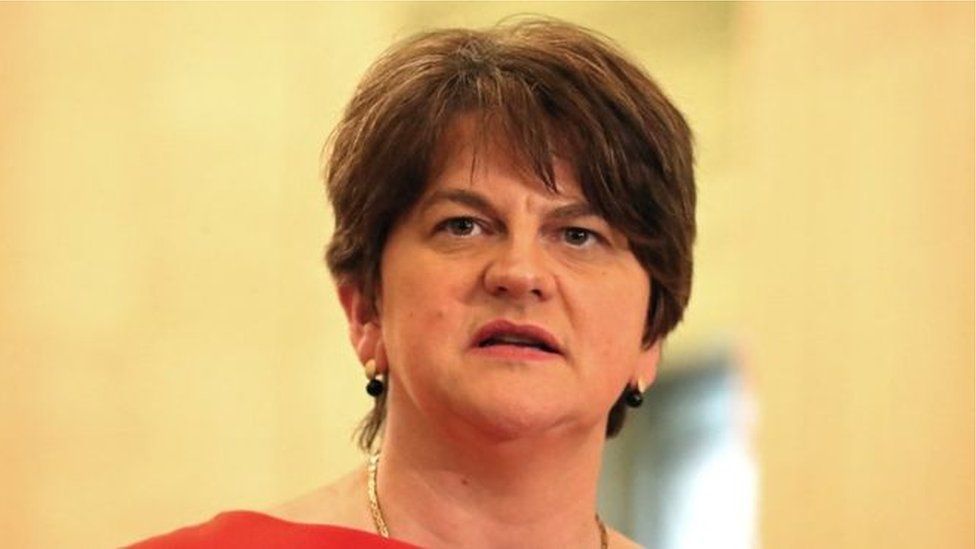 Restrictions on movement in Northern Ireland will last longer than three weeks, the first minister has said.
Arlene Foster said a range of things would need to be reviewed after the initial period.
But she said if she was a "betting person" she would think the measures to slow the spread of coronavirus would continue beyond Easter.
On Tuesday, it was confirmed that five people who had the coronavirus have died in Northern Ireland.
The Department of Health said there were 172 confirmed cases, following 2,989 tests.
Health Minister Robin Swann said: "These deaths must never become mere statistics. Behind each of them is a family plunged into grief."
He introduced the Coronavirus Bill, which introduces sweeping measures aimed at preventing the spread of the disease and which will be reviewed in three weeks' time.
It will be passed at Westminster, but on Tuesday the Northern Ireland Assembly debated the legislation, which aims to force people to stay at home.
Speaking to the BBC's Good Morning Ulster programme, Mrs Foster acknowledged the situation was confusing for people.
People can only leave their homes for very limited purposes such as shopping for necessities and medicine.
One form of exercise per day and essential travel to work is allowed, but gatherings of more than two people have also been banned.
Commenting on the latest measures, Mrs Foster said: "These new rules on social distancing may seem extreme but they are absolutely crucial in slowing the spread of this virus.
The government is not calling the latest legislative changes a lockdown, but police will have powers to enforce the rules - including through fines and breaking up gatherings.
Also speaking on Good Morning Ulster, Ulster Unionist Party (UUP) leader Steve Aiken said it had "never been easier for people in NI to do the right thing".
He said he believed legislation was necessary in the fight against coronavirus by enforcing social distancing rules more strictly.
"The people of NI are sensible, we have been through a lot in the past. Let's be sure we do it right."
Sinn Féin MP for South Down Chris Hazzard said most people would welcome the measures.
He added that the tougher restrictions were "somewhat inevitable" after a number of instances of social distancing not being observed over the weekend.
On Tuesday all MoT tests in Northern Ireland were cancelled after the new restrictions were introduced.
Wash your hands, stay at home
Once passed, the legislation will give the executive office at Stormont will get an unprecedented raft of new powers.
The first and deputy first ministers have again urged people to follow public health advice, to wash your hands often - and to stay at home.
Other premises including libraries, playgrounds and outdoor gyms, and places of worship must also close immediately.
Parks will remain open for exercise, but gatherings will be dispersed.
The government is also stopping all social events, including weddings, baptisms and other ceremonies - but funerals will be allowed.
The Department of Health in Northern Ireland has said people with mild symptoms should self isolate, and do not require testing.
They are not therefore included in testing totals.
Testing is now being principally provided for patients requiring hospital treatment and those with particular medical conditions.
Health Minister Robin Swann told the assembly on Tuesday there was an aim to rise to 900 tests a day by next week.
He said two other health trusts would also start testing this week, of up to 250 tests a day, meaning NI would have the capability to test about 1,100 people a day.