Coronavirus: Emergency legislation 'will protect NHS volunteers'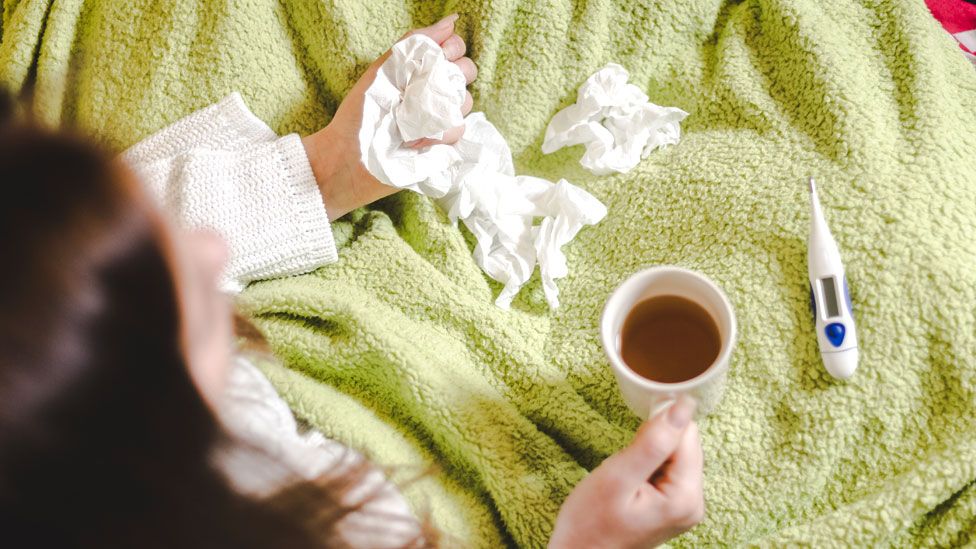 The government has outlined emergency legislation to tackle coronavirus, including measures to allow people to leave their jobs and volunteer to care for those affected.
Proposals would also allow court cases to be heard via video links.
It comes ahead of an expected move from the UK's "containment" phase of the outbreak response to "delay".
Meanwhile, Chancellor Rishi Sunak has pledged to address the outbreak in his first Budget on Wednesday.
The emergency coronavirus legislation could be introduced in the House of Commons this month, BBC political correspondent Chris Mason said.
Revealing new details of measures expected to be included in the bill, Health Secretary Matt Hancock outlined plans for volunteers to be given additional employment safeguards so they can leave their main jobs and temporarily volunteer in the event of a UK epidemic.
Around three million people currently volunteer in "a health, community health and social care setting", the government says.
Under the proposed measures, the jobs of "skilled, experienced or qualified volunteers" are to be protected for up to four weeks, and the government will consult businesses on the measures.
Tom Dolphin, a doctor who is a member of the British Medical Association's governing council, said the measures were welcome and would help to free up capacity in hospitals.
"We're not starting from a great place in terms of dealing with a big epidemic. We know that for a long time the NHS has been understaffed and under-resourced," he said.
Dr Dolphin said the health service could find itself having to make "difficult choices", postponing planned operations to cope with emergencies and epidemic cases.
Volunteers would need training and protective equipment, but Dr Dolphin said retirees brought back into service would be aware of the risks they were taking in tackling a virus that disproportionately affected older people.
"Being exposed to infectious disease is part of being a doctor or a nurse," he said.
Ministers are also thought to be considering allowing more proceedings in magistrates' courts to be conducted via telephone or video.
Following last week's announcement that ministers will also consider the emergency registration of retired health professionals, the new bill will also look at ensuring any retired staff who return to work in the NHS do not have their pensions negatively impacted.
Five hundred extra staff have already been recruited to work on the NHS 111 phone service, after calls increased by a third over the last week, compared with the same period a year ago.
This legislation is as much about what society can do in a coronavirus epidemic as it is about what the government is doing.
To minimise the impact of widespread transmission, which the UK is now gearing up for, requires the concerted efforts of individuals, businesses and communities as well as the state.
There is a limit to what NHS volunteers can do and, what is more, many are retired so the job protection does not necessarily matter that much.
Increased use of video links in court will also only have a limited impact. But when we go to the next stage of the government plan - delay - we are likely to see recommendations about social distancing at some point.
That will involve steps such as working from home and reducing our social contact - cutting back on the need for people to attend court will have a small role in that.
What these measures do is send a signal - that the best way of getting through a coronavirus epidemic is by pulling together and following expert advice as best we can.
Mr Hancock said: "We will do all we can to contain coronavirus but, as we know, Covid-19 is spreading across the world. So I want to ensure government is doing everything in its power to be ready to delay and mitigate this threat."
He said responding to the virus is "a massive national effort" and the government would introduce a bill with "proportionate" measures to deal with a widespread outbreak of Covid-19, the illness caused by the coronavirus.
Meanwhile, the new chancellor has promised "targeted measures" in his Budget to help businesses and workers "get through to the other side" of an economic downturn caused by a coronavirus epidemic.
In his first interview as chancellor, with the Sunday Telegraph, Mr Sunak said there were plans to give firms extra time to pay tax, if staff were unable to work and shoppers stopped spending money "in the normal way".
He also said he was "not daunted" by the challenge of protecting the economy in the event of a major outbreak, adding the UK was "well prepared" and would "emerge on the other side stronger".
The UK's strategy on responding to the virus has four phases: containment, delay, mitigation and - running alongside these - research.
Jenny Harries, England's deputy chief medical officer, said on Saturday the UK was "teetering on the edge" of a sustained community transition of coronavirus. but was not there yet.
Up until now, the containment phase has involved catching cases early and tracing all close contacts to halt the spread of the disease for as long as possible.
Moving into the delay phase could see the introduction of "social distancing" measures, such as closing schools and urging people to work from home.
More than 21,000 people have been tested for the virus in the UK, with 184 positive tests in England, 16 in Scotland, four in Northern Ireland and two in Wales.
Globally, the number of coronavirus cases has now passed 100,000, with 3,400 deaths.
Italy has placed at least 16 million people in quarantine in the region of Lombardy and in 14 other provinces in the north and east of the country
A student at Oxford University has tested positive for coronavirus, but the university said the risk to other students and staff is very low
London Ambulance Service officials have considered telling paramedics they must be clean shaven to protect themselves from coronavirus
About 70 people were trapped after a hotel being used as a coronavirus quarantine facility in the Chinese city of Quanzhou collapsed
Iran - one of the worst-hit countries outside China, where the virus originated - confirmed on Saturday it had almost 6,000 coronavirus cases and 145 deaths
Have you or anyone else you know been affected by the coronavirus? You can tell us your story by emailing haveyoursay@bbc.co.uk.
Please include a contact number if you are willing to speak to a BBC journalist. You can also contact us in the following ways: