Coronavirus in UK: How many confirmed cases are there in your area?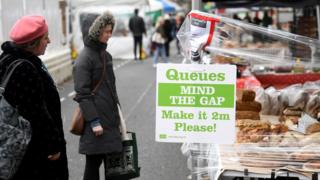 In the UK there are more than 19,000 confirmed cases of the coronavirus and at least 1,228 people, who have tested positive for the virus, have died.
Prime Minister Boris Johnson, who has himself tested positive, has written to all UK households saying the crisis will get worse before it gets better.
Deputy chief medical officer Dr Jenny Harries warned it could be up to six months before life returns to "normal".
More than 108,000 people in the UK have been tested for the virus but were found not to have it. The actual number of people with the respiratory infection in the country is estimated to be much higher.
Find out how many people have confirmed cases in your area:
If you can't see the look-up click here.
The following charts and graphics will help you understand the situation in the UK and how the authorities are dealing with it.
1. UK cases climbing
The new coronavirus, which causes the respiratory disease known as Covid-19, was first confirmed in the UK at the end of January.
While there were a number of people testing positive throughout February, figures in the UK began to increase at the beginning of March.
Numbers are now increasing rapidly and Sunday saw daily confirmed cases jump by more than 2,400, compared with the previous day.
The number of deaths has risen from 1,019 to 1,228.
Over the past week the number of deaths has roughly doubled every three days. If the trend continues, there could be another 1,000 deaths by the middle of the week.
Sunday's figures include a further 190 deaths in England, bringing the total to 1,125.
Those who died were aged between 39 and 105 years old, and all but four had underlying health conditions.
In Scotland, 41 people have died so far, while the figure in Wales is 48. Northern Ireland has seen a total of 21 deaths.
The government has introduced a series of restrictions on people's movement in a bid to slow the virus's spread.
The restrictions will be in place for a "significant period" and could last longer if people do not stick to the rules, according to Cabinet Office Minister Michael Gove.
UK figures are currently lower than some other European countries, such as Italy, for example, where there have been more than 92,000 cases and more than 10,700 deaths.
Globally, authorities have confirmed more than 690,000 cases of the coronavirus and more than 32,000 deaths.
2. London has seen the most deaths
Most of the deaths in the UK have been in England, primarily in London. The capital has seen more than 400 fatalities so far.
London hospitals are facing a "tsunami" of coronavirus cases and are beginning to run out of intensive care beds, according to Chris Hopson, of NHS Providers, which represents hospitals.
The ExCel exhibition centre in east London is being converted into a field hospital which could eventually hold up to 4,000 patients.
Two further temporary hospitals are planned: one at the NEC centre in Birmingham that will house 5,000 beds and another at the Convention Complex in Manchester, which will have 1,000 beds.
Work has also started to turn part of Birmingham Airport into a mortuary able to store at least 1,500 bodies, should the death toll rise significantly.
3. We are in the second phase of the government's response
The government's action plan for dealing with the virus involves three phases - contain; delay; mitigate - alongside ongoing research.
After trying to contain the disease, the country moved to the "delay" phase on 12 March to stop the wider spread of the virus.
Even if you have no symptoms, the government says you should:
Stay at home - only go out for essential shopping or medicines and to exercise once a day
Stop all non-essential contact with others - public gatherings of more than two people are banned
Stop all unnecessary travel - you can travel to work if absolutely necessary
Work at home where possible
Police have been given powers to fine people deliberately flouting the restrictions, with increasing penalties for repeat offenders.
The government is now encouraging self-isolation at home for over 70s, and those more vulnerable to the virus, for 12 weeks.
British nationals should avoid all non-essential foreign travel to tackle the spread of coronavirus, the Foreign Office has advised.
Retired NHS staff have been asked to return to work. A government appeal for volunteers to help deliver food and medicine to the vulnerable has prompted more than 750,000 responses.
4. People who think they have coronavirus should self-isolate
Symptoms include a high temperature and a "new, continuous" cough - this means coughing a lot for more than an hour, or three or more coughing episodes in 24 hours (if you usually have a cough, it may be worse than usual).
If you think you have coronavirus you are advised not to go to a GP surgery, pharmacy or hospital. Instead, you stay at home for seven days. If you live with other people, you should keep at least 2m away from them and they should also stay home for 14 days to see if they develop symptoms.
If your symptoms persist or worsen you should contact the NHS's dedicated 111 online coronavirus service or call 111.