Coronavirus UK map: How many confirmed cases are there in your area?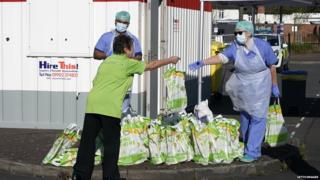 The number of confirmed coronavirus cases in the UK is on the rise, with more than 55,000 people now testing positive across the country. A total of 6,159 people confirmed to have had the virus have died.
The actual number of people with the respiratory infection in the UK is estimated to be much higher though - as only those in hospital and some NHS staff are currently tested.
More than 218,500 people in the UK have so far been tested.
Find out how many people have confirmed cases in your area:
If you can't see the look-up click here.
The following charts and graphics will help you understand the situation in the UK and how the authorities are responding.
1. The rise in UK cases is slowing
The new coronavirus, which causes the respiratory disease known as Covid-19, was first confirmed in the UK at the end of January.
While there were a number of people testing positive throughout February, figures in the UK began to increase at the beginning of March.
The number of confirmed cases is still increasing but seems to have flattened out around 4,000 a day. The most recent daily figure for new cases was about 3,600, according to the Department of Health and Social Care.
On 23 March the government introduced a series of restrictions on people's movement in a bid to slow the virus's spread.
A number of temporary "Nightingale hospitals" are being set up across the country to increase the NHS's ability to deal with the crisis.
The new hospitals will treat patients in makeshift critical care units at:
The ExCel exhibition centre in east London
The NEC centre in Birmingham
Manchester's Central Complex conference centre
The SEC Centre in Glasgow
The Belfast City Hospital
The University of the West of England in Bristol
The Harrogate Convention Centre
Another hospital will also be established at the Principality Stadium in Cardiff - though this is not classed as a Nightingale facility.
Work has also started to turn part of Birmingham Airport into a mortuary able to store at least 1,500 bodies, should the death toll rise significantly.
Retired NHS staff have been asked to return to work. A government appeal for volunteers to help deliver food and medicine to the vulnerable has prompted more than 750,000 responses.
Globally, authorities have confirmed more than 1.2m cases of the coronavirus and more than 70,700 deaths.
About half the global cases have been in Europe, though the US now has the most confirmed cases.
2. UK deaths are also increasing
The number of people confirmed to have had coronavirus and died has risen by 786 to 6,159.
That is a bigger jump than yesterday but it is thought likely that there are delays in reporting deaths at weekends, with the numbers appearing in official figures later in the week.
The BBC's Head of Statistics, Robert Cuffe said: "If there is any silver lining to these grim figures, it is that they represent the fourth day in a row of below trend growth.
"For weeks up until Friday's figures, the number of deaths had been doubling every three-and-a-half days. Had that trend continued, we would have seen close to 1400 deaths today."
The majority of those who have died having had coronavirus in the UK have been in England, with 5,655 deaths in total.
In Scotland, 296 people have died so far, while the figure in Wales is 212. Northern Ireland has seen a total of 73 deaths.
Most deaths have been among the elderly.
Figures released by NHS England show that about half of deaths have been among people aged over 80.
The UK's overall death figure, which is confirmed cases reported up to 17:00 BST the previous day, only includes people who died in hospital and tested positive for coronavirus.
It does not include deaths in the community, for example in care homes, or people who have died in their own homes.
This means that the true death toll will be higher.
Most deaths so far have occurred in London, but the Midlands has also been badly affected.
3. But UK deaths are lower than other countries
At the moment, the number of confirmed cases and deaths in the UK remains lower than some other European countries.
For example, in Italy there have been more than 132,500 confirmed cases and more than 16,500 deaths.
But while the increase in the number of deaths each day appears to be slowing in Italy, in the UK the number is still rising.
4. We are testing more people, but not as many as other countries
Increasing the number of people being tested for coronavirus will play a key part in analysing its spread in the UK.
The government has faced criticism over a shortage of testing, including the inability to test NHS staff who have symptoms but are unsure if they have the virus.
In recent weeks, most of the tests have been reserved for seriously ill patients in hospital.
On Thursday 2 April, Health Secretary Matt Hancock set a new target of 100,000 tests per day by the end of April - a big jump from the previous target of 25,000 per day by mid-April.
At the moment, the UK is some way behind other countries. Foreign Secretary Dominic Raab, who is standing in for Boris Johnson while he is in hospital being treated for coronavirus, has said there are signs of progress and nine new drive-through testing centres should help boost numbers.
South Korea, for example, has been able to test far more widely than the UK.
Despite having a slightly smaller population than the UK, it has twice as many labs and about two-and-a-half times the weekly testing capacity.
Testing depends not just on the number of labs, but on the availability of machines, test kits and the chemicals these kits need to work. These components are in high demand globally.
South Korea acted quickly to approve the production of testing kits, allowing it to build up a stockpile.
Italy and the US have also shown improvements in their testing capacity.
5. We are in the second phase of the government's response
The government's action plan for dealing with the virus involves three phases - contain; delay; mitigate - alongside ongoing research.
After trying to contain the disease, the country moved to the "delay" phase on 12 March to stop the wider spread of the virus.
Even if you have no symptoms, the government says you should:
Stay at home - only go out for essential shopping or medicines and to exercise once a day
Stop all unnecessary travel - you can travel to work if absolutely necessary
Work at home where possible
Police have been given powers to fine people deliberately flouting the restrictions, with increasing penalties for repeat offenders.
The government is now encouraging self-isolation at home for over 70s, and those more vulnerable to the virus, for 12 weeks.
British nationals should avoid all non-essential foreign travel to tackle the spread of coronavirus, the Foreign Office has advised.How many confirmed cases are there in your area?
6. People who think they have coronavirus are asked to self-isolate
Symptoms include a high temperature and a "new, continuous" cough - this means coughing a lot for more than an hour, or three or more coughing episodes in 24 hours (if you usually have a cough, it may be worse than usual).
If you think you have coronavirus you are advised not to go to a GP surgery, pharmacy or hospital.
Instead, you stay at home for seven days. If you live with other people, you should keep at least 2m away from them and they should also stay home for 14 days to see if they develop symptoms.
If your symptoms persist or worsen you should contact the NHS's dedicated 111 online coronavirus service or call 111.