Coronavirus UK map: How many confirmed cases are there in your area?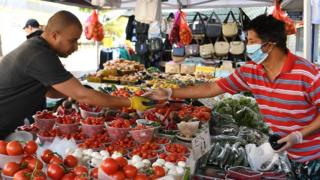 There have been more than 275,000 confirmed cases of coronavirus in the UK and over 39,000 people have lost their lives, government figures show.
However, these numbers only include people who have been tested, and the total number of deaths relating to coronavirus is thought to be higher.
Latest measures from the Office for National Statistics (ONS) suggest higher figures.
The first, counting death certificates mentioning the virus, suggests deaths reached 45,000 by the week beginning 15 May, while the second, recording deaths over and above the expected number, suggests a toll of more than 59,000 by the same date.
Some of these deaths are likely to include people with undiagnosed coronavirus or those who died as an indirect result of the pandemic.
Coronavirus accounted for just over 25% of all deaths in the UK in the week to 15 May, according to death registration data.
In the week to 17 April, when deaths from the virus reached their peak, this figure was just under 40%.
Find out how many people have confirmed cases in your area:
If you can't see the look-up click here.
UK daily deaths continue to fall
The new coronavirus, which causes the disease Covid-19, was first confirmed in the UK at the end of January, but the number of daily confirmed cases and related deaths only began to increase significantly by the second half of March.
The UK has the highest official death toll in Europe and the second highest in the world. However, the government and many experts say it is too soon to make international comparisons.
On Monday, the government announced a further 111 deaths during the previous 24-hour period. This figure is generally lower at weekends to due to delays in reporting deaths.
Public Health England has also identified an additional 445 coronavirus deaths in England, which occurred between 24 April and 31 May. These deaths have been added to the UK total, meaning 39,045 people have died after testing positive for coronavirus.
Although daily deaths have decreased, the downwards trend appears to have slowed in recent days.
Deputy Chief Medical Officer Dr Jenny Harries has said that if any "plateau" in deaths was occurring "we should be really concerned".
However she said the figures would need to be monitored for several days to "get a sense of what is happening".
The majority of the UK's deaths have been in England, with more than 34,000 so far - about 90% of the total for the UK.
In Scotland, the official government figure for deaths is 2,363, but data on death registrations from the National Records of Scotland (NRS) suggests it is at least 3,800.
In Wales, the death toll stands at 1,347 while there have been 524 deaths in Northern Ireland.
Most recorded coronavirus deaths have been among the elderly, with NHS England figures showing more than half of deaths have been among people aged over 80.
A quarter of all coronavirus related deaths have been among care home residents, according to the ONS, but the latest data suggests that has now stabilised.
What is the R number in the UK?
The latest infection rate, or "R number", for the UK as a whole sits between 0.7 and 0.9, according to the Sage group of advisors.
This number, the average number of people an infected person will pass the disease on to, has remained steady for two weeks.
If R is below one then the number of people contracting the disease will fall; if it is above one, the number will grow.
The government has said that the R number is one of the most important factors in deciding when lockdown measures can be eased.
Public Health England estimates the number in England to be 0.72-0.77.
In Scotland and Wales, the estimate is between 0.7 and 1.0, and in Northern Ireland it is between 0.8 and 0.9.
New cases continuing downward trend
The number of newly confirmed cases each day has been falling since a peak in April, despite an increase in the number of tests being carried out, and the seven-day rolling average shows a clear downward trend.
A further 1,570 cases were announced on Monday - compared with 2,445 announced on Saturday and 1,936 on Sunday.
However estimates by the ONS suggest there could be 8,000 cases per day in England alone - not including cases in hospitals or care homes - where people either show no symptoms or have mild symptoms and are not tested for the virus.
Cases were originally concentrated in London, the Midlands and the North West, but Wales and parts of the North East have also had a high proportions of cases.
Going forward, Health Secretary Matt Hancock has raised the possibility that there could be "local lockdowns" to control the spread of the virus.
Hospitals seeing fewer coronavirus patients
The number of people in hospital with Covid-19 has been gradually declining since a peak over Easter.
On Monday the government said the number of people in hospital with coronavirus had fallen to 7,541 - a drop from 8,830 the same time last week.
However, the picture is different across the UK's nations and regions, with numbers falling faster in some areas than others.
Testing now available to more people
The UK has exceeded its target to increase testing capacity to 200,000 a day by the end of May, the government has said.
Health Secretary Matt Hancock described it as "an important milestone on our journey to control the spread of the virus" and encouraged anyone with symptoms to get tested.
However, only 128,437 tests were recorded in the past 24 hours and these include test kits sent to individuals or to testing locations but not yet returned or analysed.
At least two million people have been tested for coronavirus - but the government has been unable to provide an updated figure for more than ten days, citing "technical difficulties" with data collection.
In England and Wales, children and adults of all ages displaying symptoms can now have a test to determine whether they currently have the virus. In Scotland and Northern Ireland, you can only get a test for your child if they are aged five or over.
All residents and staff in care homes in England, and patients and staff in the NHS can book tests regardless of whether they have symptoms.
Increased testing is essential for the government's "test and trace" strategy, which launched in England and Scotland this week.
Northern Ireland has its own approach up and running and Wales' system is due to start in early June.