Alleged neo-Nazi Andrew Dymock in court over terror charges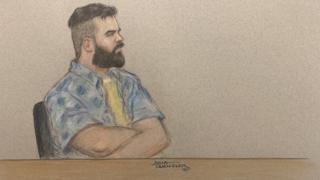 An alleged neo-Nazi, who is accused of quoting Joseph Goebbels to call for "total war", has appeared in court charged with 12 terror offences.
Andrew Dymock, 22, of Weymouth Street, Bath, was arrested on Wednesday morning by counter-terrorism officers.
The charges relate to alleged online activity by British neo-Nazi groups.
Mr Dymock - a student at the time of the alleged offences - indicated not guilty pleas to all counts at Westminster Magistrates' Court.
Prosecutors say the defendant, who appeared in the dock wearing a Hawaiian shirt over a rainbow t-shirt, was a member of the extremist groups System Resistance Network and Sonnenkrieg Division.
The chief magistrate, Emma Arbuthnot, granted him conditional bail ahead of a hearing at the Old Bailey on 20 December.
In all, Mr Dymock faces 15 charges:
Five counts of encouraging terrorism
Four of disseminating terrorist publications
Two of terrorist fundraising
One of possessing material of use to a terrorist
Three of stirring up racial hatred
It is alleged that he used the System Resistance Network (SRN) website - which later became a site for the Sonnenkrieg Division - to upload articles that directly encouraged terrorist violence, with one post said to call for the extermination of Jewish people.
He is also accused of using the SRN Twitter account to quote Goebbels, Adolf Hitler's propaganda chief, and ask that readers "join your local Nazis".
Another post allegedly stated: "Death to the System. Hail the new order!"
The terrorist funding charges relate to Mr Dymock allegedly seeking - and receiving - money via the SRN website.
He is further accused of possessing a poster that called for people to "rape the cops".