David Cameron memoirs: Forget Brexit - what else does his book tell us?
By Jo Couzens
BBC News Online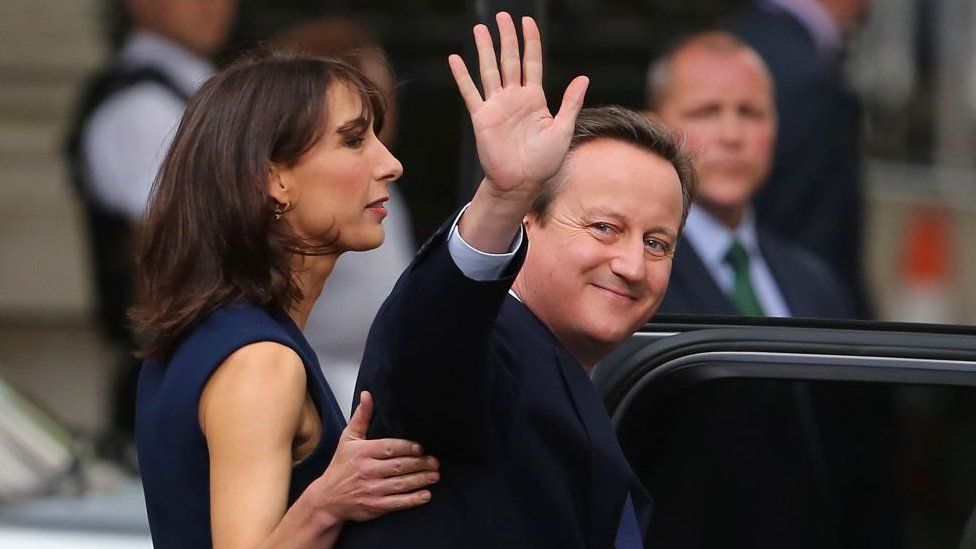 David Cameron has made some candid admissions about his views on gay marriage, drug use at Eton College and an embarrassing first brush with royalty in his autobiography.
Excerpts from the book, published in The Times, also reveal details of his life before and during his life at No 10.
Here are six things we learned.
Cameron regularly "off his head" on cannabis at Eton
Mr Cameron said he and two friends would take one of the Berkshire school's rowing boats to Queen's Eyot island in the middle of The Thames to smoke joints, spending the afternoon "gently off our heads".
Hauled in front of headmaster Eric Anderson, Mr Cameron insisted he had only smoked the drug once at Eton College, telling a "more and more elaborate set of lies". He avoided being expelled but was "gated" - banned from the leaving the college grounds - for a week.
Talking gay marriage with Samantha
The former PM writes in his memoirs that his wife had helped convince him to come out in support of gay marriage - an issue he would "worry and even wobble over".
He said Samantha Cameron would argue: "It's not going to make me feel any less married if two gay people want to get married."
Mr Cameron says legalising gay marriage is "one of the things of which I'm proudest", adding it was one of the most contentious, hard-fought and divisive issues during his time as PM.
But he insists it was his wife who made him realise he was being a "circle-squaring policy wonk" focusing on the practical details when he says he should have been looking at the bigger picture of people being able to marry "the person they love".
For 3 years I have kept relatively quiet about politics. But I think it's right former PMs write their memoirs, to explain what they did and why. For the Record is out Thursday. Serialisation starts in today's @thetimes https://t.co/rsFKeY4jSV

— David Cameron (@David_Cameron) September 14, 2019
Swearing in front of the Queen
As a schoolboy at exclusive Heatherdown Preparatory School in Berkshire, Mr Cameron had a rather embarrassing first brush with royalty.
Reading a lesson at the lecturn during a carol service as the Queen sat in the front row, the panicked youngster blurted out "oh shit!" when he realised he had forgotten to say "thanks be to God" at the end.
Why he moved Gove out of education job
Describing his friend since university as a "zealous and charming eccentric", Mr Cameron said that as education minister, Michael Gove "frequently and unhelpfully ranged well beyond his brief".
He said Mr Gove would indulge in long sermons in cabinet on subjects ranging from Islamist extremism to economics.
"Just get on with running the education department and stop commenting on everything else under the sun," Mr Cameron says he told the MP in a phone call.
Dropping himself from university tennis team
Perhaps it is no surprise that Mr Cameron showed his leadership credentials at a young age, being appointed captain of Brasenose tennis team at Oxford University.
But it seems his toughest decision came when he had to drop a key player - himself.
He writes: "The truth is that my team-mates were so much better than me that I often had to drop myself from the squad.
But it didn't sour his love of the sport in the long run.
Known to be a keen tennis player and fan, Mr Cameron is no stranger to the royal box at Wimbledon and would often play "friendly matches" with his then Deputy Prime Minister Nick Clegg.
He even played against Boris Johnson - as they partnered wheelchair tennis players - in a promotional event on International Paralympic Day in London in 2011.
On the night of the EU referendum, Mr Cameron, increasingly assured of a Remain lead, was imagining the prospective cabinet reshuffle, including naming Boris Johnson as his minister of defence. But it was not to be.
Instead, reneging on his promise to stay on whatever the referendum's outcome, Mr Cameron resigned that morning.
He and his wife, Samantha, had planned "very calmly" to face the cameras together outside Downing Street.
But his wife needed a little Dutch courage.
"'She said 'I just don't think I can go out there - I feel terrible' and had a stiff gin at 10 past eight in the morning." Mr Cameron recalls.
Meanwhile, his son Elwen - who, that morning, was due to portray his father in a school project about human rights - insisted the show must go on, despite the resignation.
Mr Cameron writes that he told the teachers: "I want to do it for my dad" adding that his performance "had the watching parents in tears".