Major power failure affects homes and transport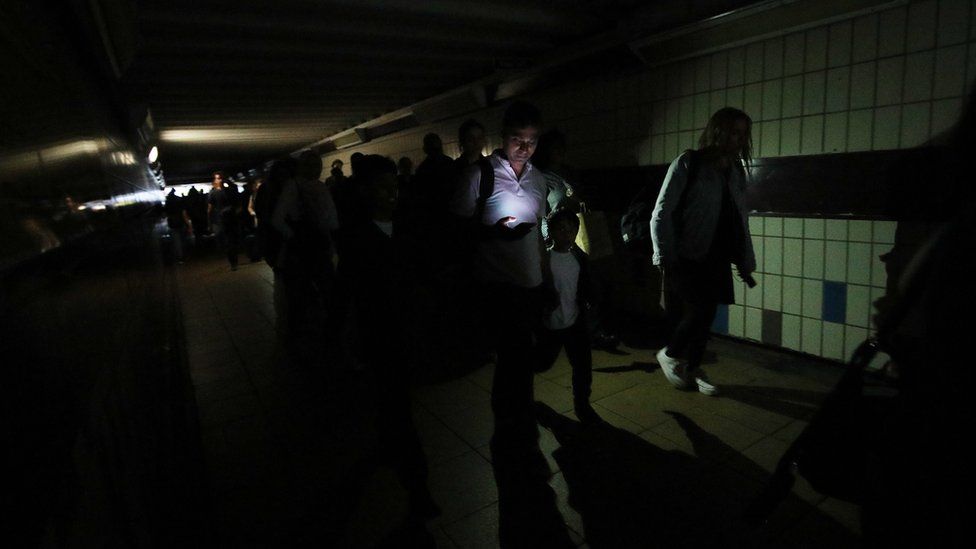 Nearly a million people have been affected by a major power cut across large areas of England and Wales, affecting homes and transport networks.
National Grid said it was caused by issues with two power generators but the problem was now resolved.
Blackouts were reported across the Midlands, the South East, South West and North East of England, and Wales.
Hundreds of people were stranded at King's Cross station as trains were delayed and cancelled.
Traffic lights in some areas also stopped working.
The Department for Transport, said: "Today's power outage has had knock on impacts on travel.
"We're working hard with Network Rail and others to ensure systems are up and running as quickly as possible, so that everyone can complete their journeys safely."
At the height of the Friday rush hour, all trains out of King's Cross were suspended and remained so for most of the evening.
Passenger Zoe Hebblethwaite said the situation outside the station was "absolute mayhem" and that passengers "couldn't find an assistant to speak to".
The BBC's Emma Petrie said there was an announcement asking passengers to leave the station.
By 21:00 BST, more than 1,000 passengers appeared to be stranded at King's Cross, with London North Eastern Railway and National Rail advising customers against all travel for the rest of the day.
Later on, some LNER trains were running southbound into King's Cross, and services to Stevenage and Peterborough from London also resumed, but not further up the East Coast Main Line.
One passenger told BBC Radio 5 Live her train took nearly 13 hours to reach London King's Cross from Edinburgh - a journey which would normally take less than five hours.
"By hour seven things were starting to get pretty tense," Dayna McAlpine said. "We were being held in the middle of nowhere. Food ran out about five hours ago... We quite simply had to sit."
Boards at Waterloo station showed no trains departing on any platforms.
Harriet Jackson, 26, said there was an "apocalyptic" scene on Northcote Road, in Battersea, when traffic lights cut out and cars were not stopping.
"Given it's a Friday afternoon, it's the last thing you want to encounter," she said.
Scenes at Clapham junction, commuters using phone lights in the tunnels. Also I just got trapped on the train as the doors stopped working. pic.twitter.com/wJjBAmoiOd

— Ais Green (@AislingJane_) August 9, 2019
Passengers at Newcastle Airport said the power cut out for about 15 minutes, but Heathrow, Gatwick and Luton airports said they had not been affected.
Scott McKenzie, 31, from Cardiff, said "various alarms were going off" at Newcastle Airport.
"We were literally plunged into darkness and people were using their phones as torches to see and get around," he added.
The whole of Newcastle airport in lockdown after a power cut throughout. Great start to the holiday. We were just about to check in too. pic.twitter.com/lXeTvhEj04

— Richy Lavender (@richylavender) August 9, 2019
About 500,000 people were affected in Western Power Distribution's area - including 44,500 customers in Wales - with power restored to them all shortly after 18:00 BST, the company said.
Northern Powergrid said 110,000 of its customers lost power between 17:10 BST and 18:00 BST, while Electricity North West said at least 26,000 people were without power in the North West.
UK Power Networks spokesman said 300,000 people were affected in London and the South East.
Network Rail said all trains had been stopped after a "power surge on the National Grid" but its signalling system had come back online.
In a statement, National Grid said: "Even though these events are outside of our control, we have plans in place to respond and the system operated as planned by disconnecting an isolated portion of electricity demand."
The action allowed the system to "protect itself and limit the fall in frequency", which allowed for "power to be quickly restored", it added.
The energy watchdog Ofgem said it had asked for "an urgent detailed report from National Grid so we can understand what went wrong and decide what further steps need to be taken".
By Ben Ando, BBC News correspondent
The enormous impact of this power failure is likely to lead to questions about the strength and robustness of the system.
The BBC understands that two power supply plants - one a traditional gas and steam-fired power station in Cambridgeshire, the other a huge wind-turbine farm in the North Sea - failed at about 16:00 BST.
National Grid described it as an "unexpected, and unusual event".
The sudden drop in available power caused protective measures to kick in that immediately cut electricity supply to a section of the National Grid network.
By 18:30 BST the problems were fixed and the system was described as operating normally by the National Grid.
But the knock-on effect is likely to be felt for several hours to come.
Passengers have been warned to expect delays.
Trains from Hull were suspended and the operator told customers to wait until Saturday to travel.
Thameslink said most of its trains were at a standstill between London and Bedford, and later added it was not running any trains north of London for the rest of the evening.
British Transport Police said it had sent officers to "several" train stations to provide assistance to travellers.
It was important that passengers listened to travel advice from National Rail Enquiries and Network Rail, it said, adding: "For your own safety, do not leave train services not at stations."
Merseyrail cancelled several trains from West Kirby to Liverpool and told customers to use the Water Street entrance for James Street station.
A spokeswoman for Transport for London said some traffic lights in the capital were "not working" but the scale of the problem was not yet known.