UK heatwave: Extraordinary temperatures 'could break records'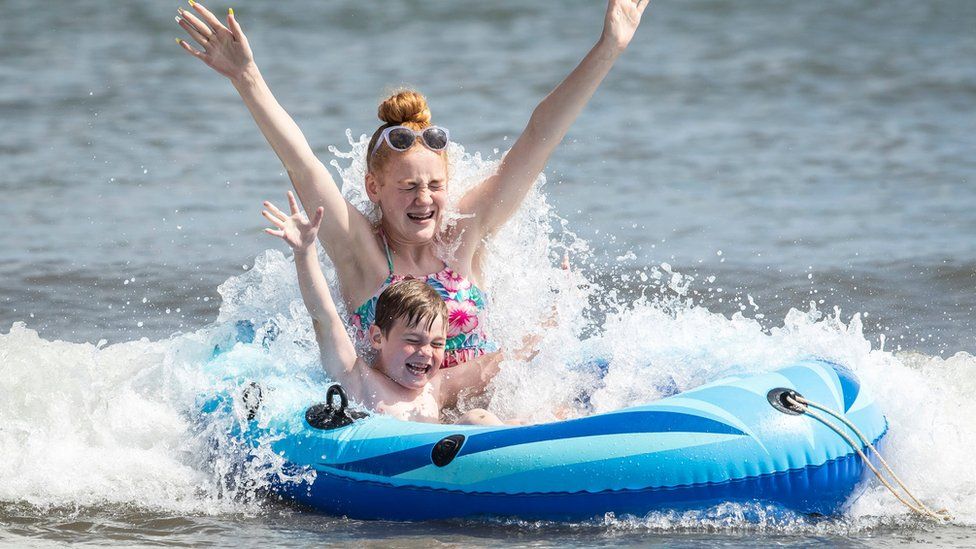 Thursday will see "extraordinary and perhaps unprecedented heat" in parts of the UK, say forecasters.
Temperatures could rise to a record-breaking 39C (102.2F) in the London area, and other parts of the UK could exceed 30C, according to BBC Weather.
The heatwave follows 30C temperatures in the South East on Wednesday, with the highest in Writtle, Essex, at 33.5C.
The current all-time UK high of 38.5C was recorded in August 2003.
BBC Weather predicted Wednesday evening would be "uncomfortably warm and humid", with temperatures in some city centres in southern England staying above 20C through the night.
Elsewhere on Thursday, Scotland could see temperatures at close to 30C in the hottest areas, including the Central Belt.
A weather front close to Northern Ireland will keep it cooler with more cloud at times, whereas elsewhere across the UK there will be plenty of hot sunshine.
Network Rail warned of disruption and said train speed restrictions may be introduced in areas where tracks were at risk of buckling.
Police repeated their warning to take care in open water, as the bodies believed to be those of three swimmers were recovered.
Earlier another body, believed to be that of a 23-year-old man who disappeared while swimming in the Thames at Shadwell Basin on Tuesday, was recovered.
And in Gloucestershire, police searching for a man in his 20s from Wiltshire who went missing in Cotswold Water Park said a body had been found on Tuesday evening.
Inspector Stuart Simpson, from the Metropolitan Police's Marine Policing Unit, said: "Whilst at times, the Thames may look appealing, especially in this hot weather, it remains very dangerous all year round.
"On initial entry, the water can seem warm on the surface, but further in it can be freezing cold and there are often very strong undercurrents.
"The initial shock of the cold water is often what leads to people going subsurface and subsequently drowning."
Wednesday's hotspots were in southern and eastern England, with Writtle in Essex at 33.5C, Heathrow (32.4C) and St James's Park in London ( 31.9C).
Northern Ireland and western Scotland were the coolest areas, with highs in the low 20s.
Forecasters estimated a 70% chance on Thursday that temperature could top the current all-time temperature record of 38.5C.
BBC Weather said conditions could reach 39C in southern and eastern England.
The Met Office issued a yellow warning for thunderstorms for swathes of the England and Scotland, lasting from 15:00 BST on Thursday to 04:00 on Friday.
We are on target to record our hottest July day on record this Thursday!

The UK temperature record for July currently stands at 36.7C ...recorded at Heathrow in July 2015.

(already less hot in Scot/NIre/W Wales by then)
Matt pic.twitter.com/GWrX2TpBpz

— BBC Weather (@bbcweather) July 23, 2019
During the hot weather, Network Rail said extreme weather action teams (EWATs) had been "activated" to keep passengers safe and trains running.
The Rail Delivery Group, which represents the industry, said passengers planning to travel on Thursday should consider changing their plans to avoid disruption caused by the heat.
Spokesman Robert Nisbet said: "While train operators and Network Rail are working together to minimise disruption, we ask passengers to check before they travel and consider travelling earlier on Thursday if possible.
"We also ask people travelling by train to carry a water bottle and if they feel unwell, get off at the next stop where a member of staff will be happy to help.
The NHS has tweeted advice for dealing with the unusually hot temperatures and said: "Try to avoid spending extended periods in the sun this week. Also, be aware that vulnerable people are at increased risk of health issues."
Councils have called on the public to check on family and friends, warning that the elderly and those with heart and respiratory problems were most at risk from the hot weather.
Network Rail has said speed restrictions could be brought in some locations" to "reduce the likelihood of buckling".
It advised passengers to check timetables before they travel.
Rail operator Southeastern has said it will run a "significantly reduced service" on Thursday due to the speed restrictions.
At 39.9C (102F) the Belgian town of Kleine Brogel was hit 39.9C (102F) was the hottest since 1833.
The southern Dutch city of Eindhoven beat the 75-year-old national record with a new high of 39.3C.
And Germany's weather service said a new record of 40.5C - just 0.2C higher - had been set in Geilenkirchen, near the Belgian and Dutch borders.
Meanwhile, passengers on a Eurostar train travelling from Brussels to London were stranded in 38C on Wednesday morning, after their train broke down due to an overhead power supply problem.
The train was evacuated and passengers were given bottles of water while they waited for another train to collect them.
Eurostar advised people not to travel on its Brussels route because the power issue was causing "significant delays", as well as some cancellations.