Ambassador row: Other leaks may be in circulation says Met Police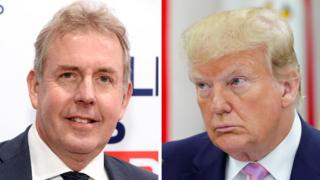 Scotland Yard has said there may be more sensitive documents in circulation, as it warned media against publishing leaked diplomatic memos.
Police have launched a criminal investigation into the leak of diplomatic emails from the UK ambassador in the US, Sir Kim Darroch.
Metropolitan Police Assistant Commissioner Neil Basu said publishing the emails could be a criminal offence.
Editors criticised an earlier statement warning against further publication.
Following the backlash, Mr Basu said police "respect the rights of the media and has no intention of seeking to prevent editors from publishing stories in the public interest in a liberal democracy".
However, he added: "We have also been told the publication of these specific documents, now knowing they may be a breach of the OSA [Official Secrets Act], could also constitute a criminal offence and one that carries no public interest defence.
"We know these documents, and potentially others, remain in circulation."
The government has already opened an internal inquiry into the publication of the memos, which saw the US ambassador refer to the Trump administration as "clumsy and inept".
The emails prompted a furious reaction from US president Donald Trump, who branded Sir Kim "a very stupid guy" and said he would no longer deal with him.
Sir Kim stepped down as US ambassador on Wednesday, saying it was "impossible" for him to continue.
'Ill-advised'
A criminal investigation into the leak was launched on Friday by the Met Police Counter Terrorism Command, which takes national responsibility for investigating allegations of criminal breaches of the Official Secrets Act.
Mr Basu said he was satisfied the leak had damaged UK international relations and added that there was a "clear public interest" in bringing those responsible to justice.
He faced criticism, however, after he advised individuals and the media not to publish leaked government documents and to instead hand them over to the police or return them to their rightful owner.
Evening Standard editor George Osborne described the Met statement as "stupid" and "ill-advised".
Sunday Times political editor Tim Shipman branded it "sinister" and "anti-democratic". "Do you have any comprehension of a free society? This isn't Russia," he tweeted.
Mr Basu issued a further statement on Saturday afternoon saying he had received legal advice that led to the Met initiating an investigation into the documents as a potential breach of the Official Secrets Act (OSA).
"We have a duty to prevent as well as detect crime and the previous statement was intended to alert to the risk of breaching the OSA," he said.
What is the Official Secrets Act?
The Official Secrets Acts say a person can be guilty of an offence if they make a "damaging disclosure of any information or document" relating to security or intelligence of which they are in possession.
A person does not have to officially "sign" the Official Secrets Act to be bound by it. The 1989 Act says a person can simply be "notified" that it applies to them - for example, in a government employee's contract.
The law is strictest for those working for the security and intelligence services, past and present. Any unauthorised disclosure - under any circumstances - is a criminal offence.
Prosecutions under the Official Secrets Act aren't very common - about one a year - according to the House of the Commons Library.
But over the years, there have been some high-profile cases. In 2002, MI5 agent David Shayler was jailed for six months for giving details of MI5 operations to the Mail on Sunday.