Storm Hannah eases after battering western parts of UK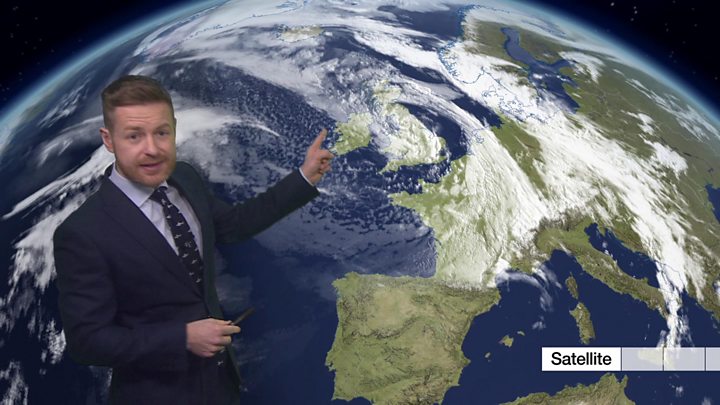 Storm Hannah is blowing itself out after hitting parts of the UK with winds of more than 80mph.
A yellow wind warning for Wales and central and southern England was lifted at 15:00 BST.
The Met Office has also lifted a yellow rain warning for Northern Ireland after County Antrim saw 27mm of rainfall in the last 24 hours.
Thousands of homes across Ireland remain without power after storm Hannah brought down power lines.
Rain is continuing to hit Northern Ireland, with a further 10mm (0.4 in) expected on top of 20mm (0.8in) already seen - gusts of 50-60mph are still being recorded.
Winds of 82mph (132km/h) were recorded on the Llyn Peninsula in north Wales overnight and 78mph (126km/h) at Pembrey Sands in Carmarthenshire.
A Turkish Airlines flight had to return to Birmingham Airport 30 minutes after departure because a heavy gust caused the plane's tail to strike the runway during take-off.
The Boeing 737 took off at 10:45 BST and had to return for technical checks.
Western Power Distribution, which operates in south-west England, south Wales and the Midlands, said more than 1,700 properties on its network were left without power on Saturday morning, with the majority affected in Wales.
Almost all homes had power restored by midday, but a spokesman for the company said the network could see pockets of further disruption until the wind eased off completely.
Storm Hannah struck south-west Ireland on Friday amid a red weather warning of "violent gusts" before it headed east into the UK.
The highest recorded were 76mph (122km/h) at Mace Head in Galway and 74mph (119km/h) at Shannon Airport.
ESB Networks said strong winds had caused damage to the electricity network affecting thousands of homes, farms and businesses, predominantly in south-west counties of Kerry and Cork.
Irish weather service Met Éireann said conditions would ease over Ireland on Saturday but warned it will remain windy with showers of heavy rain.
There were dramatic wind gusts in Wales, as captured by Press Association photographer Ben Birchall.
Met Office forecaster Simon Partridge said: "By the evening the winds will gradually ease but it will be a pretty wet and windy day."
Sunday's London Marathon is expected to start with breezy and cloudy conditions, with sunshine later.