Toilet charges scrapped at busiest railway stations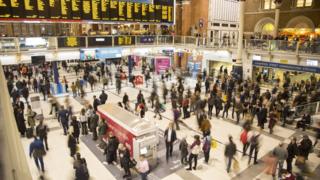 Ever been caught short at a station scrambling for coins to pay for the toilet?
Now passengers at the UK's busiest railway stations will be able to spend a penny for free - after Network Rail scrapped charges.
On Monday, London Liverpool Street, London King's Cross and Edinburgh Waverley became the last of its 20 stations to make their toilets free.
Previously, some charged up to 50p per person.
Network Rail said it wanted to put "passengers first" and help make their journeys "a bit more hassle-free".
In 2017 it was revealed that the public sector body had made £41m in 10 years from toilet charges.
The latest figures show Network Rail-run stations across the UK made £3.1m from toilet charges in 2017-18.
Independent watchdog Transport Focus said toilets were a "priority for improvement" at stations according to its research.
It said scrapping charges was "a welcome step for passengers".
'I used to panic when I didn't have change'
Ben Macfarlane, 39, was diagnosed with Crohn's disease - a chronic condition which causes inflammation in parts of the digestive system disease - 20 years ago.
His condition means he often needs to use the toilet at short notice and he said charges at stations had caused him a lot of stress in the past.
"I used to panic when at the station and always have to check and make sure I had enough money and even the correct change," he said.
"There have been times in the past when I have had to ask for change, and when you're desperate to go the last thing you need is to be stopping to ask someone for change to use the toilet.
"As I look fit and well, people question you when you say you need to use the toilet but don't have the change," he added.
He said scrapping charges would mean he could go to the toilet without being asked any questions, which he said could cause "added embarrassment".
Other stations run by Network Rail - including Birmingham New Street, Manchester Piccadilly and Glasgow Central - have already scrapped toilet charges.
Smaller stations managed by local train operating companies may still charge for the use of facilities.
Network Rail said the move was one of a number of measures to help passengers.
Other improvements being made at stations include the introduction of water fountains, better and more seating, and reducing clutter on concourses.