Christchurch shootings: Far-right attack 'could happen in UK too'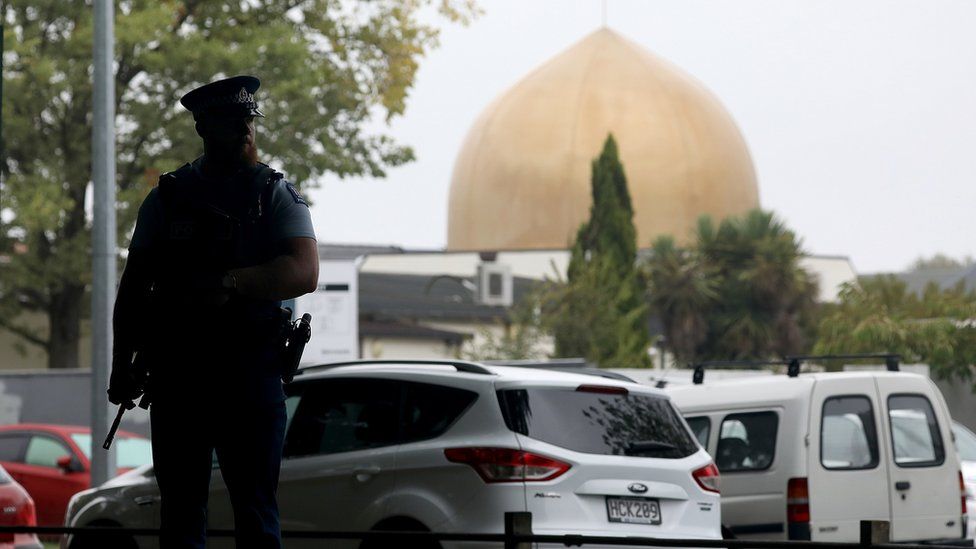 It is "perfectly possible" that a far-right attack like that seen in New Zealand could happen in the UK, security minister Ben Wallace says.
He told the Commons the UK was seeing a "growing threat" from the far right.
He added the attack must be a "wake up call" for social media firms, who should be "ashamed" they enabled the shootings to be live-streamed and shared.
The attack on two mosques in Christchurch killed 50 people.
It was live-streamed on Facebook by the gunman, with the footage lasting for 17 minutes.
Despite the original video being taken down, it was quickly replicated and shared widely on other platforms, including You Tube and Twitter.
"We've been clear that tech companies need to act more quickly to remove terrorist content and ultimately prevent new content being made available to users in the first place," Mr Wallace said.
He said the government would set out clear expectations of how tech companies should keep users safe and what should happen if they failed to do so in a White Paper on "online harms", due to be published "imminently".
Social media firms sent messages of sympathy to the victims of the attack and said they acted quickly to remove inappropriate content.
Facebook said it had deleted more than 1.5m copies of the video of the attack, of which more than 1.2m were blocked while they were being uploaded.
YouTube said it had also removed tens of thousands of videos and terminated hundreds of accounts created to promote or glorify the gunman.
Mr Wallace acknowledged that the UK's stricter gun laws made it harder for people to acquire military-style weapons.
However, he said the UK still faced a "growing threat" from the extreme right, which he described as "the pool that terrorists of the future will recruit from".
He said the government's counter-terrorism strategy was designed to address all forms of terrorism, whatever ideology it was driven by, and funding would be kept under review and directed "wherever the threat emerges".
Earlier, he told BBC Radio 4's Today programme that nearly half of those identified by the government's Prevent programme - which aims to tackle extremism - were linked to the far right, and extreme ideologies were being spread online.
"In the 21st century people can join up in a virtual community on the internet. They can reinforce their own ignorance and extremism. They can learn how to hurt and to kill people," he said.
But Dame Louise Casey, who in 2016 wrote a report for the government on integration, said the UK had not "woken up" to threat of extremism.
She told the BBC the government needed a strategy to deal with communities facing poverty and a lack of hope, to prevent young people from being drawn into extremism.