Knife crime must be tackled from police funds - Hammond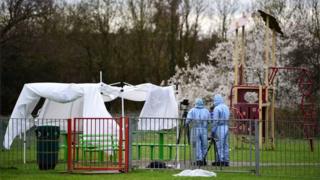 Police forces in England and Wales must use their existing budgets to tackle knife crime, the chancellor has said.
Senior officers and crime commissioners had called for more money to pay for extra officers. On Thursday, a teenager became the fifth person to be stabbed to death in London in the last week.
But Philip Hammond said police must use money and officers from other parts of their forces to deal with the problem.
Shadow home secretary Diane Abbott told MPs the suggestion was "monstrous".
During an urgent question on knife crime in the Commons on Thursday, Ms Abbott said it was "an insult to grieving families", and added: "The police are under pressure in nearly every area. What we need is more resources for the police and we need them now."
A male in his late teens died on Thursday afternoon, after being stabbed in West Kensington, London.
According to the BBC's home affairs correspondent Danny Shaw, it is the Met Police's seventh murder investigation launched in the past seven days, with five of the victims having died from stab wounds.
Two other people have been stabbed to death in the past week in England - a man in Oxford and Yousef Makki in Greater Manchester.
The chancellor told BBC Radio 4's Today programme there had to be a "surging of resources from other areas of policing activity into dealing with this spike in knife crime".
"That's what you do in any organisation when you get a specific problem occurring in one area of the operation, you move resources to deal with that," he added.
Earlier, he told LBC: "If your house is on fire, you stop painting it and you go and get a bucket and start pouring water on the fire."
He said police commissioners and chief constables across the country needed to divert resources from "lower priority areas of policing".
Asked what those "lower priority areas" were, he said "it's not my job to define the operational priorities of individual police forces".
Home Secretary Sajid Javid, who held talks with police chiefs on Wednesday, said after the meeting it was important to "always make sure the police have the resources they need".
The Home Office said it would not comment on Mr Hammond's comments.
Analysis
By BBC Home Affairs correspondent Danny Shaw
There's clearly tension at the heart of government about whether forces in England and Wales should have extra money to tackle knife crime.
Home Secretary Sajid Javid nailed his colours to the police mast on Wednesday saying their requests needed to be "listened to".
There was quiet optimism amid senior officer ranks that additional funding would be made available.
That's been thrown into doubt by Chancellor Philip Hammond's comments suggesting chief constables should use their existing budgets.
His remarks are likely to reflect annoyance that police are asking for more just three months after he approved a financial settlement for 2019-20 which will enable forces to step up recruitment.
Mr Hammond may also be sending wider signals to dampen expectations about government spending, ahead of next week's Spring Statement.
But for many police officers his comments will be seen as confirmation that he doesn't understand the pressures they're working under.
Metropolitan Police Commissioner Cressida Dick said on Tuesday there was "obviously" a link between violent crime and falling police numbers, but Theresa May insisted there was "no direct correlation".
On Wednesday, Sara Thornton, chairwoman of the National Police Chiefs' Council, said tackling knife crime should be treated as an "emergency".
She told the BBC: "We just haven't got the capacity, we just haven't got the officers at the moment so we need some money now to pay for overtime to pay for mutual aid between forces."
Home Office minister Victoria Atkins told MPs the government had increased funding for the police.