Brexit: What trade deals has the UK done so far?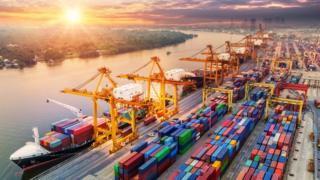 The UK has signed an agreement in principle with Japan, marking its first major trade deal since leaving the European Union (EU).
Following Brexit day, on 31 January 2020, the UK has been free to strike its own deals for buying and selling goods and services around the world.
What is a free-trade deal?
A free-trade deal aims to encourage trade - usually in goods but sometimes in services too - by making it cheaper. This is often achieved by reducing or eliminating tariffs - charges for trading across borders.
Trade agreements also aim to remove quotas - limits on the amount of goods which can be traded.
Trade can also be made simpler if countries have the same rules, such as the colour of wires in plugs. The closer the rules are, the less likely that goods need to be checked.
Where does the UK trade?
% of total UK trade in 2018
So why have tariffs and quotas at all?
While free-trade agreements aim to boost trade, too many cheap imports could threaten a country's manufacturers, which could impact jobs.
For that reason a country might choose to put tariffs on car imports, for example, in order to protect local car makers.
What is the UK-Japan agreement?
On 11 September the UK government announced it had reached a new trade agreement in principle with Japan.
It says that the agreement will mean 99% of UK exports to Japan will be free of tariffs. The EU signed its own free trade deal with Japan in 2018 and the UK's deal is very similar.
The total value of UK-Japan (imports and exports) was £29.1bn in 2018, according to the Department for International Trade.
Trade with Japan accounts for just 2% of the UK's total, so the government expects the deal to contribute 0.07% of GDP over the long term.
What about a UK-EU trade deal?
The UK and the EU are currently negotiating a trade agreement to start on 1 January 2021 - the date the new UK-EU relationship starts.
Any trade agreement will aim to eliminate tariffs and reduce other trade barriers coming into force. It will also aim to cover both goods and services.
Even though the UK has left the EU, its trading relationship will remain the same until the end of the year. That's because it's in an 11-month transition - designed to give both sides some time to negotiate a new trade deal.
No new trade deals can start until the transition ends.
How easy will it be to negotiate a UK-EU trade deal?
Prime Minister Boris Johnson says a UK-EU agreement on trade must be done by 15 October if it's going to be ready for the start of 2021. Despite this, talks have run into problems.
Right now, the UK and the EU share the same rules in areas like workers' rights, competition and environmental policy. They're known as level playing-field rules.
While the EU insists the UK must stick to these rules - so UK businesses don't gain an advantage - the UK government says it wants the freedom to move away.
Access to fishing waters has also proved to be a major sticking point.
Even if a trade deal is agreed, it will not eliminate all checks, because the EU requires certain goods (such as food) from non-EU countries to be checked. So businesses need to prepare.
What happens if UK-EU trade talks fail?
If negotiators fail to reach a deal, the UK faces the prospect of trading with the EU under the basic rules set by the World Trade Organization (WTO).
If the UK had to trade under WTO rules, tariffs would be applied to most goods which UK businesses send to the EU. This would make UK goods more expensive and harder to sell in Europe. The UK could also do this to EU goods, if it chose to.
Having WTO terms would also mean full border checks for goods, which could cause traffic bottlenecks at ports and lead to significant delays.
And the UK service industry would lose its guaranteed access. This would affect everyone from bankers and lawyers, to musicians and chefs.
What about the EU's existing trade deals?
While it was an EU member, the UK was automatically part of around 40 trade deals which the EU had struck with more than 70 countries. In 2018, these deals represented about 11% of total UK trade.
So far, 19 of these existing deals, covering 50 countries or territories, have been rolled over and will start on 1 January 2021. This represents about 8% of total UK trade, based on 2018 figures.
Any existing EU agreement that is not rolled over will cease on 31 December and future trade will take place on WTO terms until a deal is reached.
The UK government is also holding trade talks with countries that do not currently have EU trade deals: the US, Australia and New Zealand.