Douglas Slade ordered to pay five Filipinos £127,000 over abuse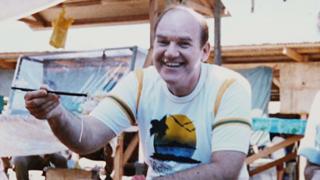 A paedophile has been ordered to pay £127,000 to five Filipinos in a "landmark" case, after a judge decided he had sexually abused them.
Douglas Slade has not been convicted of those offences and denies wrongdoing.
The men's lawyer said the "unprecedented" High Court case "provided a sense of vindication for the victims".
Slade, 77, who moved to the Philippines in 1985, was jailed for 24 years in 2016 for abusing five boys in the UK.
The judge in that case said Slade, who was extradited to the UK the previous year, was "wholly unrepentant" over the offences, committed between 1965 and 1980.
Slade was a founder member of the Paedophile Information Exchange and actively campaigned for sex between children and paedophiles to be legalised in the 1970s and 1980s.
He used to run a helpline for child sex abusers from his parents' home in Bristol.
Slade lived in the Philippines for 30 years and, despite several investigations, there was no successful prosecution against him there.
It is the first case where foreign victims have successfully claimed compensation against a British abuser, despite a failed attempt to prosecute him abroad, lawyer Alan Collins - representing the five Filipinos - said.
The four young men and one teenage boy at the centre of this case sued Slade for "personal injuries arising out of sexual abuse" and gave evidence from Manila. The youngest was 10 at the time the abuse is alleged to have started.
'Lying and deception'
They lived in poverty and were allegedly groomed by Slade, who is said to have offered them money and chocolate after buying a house near a school.
The payments the five will receive from Slade range from £20,000 to £35,000.
Mr Collins, of law firm Hugh James, said: "This landmark case is unprecedented for a High Court in London, showing how the legal system in England and Wales delivers justice for victims of sexual abuse whether they live in England or overseas.
"The judgement has finally provided a sense of vindication for the victims after Slade avoided justice for so many years through his lying and deception and I'm sure this case will set a precedent for others in a similar situation to seek justice."
Judge Mark Gargan published his ruling on Friday after analysing evidence at a recent High Court case in London.
Slade had denied abusing the five, saying their allegations were a fabrication.