Russell Bishop: Justice after 32 years for 'babes in the wood' killer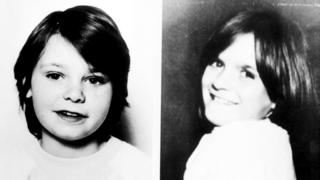 Russell Bishop has been found guilty of the murders of nine-year-olds Karen Hadaway and Nicola Fellows. It comes 32 years after their deaths and after Bishop was originally found not guilty of a crime that shocked the nation.
"It is a scene I will never forget", journalist and author Paul Cheston says.
"Unquestionably, it was the most dramatic I have seen in more than 30 years of reporting court cases."
Russell Bishop, a roofer and a petty criminal, was standing trial for the murders of two nine-year-old girls in Brighton, in 1986.
The bodies of Karen Hadaway and Nicola Fellows had been found in a dense wooded area of Wild Park, on the edge of Brighton, just half a mile from their homes.
They had been sexually assaulted and strangled.
The press dubbed it the "babes in the wood" murder case.
'Not guilty'
At the end of a four-week trial, in December 1987, the jury delivered its verdicts.
"Not guilty", came the first.
As the words were delivered, mayhem erupted in court, Mr Cheston recalls. Bishop's brother jumped into the dock, hugging him. As prison officers wrestled him to the floor, Bishop's father became unwell, seemingly overcome by the scene, while his mother began shouting about his heart.
"The second not guilty verdict was lost in the mayhem," Mr Cheston added.
The families of the two girls watched on from the public gallery above the court.
"The prosecution fell apart almost from day one," Mr Cheston says of the 1987 trial.
The star prosecution witness - Bishop's partner and mother of his children, Jennie Johnson - had retracted her earlier claim that a blue sweatshirt found close to the murder scene belonged to Bishop. The jumper, with the word "Pinto" written on it, was a crucial piece of evidence.
After just two hours of deliberation, the jury found Bishop not guilty.
"It was absolutely no surprise," Mr Cheston says. "There was no other possible verdict and that had been clear from the first week of the trial."
Identified by survivor
Bishop would soon be back in court.
Three years after his acquittal, on Sunday 4 February 1990, he tried to kill another girl in Brighton. He snatched the seven-year-old girl off the street, bundled her into the boot of his car and drove 14 miles to a well-known beauty spot outside the city.
There he sexually assaulted and tried to strangle her before leaving her unconscious in the woods.
The girl survived and managed to identity Bishop as her attacker.
When police went to arrest him, he came at them with a poker. He was charged with the attempted murder, kidnapping and indecent assault of the seven-year-old, and sentenced to life in prison.
The investigation by Sussex Police into the murders of Karen and Nicola never closed.
But it wasn't until advances in DNA testing that they were able to re-examine the evidence. A forensic scientist retested the crucial blue Pinto sweatshirt in 2014, finding DNA evidence linking it to Bishop's home and the girls. A previously unexamined sample taken from Karen's forearm uncovered a "one-in-a-billion DNA match to Bishop".
It was a big breakthrough.
The case was taken to the Court of Appeal.
It had been a long time since Bishop's first trial, and laws about retrying suspects for the same offence had changed.
"Double jeopardy" laws in the UK were scrapped in 2005, meaning Bishop's acquittal could be quashed.
Det Supt Jeff Riley recalled the moment Bishop - still in prison for the 1990 attack - was re-arrested in 2016.
"That would have been such a massive moment for him," he told the BBC. "The realisation would have dawned on him that this stuff hasn't gone away, the police haven't forgotten about it and you're here to answer questions about it 30 years later."
On 16 October 2018 - 32 years after the murder of Karen and Nicola - Bishop entered court 16 of London's Old Bailey. Witnesses - including the girls' mothers, police officers, and forensic teams - were called on to give evidence against him for a second time.
Some came with faded memories from 32 years ago. TV soaps such as Crossroads and EastEnders - both of which aired on the night the girls went missing - became markers in time for witnesses.
The court heard how Karen and Nicola lived three doors away from each other on a street in the Moulsecoomb housing estate in Brighton. They attended different schools, but played together regularly.
Karen was "sensible" and sometimes "cheeky". Nicola, who was slightly younger, was "funny", "outgoing" and "spoke her mind".
Like other children, they were afraid of the dark - and, like other children, they knew not to go off with strangers.
"It was part and parcel of our teaching," said Karen's mother, Michelle Hadaway, who was 29 at the time.
Thursday 9 October 1986, began as usual, the trial heard.
Karen and Nicola both went to school before returning home and going out to play. Karen's mother told her daughter not to be long as she left the house. It was the last time she was to see her alive.
Susan Fellows last saw her daughter, Nicola, when she looked out of the window at about 5pm. The two girls were playing in the street with a roller boot.
'Confusion and worry'
By 5.20pm Karen's mother began to worry. She and Susan searched the woods and called the girls' names. As dusk turned to dark, worry became panic. The police were called and news the girls had gone missing spread quickly.
Michelle Tippett, then aged 14, later said she had bumped into them at about 6.30pm. She remembered Nicola repeatedly saying to Karen: "Come on, let's go over to the park."
Teams searched the area.
The girls' bodies were discovered the following day.
They were found in a "den" so overgrown that a police officer had to crawl through bracken to get to them. They were lying next to each other.
Rumours spread quickly, swirling across the estate, and the finger-pointing began. Thousands of people came forward with information and a number of names kept cropping up. One of them was Russell Bishop.
The Old Bailey heard Bishop was 20 years old at the time. He lived with his partner, Jennie Johnson, but also had a 16-year-old girlfriend.
He knew the girls. He and his girlfriend would get them to run errands, the court heard.
Jurors were told how Bishop searched for the girls with his dog, Misty, after they went missing. He was one of the first at the murder scene. Without an alibi, he became one of the main suspects.
Bishop entered the witness box on 23 November 2018, part way through his second trial. His 5ft 5in (1.65m) frame had been bulked up from years in the prison gym.
The 52-year-old, a convicted paedophile, painted himself as a victim, someone who had been wrongly charged with the girls' murders.
He was a man the police were out to get.
'Not going back'
It wasn't until the prosecuting barrister, Brian Altman QC, cross-examined him that cracks appeared.
Under pressure he became tense, dismissive and testy.
"Who wants to be in prison? I bloody don't," he replied to one question. "Don't stand there and make me look like an idiot," he said another time. At one point, unhappy with the questioning, he turned to the judge and said: "Excuse me, is this legal?"
He raised his voice and rushed his words when he was asked about the 1990 attack on the seven-year-old.
He said he had sexually assaulted the girl to "shame and belittle" her, but denied he was a paedophile. What was his understanding of the word paedophile?
"Someone who believes they are not doing anything wrong," he replied. "My case doesn't come into that bracket."
He lasted less than 90 minutes under this forensic questioning.
"I've finished giving evidence," he eventually said. "I'm sorry, but I have finished. I'm not going back in there."
Defendants cannot be forced to give evidence in their own defence, and Bishop had had enough. Towards the end of the trial, his barrister told the judge his client had decided he didn't want to attend the rest of the hearing. Bishop couldn't "survive" any longer at London's Belmarsh Prison where he was being held during the trial, he had said.
That was the last the jury saw of him.
'Predatory paedophile'
The girls' families came to court - day in, day out - and listened to often harrowing and graphic evidence. Karen's mother, Michelle, and her sister, Lyndsey, sat at the side of the dock, out of view of Bishop. Her father, Lee, had died in 1998 and so never got to see Bishop brought to justice.
Nicola's mother, Susan, also came to the trial, while her father, Barrie, had to listen as Bishop's defence team accused him of his own daughter's murder. As the evidence was heard, the family members often cried.
Bishop was described in court as a "violent" and "predatory paedophile". He was a "coward" who "played people with lies and deception".
But those lies - the ones he had told the girls' families, the police and the jury - finally caught up with him.
No one will ever know what happened that night and what he'd said to the girls.
But 32 years on, their families have finally won justice.