Mother's legal fight to block sex abuser child access
By Jim Reed and Emma Ailes
BBC Victoria Derbyshire programme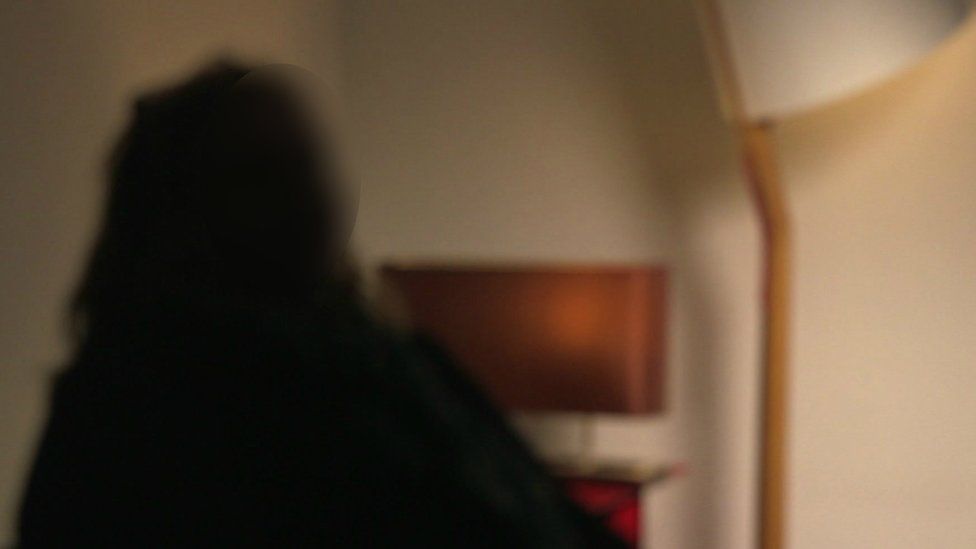 A woman whose ex-husband was convicted of rape and possessing child abuse images had to go to court to prevent him gaining access to her children, the BBC's Victoria Derbyshire programme has learned.
Anne (not her real name) spent £50,000 in legal fees after social workers said he should be able to see them.
A court order now prevents the man from contacting them, but Anne said she "really had to fight" for the ruling.
Campaigners now want a change in law.
"Anne" was married to her abuser for more than a decade and had a number of children with him.
Over time that relationship became abusive and she was raped.
Then, one day the police turned up at her house, searched the property and child abuse images were found on her ex-husband's computer.
The man was eventually convicted and jailed for 10 years.
But, Anne said, since being in prison he had made "many attempts to see my children" and she had been contacted by social workers.
"They came to my house and basically said it was absolutely paramount that the children saw him," she told the Victoria Derbyshire programme.
"I felt very very uneasy about it."
She said the social workers "knew how dangerous he was, because they'd been tipped off by police about the exact extent of what he was looking at".
But, she added: "They just think families are better with fathers. And that families have to work together."
The case went to the courts and Anne said she had "sort of naively assumed nobody would have access to children, certainly once they'd got a conviction for child abuse".
"But it wasn't as simple as that.
"I basically had to fight him in the courts over a long period of time even after his conviction.
"He's a convicted sex offender. He's a convicted paedophile. He's a rapist. He shouldn't be having any parental rights."
Following the legal fight, which took five years, the man is no longer allowed access to his children - or to contact them directly or via a third party.
"It felt like the right decision but it was something I had to really fight for. You know it was almost like a full-time job," Anne said.
She added that the legal fees had amounted to about £50,000.
'Re-traumatising victims'
Anne came forward to the Victoria Derbyshire programme having heard the experiences of Ms Woodhouse, who waived her right to anonymity in an effort to help other victims,
Labour MP for Rotherham Sarah Champion told the programme, following Ms Woodhouse's testimony, that many more women would be in the same situation.
"This sort of things just keeps on happening," she said.
"It's well known that the family courts are used by perpetrators to get access to victims, re-traumatise their victims."
One leading family barrister and head of the Transparency Project, Lucy Reed, explained that the current law was "derived from our obligations under human rights legislation that a child has the right to family life - and especially a child with an established family life with a father".
She added consideration needed to be given where, for example, a child already had a relationship with a parent who is later convicted of rape, and wanted that to continue.