Is the driving test getting more difficult?
By Ben Butcher
BBC News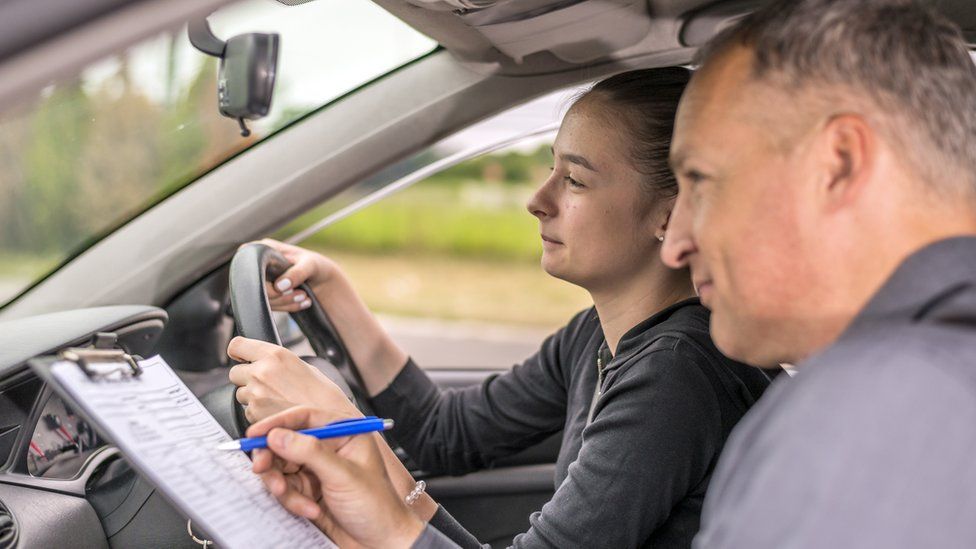 A year since its biggest shake-up in two decades, what do we know about the driving test?
For more than 80 years, the driving test has been a rite of passage for many young adults on the path to independence. But while the principle has stayed the same, the test has frequently adapted to the country's changing roads.
Last December, there were changes to the practical side of the driving test in Great Britain.
Reversing around corners and "three-point-turns" were removed, while driving with a sat-nav and a longer test duration were introduced.
So what impact has that had, and what else do we know about the test?
1. Pass rates have remained (fairly) steady
Since last December, when the changes were implemented, the pass rate has been 45.5%.
That does mean the percentage of passes has dropped below 46% for the first time since 2010, but it's not that far below the full 2017 average pass rate of 46.8%. In fact, over the past 10 years, it has always hovered at around the same mark, give or take a percentage point.
"The driving test was changed to make sure new drivers have the skills they need to help them through a lifetime of safe driving - not to make it harder," says the DVSA's chief driving examiner, Mark Winn
"The old driving test spent a disproportionate amount of time on low-risk roads, such as housing estates, largely to access locations to carry out manoeuvring exercises. The changed manoeuvres, while testing the same skills, are more representative of what new drivers will encounter in their everyday driving."
In 1997, the practical test and theory test became separated, and the theory test has also been modified over the past two decades.
Statistics suggest that changes to the theory test since 2007 have had a greater impact on pass rates than changes to the practical test.
The changes saw the number of multiple choice questions increase from 35 to 50, and in 2012 new theory questions stopped being released online.
The theory test has had even more recent changes. In November this year, new hazard perception videos - including a variety of weather extremes, including snow and sleet - were added.
2. It's easier to pass in less busy areas
London appears to be the worst place to do the test, with half of the city's test centres among the lowest pass rates.
Jan Freeborn, a driving instructor based in London, explains: "When it's more congested, there's a higher likelihood of coming across a challenging moment. Driving in London, there are more challenging moments, so more opportunities for mistakes."
Bruce Johnston, a driving instructor from Haddington, East Lothian, a small town with one of the highest pass rates in Britain, agrees that experiencing more drivers on the road during a test can make it more difficult, but adds that driving in quieter areas has its own challenges.
"There is a lot of country road driving now in the test. There are narrower roads which can't fit two cars. It's all about anticipating what's around the corner."
These statistics only include driving test centres with entries of more than 1,000 in the past year, but some smaller centres - such as Golspie and Pitlochry - have pass rates of over 75%.
3. Men are better at practical, women at theory
The average pass rate for men on the practical test is 7% higher than for women.
When it comes to the theory test, women have a 4% higher pass rate.
4. Junctions are the biggest problems
For the past 10 years, incorrectly observing traffic at junctions has been the top cause for failing learner drivers.
This has been closely followed by failure to use mirrors properly.
Most people who pass will have at least one fault when driving, but some sail through without making any mistakes.
In 2017-18, 17,950 passed with no mistakes - that's just 1% of entrants.
5. Most people fail the first time
You're more likely to fail on your first attempt at the driving test than pass.
And after your second attempt, pass rates decrease.
Last year, 15,000 people took the test for at least the sixth time, and their pass rate stood at 38%.
In 2016, the DVSA announced that England's 20 worst learner drivers had attempted the practical test more than 700 times between them.
The cheapest driving test costs £62, which would equate to £43,000 spent on tests for these drivers.
6. The test favours the young
Two-thirds of people sitting their test are 25 and under, and in terms of pass rates, they are the most successful.
The performance of other age groups seems to suggest the test becomes more difficult the older you get.
While their pass rates are higher, younger drivers are more likely to get into accidents after the test.
Road safety charity Brake says that, despite drivers aged 17-19 making up only 1.5% of UK licence holders, they are involved in 9% of fatal and serious crashes where they are the driver.