Grenfell Tower inquiry: Expert says faulty electrical connection started blaze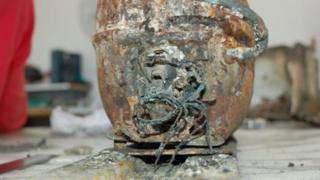 The fire that engulfed Grenfell Tower probably started due to overheated wiring in a fridge-freezer, according to one expert.
John Glover told the inquiry into the blaze that a connector in a Hotpoint FF175BP in flat 16 of the block had a "poor crimp connection".
That meant the wires were not gripped as tightly as they should be and the connector overheated, he said.
A total of 72 people died as the result of the west London fire in June 2017.
The public inquiry was shown a picture of the connector, which had been recovered from a small electrical compartment at the bottom of the fridge freezer.
The inquiry was told that investigators also found three inches of damaged wire in one of the bedrooms of the flat.
A report by Mr Glover - a principal engineer at investigations firm Failure Electrical - said he studied CT scans of the connector and found spaces "indicating the crimp was not nice and tight".
He added: "A probable cause of the fire is a poor crimp connection.
"The overheating connector in my opinion was the first event that started burning the insulation on the wires that led to a short circuit.
"The overheating of the crimp starts the fire. It overheats, it glows, it ignites."
A week after the fire, the Metropolitan Police said it believed it had started in a fridge-freezer.
The manufacturer, Whirlpool, and the government carried out investigations into the model, but in May this year they said there were no safety issues or a need to recall the product.
A statement from Whirlpool said: "We would like to reassure owners of these products that they are safe and they can continue to use them as normal.
"Two separate investigations have been carried out into this model... both investigations independently found no evidence of any fault with this model and confirmed that it fully complied with all safety requirements.
"We are committed to assisting the Grenfell Tower Inquiry in any way we can as it continues to investigate all the potential origins and causes of the fire and how it spread."