HMS Dragon: Three tonnes of hashish seized in the Gulf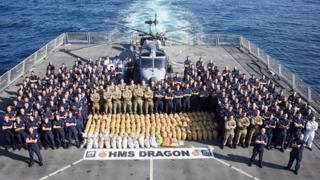 Three tonnes of hashish - with a street value of millions of pounds - has been seized in the Gulf.
The Royal Navy warship HMS Dragon was on patrol in the Middle East, in a drug-smuggling route known as the "Hash Highway", when it came across the suspicious boat.
Sailors and Royal Marines boarded the vessel and found 148 bags of hashish hidden on board.
It's one of the Royal Navy's biggest drugs busts in the region this year.
The bags of drugs seized on the dhow, a type of vessel common in the Middle East, weighed 3,048kg.
The seizure, on Sunday, deals "a major blow to the funding of terrorism", the Ministry of Defence said.
The Hash Highway is the route that smugglers use to transport drugs from Afghanistan to east Africa and the Middle East. Profits are thought to fund criminal networks and terrorist groups.
Defence Secretary Gavin Williamson said: "Alongside keeping key shipping channels safe, countering piracy and providing disaster relief, the Royal Navy makes a significant contribution to global security by tackling the illicit drugs trade.
"The success of HMS Dragon's seizure is the latest blow struck to this nefarious industry."
The commanding officer of the Royal Navy Type 45 destroyer, Commander Mike Carter-Quinn, said: "This seizure is testament not only to days of focused hard work, but also to months of effort in preparation for HMS Dragon's operational deployment.
"The Dragons - all 260 of my crew, from the Royal Navy, Royal Marines, and US Coastguard - have done themselves and their families proud and I couldn't be more honoured to serve with them every day."
HMS Dragon, which is based in Portsmouth, is part of the Combined Task Force 150 which looks after security in the world's major shipping lanes.