McDonald's and Burger King criticised over adverts near schools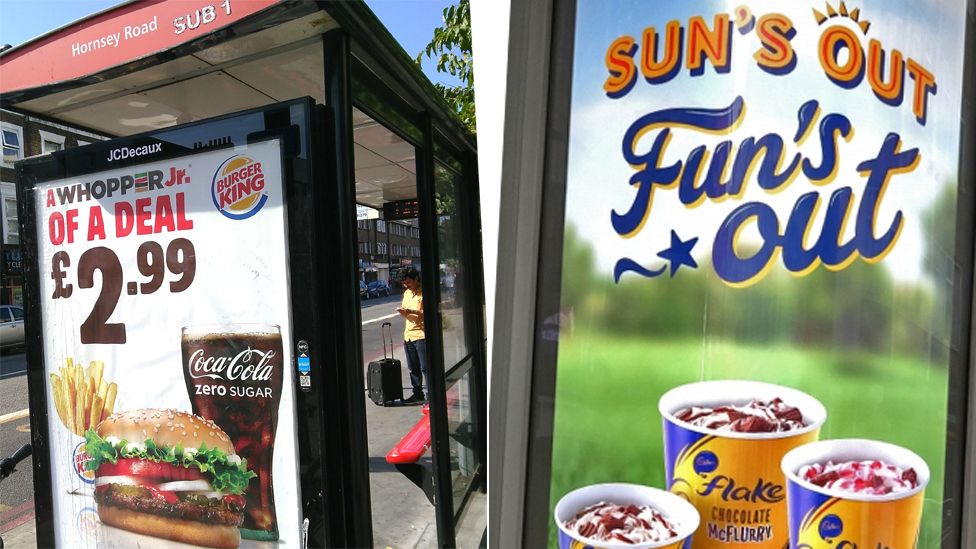 Fast food giants McDonald's and Burger King must take steps to prevent fatty, sugary or salty products being promoted near schools, a watchdog has ordered.
Billboard owner JCDecaux said it had placed the adverts there in error.
The ASA had originally said that although the Kellogg's product was not high in fat, sugar or salt, the Coco the Monkey branding was synonymous with the original Coco Pops cereal.
However, the watchdog accepted it had been wrong to ban the commercial, shown during episodes of a Mr Bean cartoon, as it "did not give greater prominence to the Coco Pops range branding generally than to the granola product itself".
Food advertising near schools - what are the rules?
Food products that are high in fat, salt and / or sugar are known as HFSS.
Under the Code of Advertising Practice (CAP), HFSS product advertisements must not appear in a medium or context in which 25% of the audience is under the age of 16.
For that reason, when it comes to billboards and posters, many marketing and advertising companies will not place adverts for HFSS products within 100m of a school.
While CAP regulations do not explicitly state HFSS adverts must not be within 100m of a school, the regulator will consider an advert's positioning when assessing whether it has been "responsibly placed", and whether 25% of the audience is likely to be under 16.
Caroline Cerny from the Obesity Health Alliance, which lodged the original complaint, said: "This is what happens when a large multinational food company uses its legal weight to fight rulings that influence their profits. Sadly the price is the future health of our children."
But Kellogg's said the original ruling could have acted "as a disincentive for food companies like us to develop and launch 'better for you' alternatives".
Outdoor advertisers routinely avoid placing posters for such products within 100m of schools to avoid falling foul of rules stating that no more than 25% of the audience must be aged under 16.
However, in the Burger King case, JCDecaux blamed a data error for a £2.99 Whopper Jr meal deal being advertised at a bus stop 96m from a school.
McDonald's said it "shared its disappointment" with JCDecaux for an "oversight" which saw a Cadbury Flake McFlurry advertised at a bus stop 47m from a primary school. The chain has a voluntary policy of not advertising such products within 200m of schools.
"We have asked them to review procedures to ensure all possible precautions are taken to meet our voluntary standards," McDonald's said in a statement.
Both burger chain advertisements were reported in July.