'Why I send photos of my genitals to women'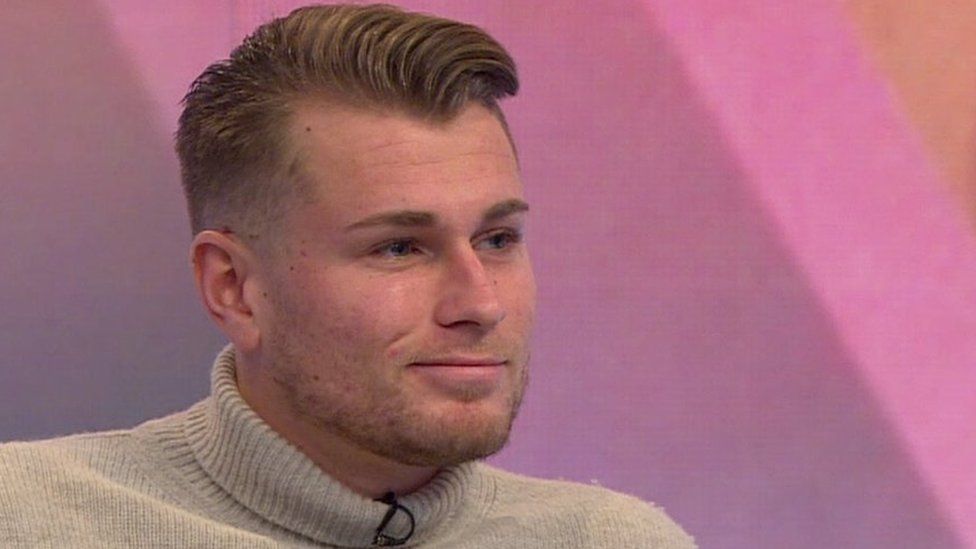 The last time former Big Brother contestant Lewis Gregory sent an explicit photo of himself was just three days ago, to a woman on Snapchat.
"Sometimes I get a bit flirty and suggest it. Or they might.
"For instance, I might receive a picture of her in the bubble bath, or I might send one like that."
Mr Gregory said when he sends such images they are always solicited.
He says it would be "weird" and "pervy" to send unsolicited images of his genitals, adding: "I would never do that".
He says no women have ever objected to the pictures he has sent.
But there are fears that it is becoming more common for explicit images, often referred to as "dick pics", to be sent without the consent of the person receiving them.
Writer and former model Stina Sanders says she receives two or three sexual images from men every day.
She has done so for the past three to five years and says all are unwanted.
"When I first restarted receiving them it was really shocking and awful. I don't want to see that," she said.
"I'm actually quite used to it now, desensitised to it."
Ms Sanders believes it is her work that makes men think they can send her the photos.
"With my journalism I write a lot about sex, dating and relationships - so I think people see that as an open invitation, when it's really not."
Sometimes, she said, she has messaged the men back - asking why they were doing this.
"A lot of people don't respond, but a lot of people say they just want to say hello," she added.
"So say hello! There are lots of different ways to do that."
'Astonishing' lack of awareness
Two out of three British adults say it should be a crime to send an unsolicited image of your genitals to someone else, according to a poll for BBC Radio 5 Live.
The Ministry of Justice says there is "already a range of existing offences under which offenders can be prosecuted".
But Conservative MP Maria Miller wants to see new legislation introduced.
She told Victoria Derbyshire if such behaviour were to be conducted in the "real world" it would come under the crime of "indecent exposure".
The politician says she has received an unsolicited picture of a man's genitals on Twitter - but is keen to focus on the harm such images can cause children and young people.
It is a sexual offence to send explicit images to anyone under the age of 18, but Ms Miller - chairwoman of the Women and Equalities Committee - believes there is an "astonishing" lack of awareness regarding the practice.
"I hope people wake up [to the fact] that this is a sex offence if you're dealing with under-18s," she said adding that it can end up with people being placed on the sex offenders' register.
Ms Miller is also concerned that in the online environment, "there is very little way to verify the age of someone you're sending an image to".
For Ms Sanders, as well as making it a criminal offence to send something unsolicited, the solution also partly lies in providing better education of such issues in schools.
"It's all about changing attitudes," she said.
She said apps could also make people more aware that images they are about to send could be inappropriate.
"I think we live in a society where we're hiding behind screens, and people feel more comfortable to send things without thinking about it."
But there is also another key aspect to the debate, Ms Miller says - those sending such images need to reassess their actions.
Looking at Mr Gregory, she said when it comes to our own behaviour "we should all take some responsibility".