Saddam Hussein memorial plaque appears on London bench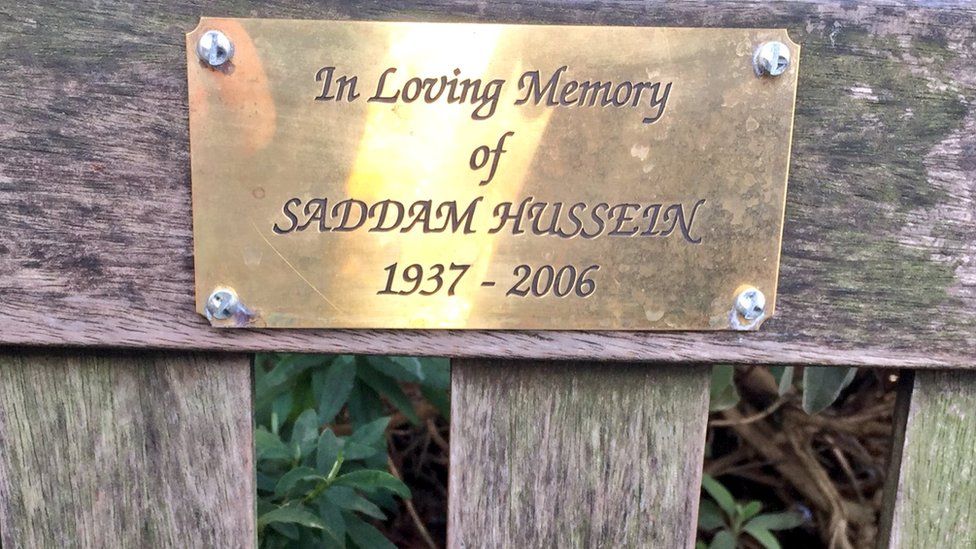 A Saddam Hussein memorial plaque that appeared on an east London bench has been removed.
It read: "In Loving Memory of Saddam Hussein" and it is not clear who left it there or what their intention was.
Wanstead resident Victoria Richards told the BBC it appeared on the bench on Sunday.
Local residents saw it and "expressed their outrage" on a community Facebook page, she said.
Former Iraqi president Saddam Hussein, born in April 1937, was hanged in 2006 for crimes against humanity. His rule was characterised by a mixture of brutality, megalomania and paranoia.
'Frivolous, dark thing to do?'
"People have been very angry and upset, especially the Iraqi community. People have been saying it's a sick joke.
"What was there before? Was it someone's family plaque?" she said.
Victoria questioned the motive of whoever fixed the plaque on the bench: "Was it a prankster? What's the message? Was it a frivolous, dark thing to do?"
Reaction on social media has been mixed. Some thought it was funny while others were shocked.
Two things I never thought would be seen together - "loving memory" & Saddam Hussein

— Katy Johnson (@katyjohnson30) November 19, 2018
Some came to the conclusion there must have been another person called Saddam Hussein who was born and died on the same dates as the dictator, and lived locally in Wanstead.
I'm surprised by the sheer stupidity of some people on the hub who think there is a chance that there is another Saddam Hussein born and died on the same day who lived locally.

— Kris Sangani (@Kris_Sangani) November 19, 2018
Normality restored to Wanstead
The plaque appears to have now been removed, with local resident Ann Holmes tweeting that "normality has been restored to Wanstead."
She told the BBC: "I live in Wanstead and it had caused a lot of controversy. I had actually thought of trying to remove it myself but thankfully the council got there first!"
A Redbridge Council spokesperson said: "We didn't give permission for this to be put up and it has been removed."
By Victoria Park, UGC & Social news