World Toilet Day: Many UK workers 'lack decent facilities'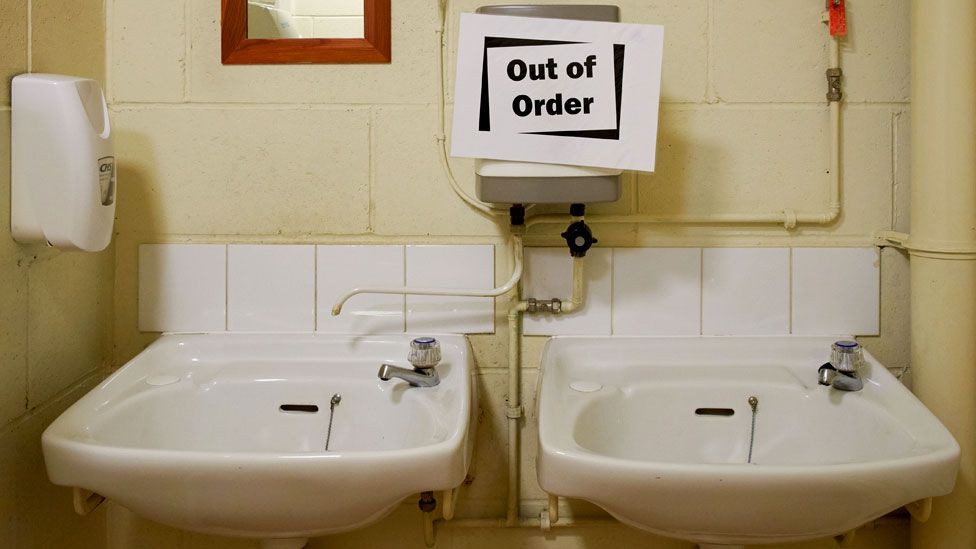 Tens of thousands of UK workers do not have access to decent toilets, Britain's biggest trade union has said.
According to Unite, workers in one small bank branch were encouraged to use a bucket in a neighbouring room.
And other examples included bus drivers not being given a break for five hours and a construction worker who said the women's toilets were used for storage.
The trade union is trying to raise awareness of toilet dignity, as Monday marks World Toilet Day.
Unite represents workers in a wide range of fields from nurses and teachers to bank staff and bus drivers.
It said it believes tens of thousands of workers are not provided with decent toilets or "have undue, unnecessary or officious restrictions placed on them when they attempt to use the facilities provided".
And women in particular suffer toilet indignity, it said - especially when on their period. The union has previously called for all employers to provide sanitary products in the workplace, as they do with toilet roll.
It highlighted the case of one small bank branch which only recruited men and then encouraged workers to use a bucket in another room to reduce the time spent away from work.
'No toilet seat, no soap, no glass in window' - your loo horror stories
A lorry driver who contacted the BBC said the factory he collected food from had an outside toilet, which he described as "the worst one I've seen".
"At one point there was no toilet seat, no soap, nothing to dry your hands on, no plug in the sink and no glass in the window," he said. "Afterwards, you needed to walk through the production area with relatively unclean hands."
When he complained about the state of the loos, he was told it would be looked into - but nothing changed in the 12 months he delivered food from there.
A reader who worked as a customer service advisor at a bank said: "If you needed the toilet you had to have a doctor's note or the time spent going to the toilet was deducted from your break time.
"So after walking to the toilet [about two minutes] if you were quick in the toilet [five minutes] and two minutes back to your desk, that's nine minutes deducted from your 15-minute break leaving you with just a six-minute break.
"It felt like you had no human rights. I didn't realise it was the norm to go to the doctor to get a note that allows you to take a medical break. Staff there were canny."
And a woman who worked at a retailers for three months would use public loos before going to work "because it was easier".
"Opening the door was difficult," she said, explaining the loo was full of boxes, coat hangers, bin bags and a vacuum cleaner.
"The toilet wasn't filthy but the bin was always overflowing with paper towels as there was no hand dryer."
The union's assistant general secretary Gail Cartmail said it was "simply disgraceful" and the situation is "clearly deeply humiliating" for workers.
"Employers have got absolutely no excuse for ensuring toilet dignity and if they fail to do so they should be prosecuted by the Health and Safety Executive," she said.
According to HSE guidance, employers must provide "adequate" toilet and washing facilities "so far as is reasonably practicable", including enough facilities for the number of workers, separate bathrooms for men and women and a supply of toilet paper.