'I live in disused buildings for cheaper rent'
By Becky Morton
BBC News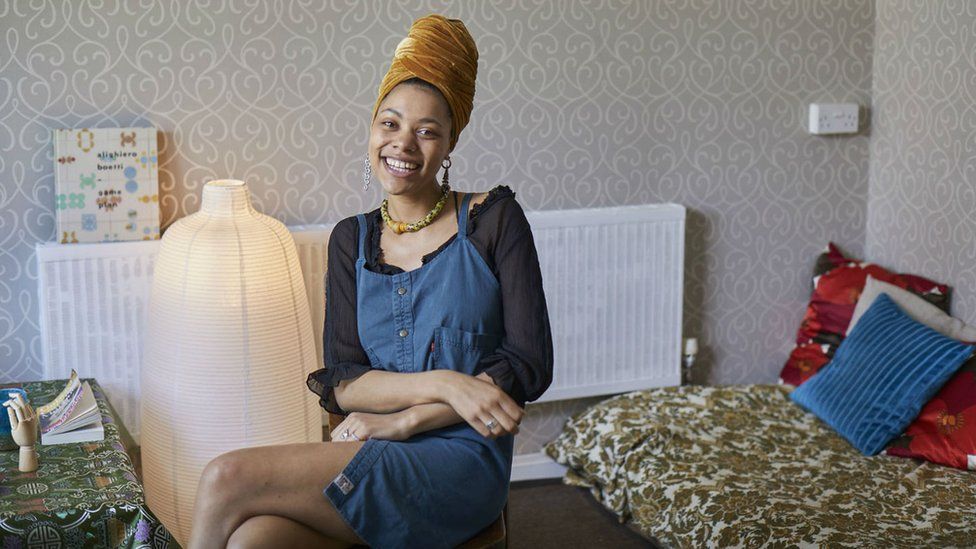 Between them Bella and Rex have lived in former retirement homes, empty schools and even an old pub.
They are property guardians - people who live in disused buildings to keep squatters away in exchange for cheap rent.
Supporters say ministers should embrace such schemes so empty buildings can be used to provide thousands more affordable homes across the UK.
But critics argue that this form of housing can be insecure and of poor quality.
Bella lives in a former retirement home in east London with 30 other people.
"It's a bit eerie," she says. "You can tell what it used to be as soon as you walk in - the carpeted floor, the railings, the creepy artwork."
But, for her, the unusual living arrangements are worth the savings.
"If I wasn't a guardian I would probably be in a box room living off plain rice," she says.
The 25-year-old previously lived with friends and family in East Sussex. Working as a model and actress, there were few opportunities for her locally.
Becoming a property guardian was an affordable way for her to move to London.
For £500 a month she gets her own bedroom, living space, kitchen and bathroom. The average monthly rent for a one-bedroom flat in her area is £1,450, according to BBC analysis.
"Without us these buildings would be empty. So we protect them for the owners and get cheap rent - it's a win-win situation," she says.
There are approximately 5,000 guardians in the UK, according to the Property Guardian Providers Association, and it says that number is rising.
Some live in privately owned properties and increasing numbers of local councils are also using them to secure their empty buildings.
A BBC Freedom of Information request, answered by 404 councils across the UK, found that 73 of them used property guardians last year.
That number has increased over the past five years. Of those councils who held data, only 43 made use of them in 2013-14.
Guardians are normally considered licensees rather than tenants so are not entitled to the same safeguards as ordinary renters.
Their deposits are not protected and they can be asked to leave with only a month's notice.
But Green Party peer Baroness Jones says ministers are missing an opportunity to make use of the hundreds of thousands of empty buildings across the country.
She recently led a House of Lords debate that called for improved rights so guardians can become part of the UK's housing strategy.
Rex has been one in London for 10 years and has seen the best and worst of the industry.
The 37-year-old says he has lived in some fantastic buildings but he has also been threatened with evictions and put up with terrible conditions, including living with mould and raw sewage.
"Some of the agencies are good but others are making it up as they go along," he suggests.
"I'm not scared of being evicted illegally because I know my rights but a lot of people don't have a clue what these companies can and can't do."
Rex has campaigned for clearer guidance on the issue of rights and wants greater protection such as an independent mediation service for disputes.
The government has so far been reluctant to act but seven of the biggest property guardian companies have formed an industry association.
Acting chairman Graham Sievers says the group hopes to drive up standards, for example through independent inspections of buildings.
Baroness Jones says ministers need to work with the industry to improve conditions.
With greater protection, she says guardian schemes could even help tackle homelessness, providing affordable housing to people who would otherwise be sofa-surfing or on the streets.
"It's a tiny part of the solution. But for the government to bang its head and say it's nothing to do with us is just pathetic," she says.
Communities minister Lord Bourne said he would meet the Property Guardian Providers Association and the London Assembly to decide how to encourage best practice in the sector.
"This government believes that people should be free to make their own housing choices, and we are committed to ensuring that individuals understand their rights and responsibilities when deciding to become property guardians," he adds.
For Rex, however, the attraction of being a guardian has waned.
When he started a decade ago the average monthly cost was around £200 but he says now the average is around £550 for guardians in London, with some companies charging more than £1,000 a month.
Rex hopes to eventually move into an ordinary home when he can afford it.
"I don't think many people choose to live in places like this unless there's a big financial incentive," he says.
"It's not really a lifestyle you want to have forever."