What is it like to prevent a suicide?
By Hamish Mackay
BBC News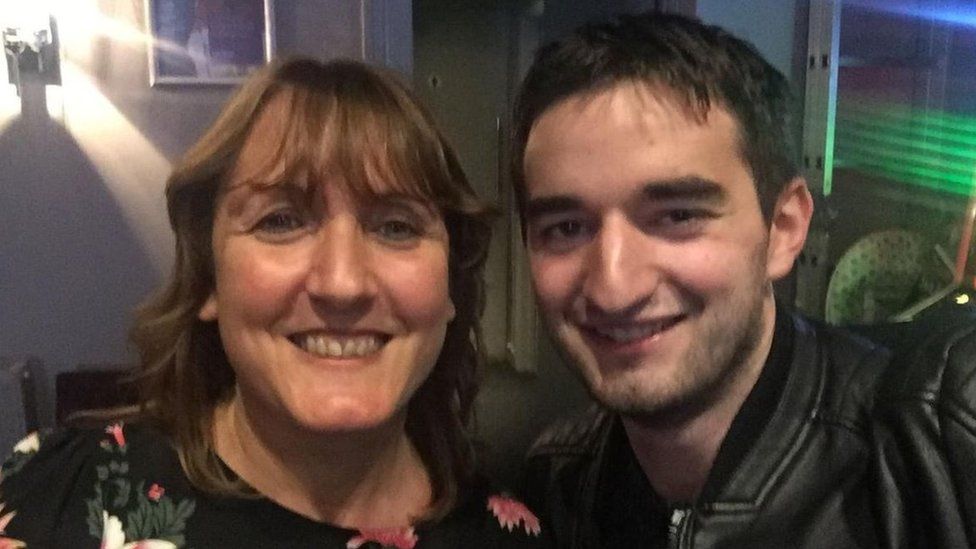 "I'm not a hero," says Gillian Assor, six months after preventing a suicide on a railway bridge near London. "I just happened to be walking past."
According to figures from the British Transport Police, 2018 has seen a 20% rise in members of the public intervening to stop people killing themselves on railways.
In May, while out walking her dog, Gillian became one of those people.
"At first I didn't know what it was," she tells the BBC, recounting her journey back home past the bridge. "But as we got closer, I realised it was a person.
"They were crying, hysterically crying and making noises."
At that moment, Gillian decided to investigate, but it would not be until months later that she would realise the true impact of her actions.
"I knew I had to have a plan," says Gillian.
She feared the man might be aggressive, either verbally or physically, but says she knew that, no matter what, she "wasn't going to walk past him".
Slowly, with her dog, she approached and called out to ask if the man "was OK".
"No I'm not," he shouted back.
"I could see that he was in a really bad state," says Gillian. "He was angry but he was crying as well."
She says she decided "she was going to be brave" and approach him.
Gillian persuaded him to sit down with her on the Tarmac in the middle of the bridge with "him on one side, me on the other and the dog in between us".
From experience of her daughter's anxiety, Gillian knew of the importance of "grounding", so began to ask basic questions such as his name and where he was from to "break his emotion".
His name was Tommy. He was 23 years old.
After "10 or 15 minutes", Tommy began to calm down but was "still monosyllabic".
At that point, a train passed below them. It made Gillian wonder whether he "would have gone" if she had not been there.
If you or someone you know is struggling with issues raised by this story, find support through BBC Action Line .
Tommy told Gillian why he was on the bridge, but that, she says, is a matter that will remain between them.
Eventually, she persuaded Tommy to call his parents and let them know where he was.
She waited until they arrived - about 25 minutes after she first approached Tommy - then retreated.
"I was a bit blown away, thinking: 'Did that just happen?'"
Gillian only spoke to her mother and a friend about her experience - but later in the year realised people she had never met were discussing her story online.
One Sunday morning, her husband showed her a Facebook post.
It began: "I know I'm asking the impossible, and I know this is like looking for a needle in a haystack, but four months ago I tried to take my life and and a stranger stopped me with her dog..."
As she read the post, Gillian realised she was the stranger.
She decided not to reply on the thread - "I thought, it's not about me and it shouldn't be about me. It was about him."
Her husband sent Tommy a private message, explaining the stranger was his wife. The pair spoke on the phone that day.
Three days later they arranged to meet in a local pub.
"I saw him walking from the other side of the pub, he flung his arms around me and I thought: 'Bless him.'"
He clung to her for more than a minute, saying: "You saved my life. You saved my life."
They spent an hour together, which Gillian describes as "special".
"Since then we've walked the dog a few times and we're in contact two or three times a week," she says.
"It is the most overwhelming feeling I've ever had, other than giving birth.
"He's in my heart now. The bond is there and it is unbelievable.
"It's a very unusual bond - it's not spiritual, it's just an invisible and not tangible thing in my heart."
Tommy is still waiting for counselling on the NHS, Gillian says, but the pair have planned a trip back to the bridge where they met "to make a nice, new experience".
Gillian Assor is supporting Samaritans' Small Talk Saves Lives campaign.