Lit firework 'put in homeless army veteran's coat by youths'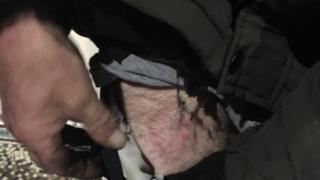 A homeless Army veteran suffered leg injuries after a youth allegedly put a lit firework in his pocket and said "have a sparking good night mate".
The incident in Liverpool on 5 November is one in a series of attacks that have been reported across the UK.
Fireworks have been thrown at police in London and at firefighters in Bradford and in Scotland.
It comes as a petition calling for a ban on the sale of fireworks to the public has exceeded 160,000 signatures.
The petition says fireworks can cause nuisance to the public as well as injuries and damage to buildings and property.
A ban has already been called for by the parents of four-year-old Rosie-May Mason, who was scarred by a rocket let off at a back garden display last year in Wales, while senior doctors have called for graphic images of injuries to be displayed on packaging.
But the British Fireworks Association has said a ban would be "heavy handed" and fireworks should be used responsibly.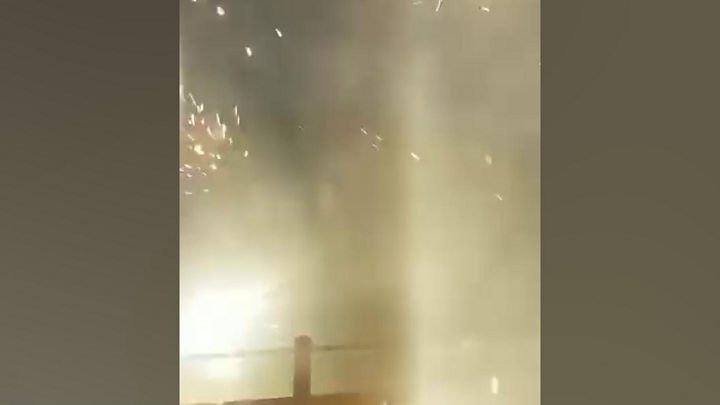 In Liverpool, volunteer Andy Shute, from homelessness charity the Paper Cup Project, said he helped the Army veteran victim after the "appalling" and "inhumane" attack in the city.
He said he was giving the victim some food and drink in a nearby street when he told him about the incident.
The veteran, who is in his late 30s, said he felt one of four teenagers brush past him and "within seconds" he could smell burning.
Mr Shute said the man told him the firework burnt through his coat and trousers and "it was only his wallet in his pocket that gave his leg a bit of protection".
He said he then grabbed the firework from his coat and suffered burns on his middle finger.
Ch Insp Paddy Kelly said the "shocking incident" would not be tolerated and they were determined to find the offenders and they were trying to find the victim.
Elsewhere, a major fire that ripped through a former cattle market in Nottingham on Sunday is being treated as an arson attack involving fireworks.
In London, the Metropolitan Police posted a video of fireworks being thrown at officers in Enfield.
In Walthamstow, a McDonald's restaurant was temporarily closed after fireworks were set off inside, the East London and West Essex Guardian reported.
While last month Kent Online reported that firecrackers were set off in a Dartford McDonald's.
The Scottish Fire and Rescue Service said there were several attacks on their crews, but no firefighters were seriously injured.
In Glasgow, riot police were deployed after masked youths threw fireworks at police officers. A 17-year-old boy will be reported to the procurator fiscal in connection with the incident.
The chief constable of Greater Manchester Police has also backed a ban on the public sale of fireworks, arguing that they should be restricted to professional displays to stop young people "terrorising" communities.
Currently anyone over 18 can buy fireworks for use on private property such as their back garden.
However it is against the law to set off fireworks in the street or other public places, unless it is part of an organised event by licensed professionals.
Those who use fireworks illegally can be fined up to £5,000 and imprisoned for up to six months.