Meghan wanted 'modest, classic' wedding dress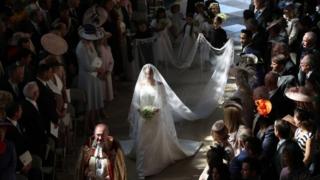 The Duchess of Sussex has spoken about how she wanted a "modest, classic" wedding dress, ahead of the gown going on display at Windsor Castle.
In audio recorded for the exhibition, Meghan said she worked closely with designer Clare Waight Keller to achieve her vision of what she wanted.
Meghan said she "knew at the onset" that she wanted a bateau neckline and a cropped sleeve.
The gown and veil were created after 3,900 hours of work by 50 people.
They are now the star attraction of the Windsor Castle exhibition, A Royal Wedding: The Duke and Duchess of Sussex.
It features recordings of personal stories from Prince Harry and Meghan about their big day, including a "surreal" meeting with the Queen and the "miracle" of ensuring 10 bridesmaids and pageboys behaved.
The royal couple, who married in May, are currently on their first official tour of Australia, New Zealand and the South Pacific.
Of her Givenchy wedding dress, the duchess said in the exhibition commentary: "I had a very clear vision of what I wanted for the day, and what I wanted the dress to look like.
"So what was amazing in working with Clare is that sometimes you'll find designers try to push you in a different direction.
"But she just completely respected what I wanted to see for the day, and she wanted to bring that to life for me."
The duchess said she wanted a "very timeless, classic feeling" to the gown, which she hoped would be "modest" with respect to the fact they would be married in Windsor Castle's St George's Chapel.
"I knew that the tailoring was so key, because the dress itself would be so covered up," she said.
The white dress' luminosity is because of the double-bonded silk cady - fabric woven on both sides of the loom.
The duchess's veil was embroidered with flowers from each of the 53 Commonwealth nations.
Meghan said they realised the day would be what Prince Harry called a "global wedding", but featuring personal choices would make it more "intimate".
She has previously revealed that her "something blue" was a piece of a dress worn on her first date with Prince Harry that was stitched somewhere inside the gown.
She praised the designer, saying Ms Waight Keller ticked "all the boxes" from being British, to reflect the duchess's new home, and a woman, to working for Givenchy as artistic director.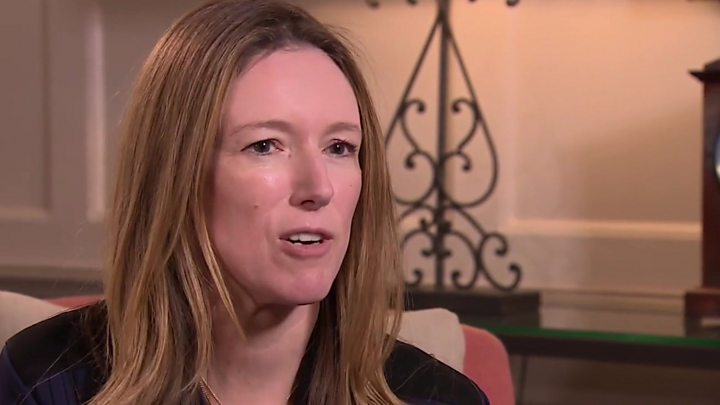 The duchess wore Queen Mary's diamond and platinum bandeau tiara, lent to her by the Queen, on her wedding day and which is also displayed in the exhibition.
Visiting the Queen to choose a headpiece was "an incredibly surreal day," she said.
The Duke of Sussex, who joined Meghan for the visit, joked in the commentary that it was "every girl's dream" to try on a tiara and the one that was picked was "the one that looked the best... without question".
"I shouldn't have really even been there, but such an incredible loan by my grandmother, it was very sweet," he said.
His commentary revealed other touching stories from their big day, including how a cold-snap had meant there were fewer flowers to pick for his wife's bouquet.
The duke also spoke on the commentary about how he picked Handel's Eternal Source Of Light Divine to be the music his wife walked down the aisle to.
He said he was looking for "something completely different" and he "ended up stumbling across this piece of music".
"Both of us, wherever we are, whatever we're doing, we can close our eyes, listen to that music and take ourselves straight back to that moment," he said.
"It's a beautiful thing for both of us."
The exhibition at Windsor Castle runs until 6 January.