Pret sandwich death: Michael Gove to meet family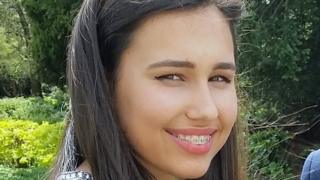 The parents of a girl who died after suffering an allergic reaction to a Pret A Manger sandwich are to meet Environment Secretary Michael Gove to discuss changing laws around allergen labelling.
Natasha Ednan-Laperouse, 15, collapsed during a flight from Heathrow to Nice on 17 July 2016 and died within hours.
Her father blamed her death on "inadequate food labelling laws".
Sandwich chain Pret earlier this month pledged to improve its labelling.
Natasha's mother Tanya and father Nadim said in a statement on Monday they "look forward" to meeting Mr Gove on Tuesday.
"We are extremely pleased by his reaction so far on this issue," they said.
Mr Gove said earlier this month he had instructed civil servants to investigate a law change, after Natasha's death highlighted the "importance of acting urgently".
The minister said the family was "absolutely right" to say the law needed to be changed, adding: "I think their case is compelling and we need to act quickly in order to ensure that we have the best possible protection in place."
Michelle Victor, a lawyer for Leigh Day, which is representing the family, said: "We hope that this meeting will lead to real change for the thousands of people who have a food allergy."
Natasha, who had a severe sesame allergy, collapsed during a flight from Heathrow to Nice on 17 July 2016 after eating an airport Pret A Manger baguette, which did not list the ingredients.
Despite her father administering two EpiPen injections, Natasha, from Fulham, London, died within hours.
Pret announced it would list all ingredients on its freshly-made products following hear death.