People's Vote protest and other mass marches - from Iraq to tuition fees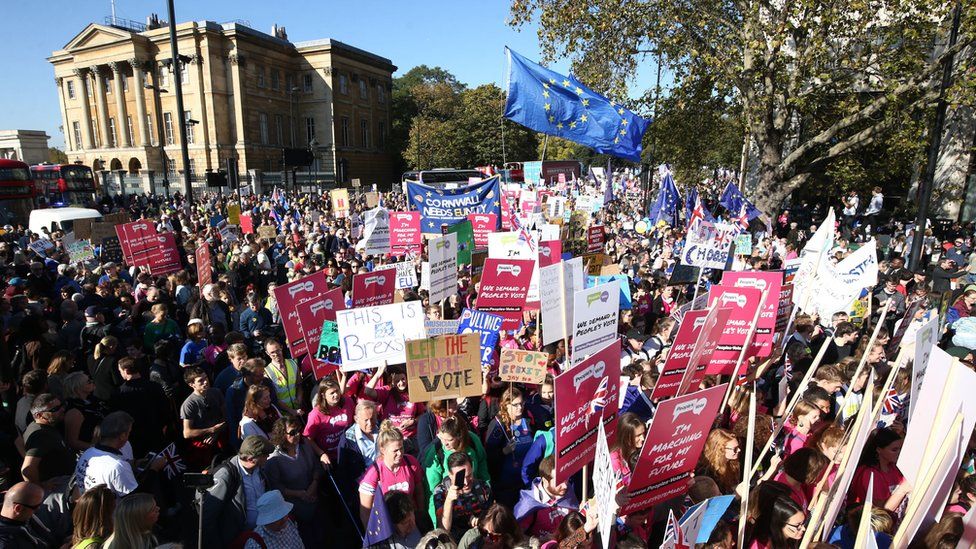 Those demonstrating hope that the scale of their protest will force politicians to listen to their demands.
But how effective is mass protest? Here are some other significant demonstrations which have taken place in the UK in recent decades.
Stop the war: 15 February, 2003
Police said it was the UK's biggest ever demonstration with at least 750,000 taking part, although organisers put the figure closer to two million.
But it wasn't enough to stop Britain's involvement in the impending war with Iraq.
Just over a month later, the then prime minister Tony Blair won House of Commons backing to send UK forces into war in Iraq.
He said: "If a million people come out on the streets in the future, then what government is going to say they are wrong now?
"When the last time the public expressed their opposition in that way, history said the people on the street were right and not the people in the government."
Labour MP Diane Abbott said Mr Blair had "destroyed his own reputation" and his government's reputation had "bled to death in the sands of Iraq".
Opposition to hunting ban: 22 September, 2002
The main focus of the protest was opposition to a ban on hunting with dogs in England and Wales.
Following months of organisation the Countryside Alliance, formed originally to oppose a ban on fox hunting, hailed the march as a huge success and it called on the government to make a "considered response".
Months of wrangling between the pro-hunting Lords and the anti-hunting Commons followed.
However, Tony Blair's Labour government went ahead and introduced the Hunting Act in 2004.
CND march: 24 October, 1983
The Campaign for Nuclear Disarmament (CND) was at the peak of its popularity and influence during the mid-1980s.
It was founded in 1958 at the height of the Cold War and began to stage annual marches attended by thousands.
CND's demonstration on the eve of Cruise missile deployment in the UK in October 1983 was one of the largest in British history.
More than 250,000 people marched through London to protest over the siting of nuclear missiles at Greenham Common in Berkshire and other UK bases.
Some observers dismissed the drive towards nuclear disarmament as naive.
But the government took seriously the influence of protesters.
Downing Street files released in 2016 show that the-then prime minister Margaret Thatcher was warned by her foreign secretary, Francis Pym, that the anti-nuclear movement could become so "widespread and powerful" that it might halt the deployment of US cruise missiles in Britain.
The core objective of UK nuclear disarmament remains, as yet, unfulfilled.
An estimated 200,000 people attended the Poll Tax rally in central London, including some seasoned protesters but also many young people.
People came from all walks of life to show their opposition to the new Community Charge - a local tax on every adult citizen which replaced domestic rates, a longstanding tax on property.
The tax was introduced by Margaret Thatcher. It came into effect in Scotland in 1989, and in England a year later.
Many saw it as unfair to poorer communities - and the rallies against it became a focal point for those who felt alienated by 11 years of Conservative government and Thatcherism.
The rally saw some of the worst rioting in the capital in more than 100 years.
It also came to symbolise, for many, the end of Thatcherism.
In November 1990, eight months after the riots and following a leadership challenge, Mrs Thatcher resigned.
Her successor, John Major, dismantled the Poll Tax, which was later replaced by Council Tax.
Student tuition fees: 10 November, 2010
Student leaders said about 50,000 people took part in a march through central London - before the protest turned violent after some demonstrators broke away.
They stormed the Conservative Party headquarters, smashed windows and got on to the roof.
A series of subsequent demonstrations also saw clashes with police.
However, the planned increase in tuition fees to up to £9,000 in England still went ahead in September 2012.
But for the Liberal Democrats and their leader, Nick Clegg, who promised to vote against raising tuition fees, there were lasting consequences.
They became particular targets for student anger, which famously resulted in a spoof video where Mr Clegg appeared to sing an apology about his party's U-turn.
The former deputy prime minister eventually lost his seat as an MP in Sheffield Hallam in 2017- the defeat was blamed by some on losing his student voters.