Royal tour: Harry and Meghan kick off their shoes on Bondi Beach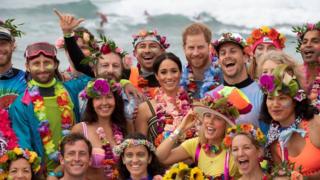 Prince Harry and Meghan kicked off their shoes and went barefoot on Bondi Beach, as they continued their tour of Australia and New Zealand.
The Duke and Duchess of Sussex met surfing community group OneWave, as they took part in "Fluro Friday".
That meant there was a lot of neon and colourful garlands to be seen at the session, which encourages the discussion of mental health issues.
The prince then climbed Sydney Harbour Bridge with Invictus Games competitors.
The couple were greeted by cheers and screams as they arrived at Bondi, the latest stop on their Australian tour, just before 08:30 local time on Friday morning.
They were met by Grant Trebilco and Sam Schumacher, founder and co-founder of OneWave - one in a floral suit, and the other in gold trousers and rainbow-coloured braces.
Prince Harry got into the spirit of the occasion by slipping a blue lei around his neck, to match his shirt of the same colour, while his wife was given a pink one.
The duchess is wearing another outfit by an Australian designer, this time choosing a striped dress by Martin Grant.
Both went barefoot to walk on the beach, where they sat in a circle on the sand to speak to members of OneWave.
'Anti-bad-vibe circle' and a group hug
By Jonny Dymond, BBC royal correspondent
On Bondi Beach this morning, an astonishing sight.
Harry and Meghan, sitting cross-legged in a circle of fluorescently dressed men and women, talking about their experiences in an 'anti-bad-vibe circle'.
At the end of it all, a group hug.
For Meghan perhaps this was business as usual. Yoga and surfing and opening up in front of (and then hugging) strangers is par for the course for an enlightened Californian.
But for the House of Windsor? For the sixth-in-line to the throne? Gosh. Wow. The times they are a-changin'.
During the beach visit, the couple received gifts including a large teddy bear, a lifeguard jacket and a bunch of carrots.
"Oh my goodness, we've got some veggies," Meghan said to Harry, who replied: "Fantastic".
The duke then moved on to his challenge at Sydney Harbour Bridge.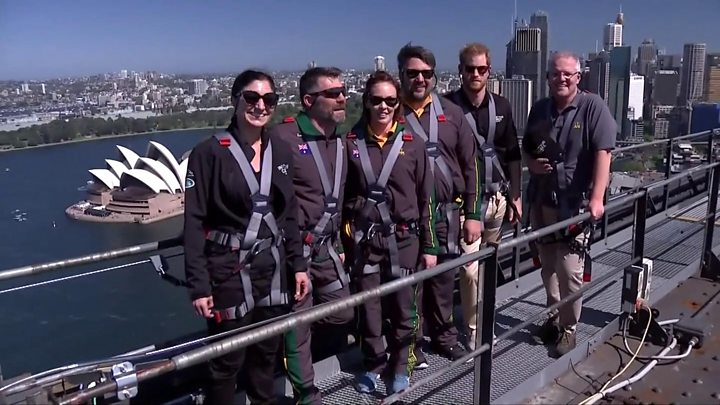 He and three Invictus Games athletes took 13 minutes to complete an ascent of the landmark. They were joined on the climb by Australian Prime Minister Scott Morrison.