Danny Dyer: EastEnders star lives like king for new history series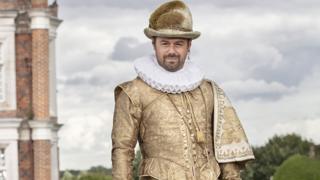 EastEnders actor Danny Dyer is going from the Queen Vic to living like a king for a new BBC history series.
After finding out he was related to royalty in Who Do You Think You Are, Dyer is to experience how his ancestors lived for the show.
That will see him eating sheep's tongue - like Viking forebear Rollo - and learning to hunt, like William the Conqueror, his 30x great-grandfather, as he explores 800 years of history.
Dyer said it was a "nutty" experience.
'I had a ball'
He had his family tree traced two years ago for the ancestry show and found out he also had links to Edward III and Thomas Cromwell.
The new two-part series, Danny Dyer's Right Royal Family, will see him eat, dress and live like his regal antecedents.
Luckily for viewers, that means we get to see him wear an Elizabeth ruff when he hosts a sugar banquet of sweet treats for his family - his living family, rather than his ancestors - who all dress up for the occasion.
Dyer, whose daughter Dani won Love Island this summer, also gets to wear 14th Century armour to fight like his 19x great-grandfather Henry Hotspur Percy - the knight who inspired a Shakespeare character of the same name.
"I'm still in shock at the fact that I'm related to such important people," he said. "I've had a ball getting to know them. It was a nutty experience."
A BBC spokeswoman said "his journey is a retelling of 800 years of British history - which is all there in his extraordinary bloodline".
Other new factual shows announced for BBC One and Two include Lucy Worsley re-enacting the wedding of Queen Victoria and Prince Albert, Brian Cox looking at the solar system in The Planets and Twinstitute, a health show using 30 pairs of identical twins to test our health theories.