We have FOMOMG - do you?
By Cherry Wilson
BBC News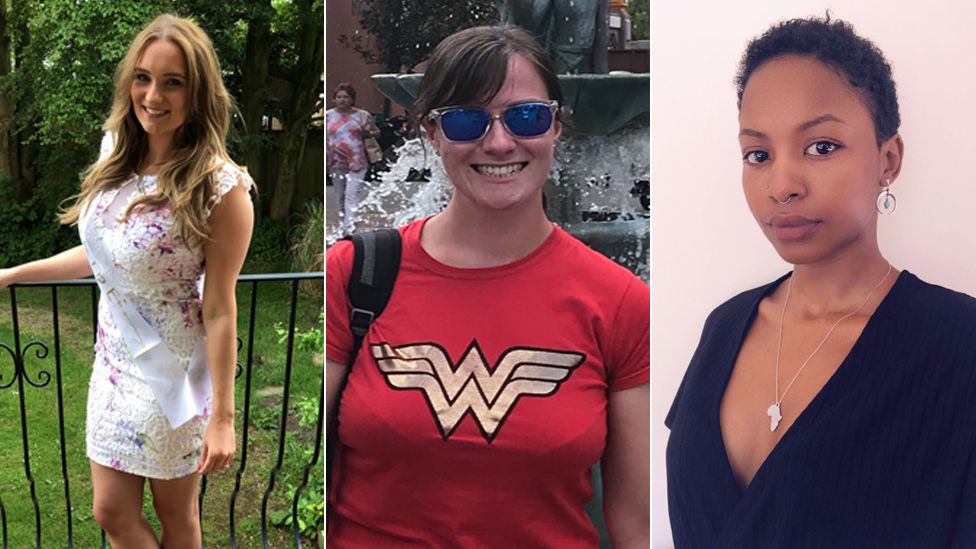 Root through that dusty box in your mum's loft and you're bound to come across that diary with the words "life goals" scrawled across the front.
You know, the important to-do list which set out what you wanted to achieve by the time you hit the big age milestones.
• Become a millionaire • Married with two kids by 28 • Own a successful business • Travel the world • Buy that four-bed house • Get a dog
But the pressure of achieving our personal targets can cause stress and anxiety for some people.
It's being called FOMOMG - the Fear Of Missing Out [on] My Goals. Model Leomie Anderson used the term in a recent column for the female-focused website LAPP.
Despite having a top modelling career, a big fanbase and her own clothing line, the 25-year-old from south London still finds she questions her achievements.
"Why do I feel like I am running out of time to achieve my goals?
"At 18 I wanted a house by 23, at 23 I wanted to have yearly earnings of nearly a million by 25. By 26 I want my mum to be able to retire.
"None of those things have happened for me, and everyday I feel anxious wondering when my big modelling contract will come or when will that big brand decide to believe in me."
It's something that Emilie Thomas, 25, from Manchester, can relate to.
She got married in July, owns a house with her husband and has a job in PR - but has still experienced FOMOMG.
"A month after I got married I was off work with stress. I got to the point I deleted my Facebook, Instagram and Twitter," she said.
"I felt so miserable about my own life, I was struggling to see what was in front of me."
Emilie says she felt like she should be happy but wasn't because she hadn't "lived up to her own expectations" - such as her goal to go travelling.
"At 25 I'm still driving the Yaris my mum bought for me and I'm doing the same role at work and I'm not progressing. I thought by this point I'd be earning more."
Fiona McAra, 29, from Oxfordshire, says she experienced FOMOMG after breaking up with her partner of seven years in 2017.
The goals she thought she would have achieved by now - like being married - haven't happened.
"I lie there awake at night thinking I'm not on track - it worries and frustrates me. I suppose for me the worry is 'Where did it all go wrong?' and that exacerbates the situation.
"I'm pretty happy but it's just the little things. In the fairytale you meet the right person and settle down and get a dog and it's not happened."
Fiona says she feels an "overwhelming desire" to fix it and it does affect her confidence.
"The worst thing for me is the internal pressure. When I feel I'm failing myself there's a frustration."
Pauline Nicholas has just graduated from uni and says social media has an impact on her FOMOMG.
The 22-year-old from Oxfordshire is hoping to be a journalist and worries about not being at the right point in her career already.
"Often for me with social media, I don't really get jealous of what people have or their body, but I get jealous seeing other people who are successful in their line of work and doing things I want to do.
"I'm in Oxford and I do plan to move to London but I know it's going to be expensive.
"I fear missing out on all the things I want to do. I feel a step behind everyone else - other people in London who've managed to get a job quickly."
Psychotherapist Hilda Burke says benchmarking where we are in our lives and comparing it to others is "nothing new".
She believes social media has played a part in the increase of FOMOMG because people now have a wider pool to benchmark themselves against.
"Before, the benchmark was maybe your classmates, your friends or relatives. Now it's gone global."
She says it can undermine people's confidence and, by comparing your life to others, it can make you feel like you "can't start something new".
"It's important to look at the whole picture and think 'I don't have it all sorted but there are key areas I'm happy with' and that's something you can build from."
'Right place, right time'
Emilie says taking a break from social media helped her because it "allows you to take a step back and consider what you've got and what you're doing".
Pauline says it's easy for people to get bogged down scrolling through Instagram and think they're a failure.
"You have to remember some people had a head start. Sometimes they're in the right place at the right time.
"Remember, everyone has their own journey and their own path."