More takeaways on high street despite anti-obesity push
By Alex Homer
BBC News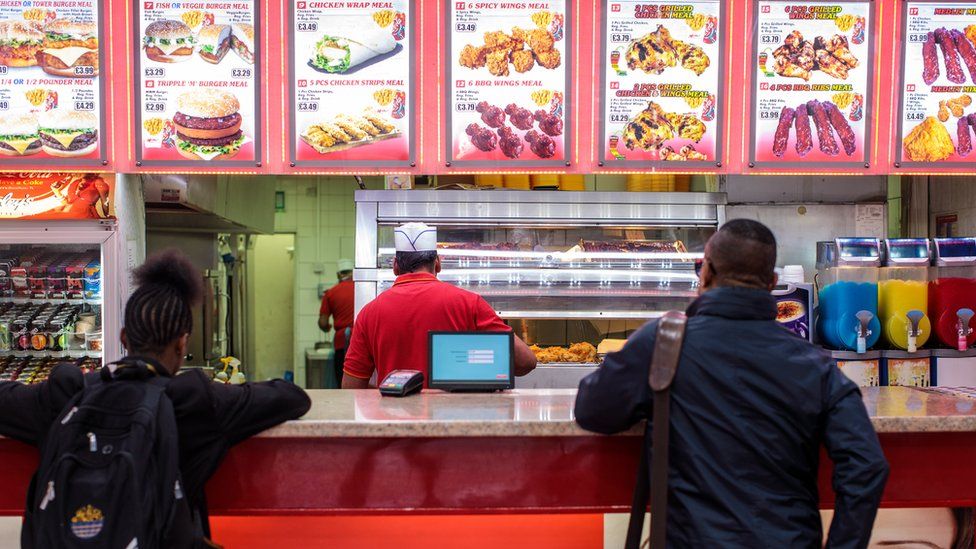 UK high streets have the highest concentration of fast food outlets in almost a decade, figures show.
Despite town halls attempting to limit their spread, in most areas the number of takeaways per 100,000 people was at its highest since 2010.
An industry group said proposals to introduce calorie labels on menus could hit independent shops.
Sorry, your browser cannot display this map
The UK has seen a 34% increase in fast food outlets from 2010 to 2018
In 2010, the average number of fast food outlets per 100,000 people was 47. It had risen to 61 by 2018
In nearly every area (204 out of 215) the rate of takeaways per 100,000 people was higher in 2018 than 2010
'I was eating a Chinese takeaway every day'
In Rotherham, South Yorkshire, nearly three quarters of people are deemed to be overweight or obese, according to figures published by Public Health England.
At the age of 16, Joseph Law weighed 30 stone after eating a daily diet of takeaway food from the town centre.
"At my heaviest I was eating a Chinese for dinner every day, and then I'd have perhaps pizza or fish and chips for tea," he said.
"I was just sucked in by the price of the cheap food. I could get a sandwich for £3 or a full Chinese for £2.50.
"There are more takeaways than corner shops in Rotherham, it's ridiculous and I definitely think they need to be banned."
Nearly 60% of all food businesses in Rotherham are fast food or takeaways, and nearby business owners say the number of outlets has been growing rapidly.
"In the last couple of years I've seen 60 to 80 pizza shops open in Rotherham," said Ismail Shahjahan, who has run a takeaway in the town for the past 16 years.
"My business was very good two or three years ago, but given that there are now so many more takeaways I've seen the number of customers coming to my takeaway fall."
Rotherham Council said any new application to open a takeaway had to be considered against its "Hot Food Takeaways" policy to limit them.
Councils have introduced various initiatives to limit the opening or location of new takeaways, such as stopping clusters of shops forming near schools
Public Health England's chief nutritionist Dr Alison Tedstone said it was working with the food and drink industry to make everyday products healthier
The Local Government Association (LGA), which represents councils, said local authorities needed "more planning powers" to help tackle the "clustering of existing takeaways already open"
Dr Thomas Burgoine, who researched the link between obesity and exposure to fast food, said the "consistency of year-on-year growth in the takeaway sector was a concern".
"It's common for takeaways to represent a third and sometimes up to half of all the high street food available - reducing consumer choice," said Dr Burgoine, from the Centre for Diet and Activity Research (CEDAR) at the University of Cambridge.
"From a public health point of view, it should be healthy choices that are the easy choices. In many places we seem to be moving away from that."
The British Takeaway Campaign (BTC), representing the sector, said outlets "wanted to play their part to tackle obesity" but small independents "needed support" rather than mandatory calorie labelling on menus, which would have a cost impact.
Takeaways want to play their part to tackle obesity, but the sector's small independent restaurants need support. That's why the BTC is calling for an online calorie calculator to help takeaways provide their customers with the information they need to make informed choices.

— British Takeaway Campaign (@GB_Takeaway) October 12, 2018
The eating out of home sector, including cafes, restaurants and pubs, provides 20-25% of an adult's energy intake, according to research published by Public Health England in March.
Unlicensed restaurants and cafes (those where alcohol is not offered) saw an even steeper rise in their numbers than fast food outlets - 88% - between 2010 and 2018.
The average number of unlicensed restaurants/cafes per 100,000 people was 26 in 2010. Last year, it had risen to 45 per 100,000 people.
The ONS said the rise was likely to have been driven by a surge in coffee shops.
Prof Jonathan Morris, a historian at the University of Hertfordshire who has studied the spread of coffee shops, said their numbers had increased five-fold since 1997, as much because they "sold space" as because they sold drinks and sometimes food.
England's Department of Health and Social Care launched a three-year programme in October, inviting councils to pitch ideas to tackle childhood obesity.
It said: "Local authorities have a range of powers to create healthier environments, including planning policies to limit the opening of additional fast food outlets close to schools and in areas of over-concentration.
"However, we know these decisions are not always easy for councils, which is why we recently announced our Trailblazer programme to support them to use their powers to best effect.
"We are also consulting on introducing calorie labelling for takeaway menus and other outlets including restaurants, to help families make more informed decisions about their food when eating out or getting a takeaway."
The Shared Data Unit makes data journalism available to news organisations across the media industry, as part of a partnership between the BBC and the News Media Association.