Voters split over post-Brexit economy, survey suggests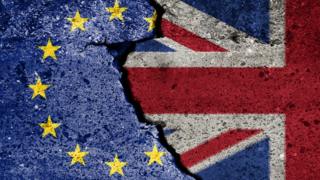 Voters are split over whether the UK leaving the EU will improve the economy, new research has suggested.
The study of 2,975 UK adults, conducted in 2017 by the National Centre for Social Research (NatCen) and the Joseph Rowntree Foundation found about a third think it will be better in 10 years.
The same proportion think the economy will be worse.
Lead researcher Sir John Curtice said people expected the UK to take a short term "hit" from Brexit.
The UK is leaving the EU on 29 March 2019.
Talks on the terms of the UK's exit are nearing a crunch point, with both sides pushing for an agreement by the middle of November at the latest.
But on Monday, government sources warned that Brexit negotiations have hit a "real problem" over the issue of the Irish border.
The survey also found a split on the future of the NHS and immigration.
It said 29% of the people surveyed think the health service will improve in 10 years, while 29% think it will be worse.
And 46% expect immigration to fall, while 45% think it will be unchanged or rise.
Asked to name three priorities for a post-Brexit UK, more than three-quarters of people called for improved public services.
The next two priorities on the list were creating jobs and reducing low pay, with reducing immigration in fourth place.
Sir John said a minority of people expected Brexit to allow the UK more control over the NHS.
But he said there was not a strong correlation between people's expectations and the Leave campaign's promise - printed on its bus - that the NHS would get an extra £350m.
Sir John said said: "People want better public services. We have found that a minority, but only a minority, think we will get more control over the health service as a result of Brexit.
"I'm not really clear that there's that much of a connection in what we have found, at least, between that promise on the battle bus and people's priorities for post-Brexit Britain."
Sir John said lower immigration was more of a priority for Leave voters than for Remain voters.
"They'd like to see it fall," he said.
"But not necessarily at the expense of what was most obviously the principal priority that people had, which was improving the state of our public services."
The Joseph Rowntree Foundation, which campaigns on poverty in Britain, said the results challenged politicians to address voters' everyday concerns.
Chief executive Campbell Robb said: "Brexit is overwhelming British politics and while we wait for negotiations to conclude, more children, workers, families and disabled people are being swept into a rising tide of poverty.
"The public expect improvements in public services, more jobs and fewer people struggling on low incomes after Brexit.
"We know leaving the EU alone will not deliver this, so we need a bold package of domestic reforms."