Is it the end of the supermarket checkout till?
By Dan Whitworth
BBC Radio 4 Money Box reporter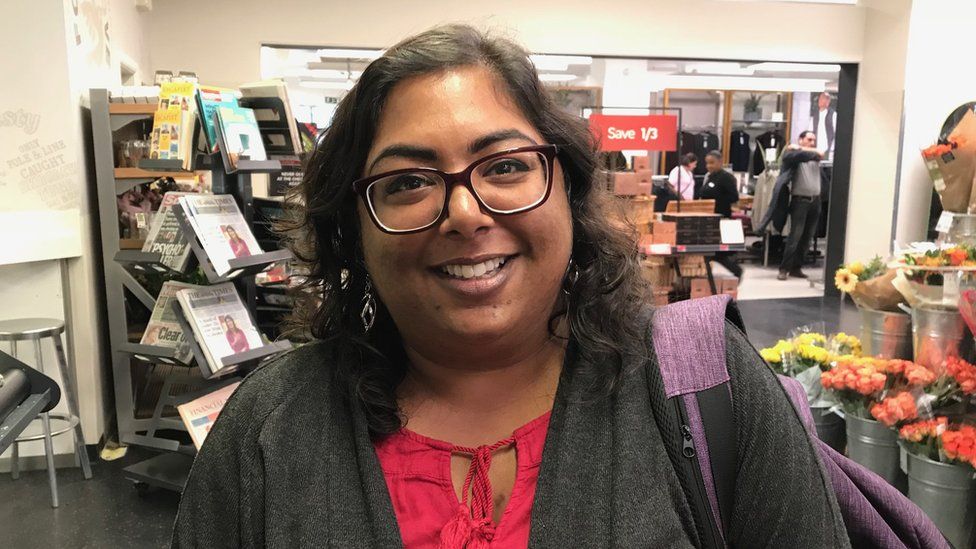 Supermarket customers may soon have to get used to a new way of paying for their shopping.
Marks & Spencer has become the latest food retailer to test an app which allows people to buy their shopping without having to use a till.
Users of the app, called Mobile, Pay, Go, scan the barcodes of what they want to buy on their phone, pay via the app and then walk straight out of the shop.
Tesco, Sainsbury's and the Co-op have all launched similar trials this year.
It is still very early days for the technology though.
M&S is currently testing the system in two stores and hoping to extend it to another four by Christmas with a larger, nationwide roll-out during 2019.
Jim Cruickshank, head of digital development at M&S, says the company introduced the app to try to help people avoid queues at lunchtime.
"In 40 seconds you could have done the whole thing and walked out."
There are limitations to the app. It can only be used to buy food. There's a limit of £30 and if you want to buy things like alcohol you still have to go to a till.
Then there's the issue of how to stop people who might want to abuse it.
"It's no different really to the self-checkout tills and our stores have a number of security measures," Mr Cruickshank says.
"Lots of our products are tagged and the alarm will sound if you walk out without purchasing them. We have security guards and our staff will be doing spot checks so normal measures really."
However, shoppers remain divided over whether it is a good idea.
Vicky Harvey says she would be happy to use the app and doesn't have any worries about data security.
"I guess it's up to M&S to decide if they've got their security sorted," she said - and as she can see on her banking app whether she has paid for something the second she has done so, "it works for me".
"I'm not so worried about data because the stuff's already on my phone. And if I haven't protected it already I'm doomed."
But Jean, who didn't want to give her surname, isn't convinced.
"I probably wouldn't use it because I do my own self-scanning and I don't like to give my bank account details out left, right and centre."
This type of technology is still in its very early stages. At the moment, it's being used in fewer than a dozen stores across the UK.
But retail analyst Natalie Berg says it could be a sign of things to come.
"This is essentially about levelling the playing field with online retail. So bricks-and-mortar retailers are now using technology to bring the physical store into the 21st century," she said.
It is not just British retailers who are looking to change the way we shop.
Amazon has launched five of its Amazon Go stores since January with claims they're even easier to use.
People can scan their mobile phone on the way in, pick up anything they want and walk out again.
There are reports it's now scouting for possible locations to launch the brand here in the UK.
Natalie Berg says Amazon's influence goes even further.
"When people think about the impact Amazon has had on the High Street it has a negative connotation; we think about boarding up shops and retailers going bankrupt.
"But it can be argued Amazon has been a force for good. They've forced retailers to invest in their stores to keep up, to keep a really compelling in-store experience."
You can hear more on BBC Radio 4's Money Box programme on Saturday at 12:00 BST or listen again here.