MPs 'informing' on immigration hotline
By Catrin Nye
Victoria Derbyshire programme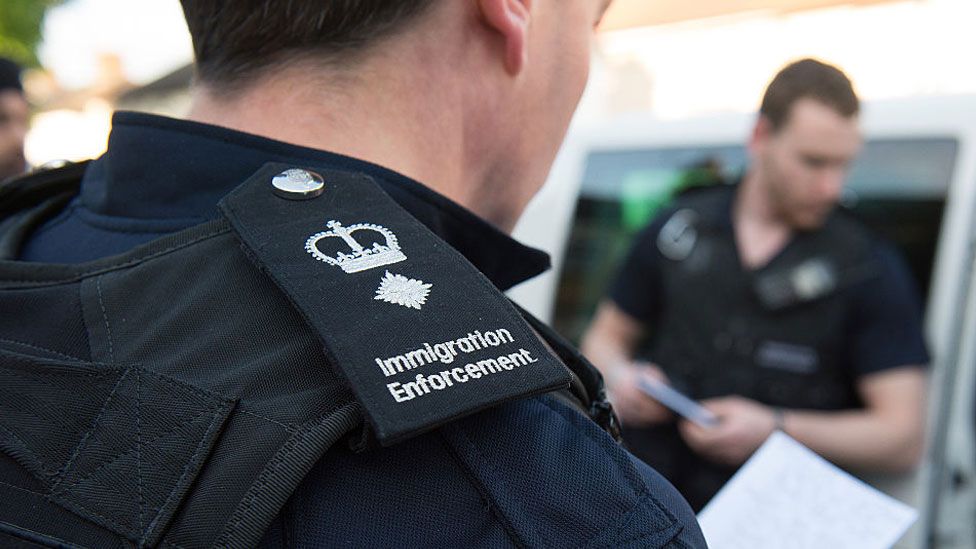 An immigration enforcement hotline was called 68 times by MPs or their staff last year, it has been revealed.
Charities have now written to Commons Speaker John Bercow asking MPs to pledge not to inform on constituents, arguing people should not have to fear being reported on by their MPs.
The pledge has been signed by 107 MPs, however, Heidi Allen is the only Tory.
A number of Tory MPs said they "would be expected by most constituents to report any suspected illegal activity".
Some Labour MPs also declined to sign, without making their reasons public.
Of the 68 calls by MPs to the hotline, 34 were from Conservatives, 32 from Labour, one DUP and one Lib Dem.
The immigration hotline statistics were revealed in written questions by Labour MP David Lammy.
Mr Lammy's questions also revealed that between 30 September 2012 and 25 May 2018, MPs reported immigration abuse to the Home Office 723 times.
The group of charities that wrote the letter - shown to the BBC's Victoria Derbyshire programme - to the House of Commons Speaker, John Bercow, said they would tell people not to seek advice from MPs who did not sign.
It asks him to raise the issue in the House of Commons "at the earliest opportunity and request that party whips instruct their MPs to immediately cease the practice".
"MPs have a responsibility to advocate for all their constituents, regardless of immigration status," the letter reads.
"Many migrants are now fearful of contacting their MP, effectively excluding them from democratic representation."
Lib Dem MP Tim Farron, who is also supporting the campaign, told the Victoria Derbyshire programme: "It astonishes me that any MP would think that the best way to respond to a vulnerable constituent is to shop them to the Home Office.
"Many of those immigrants who may be here illegally will be victims of administrative error, dodgy solicitors or even human trafficking."
Akram Salhab, who coordinated the campaign for the groups Migrants Organise and Global Justice Now, said that many MPs refusing to sign were confused about their duties.
"Some have said that they will not report people for immigration enforcement but may do if they have committed a crime.
"But these are separate issues - if someone has committed a serious crime, they should be reported to the police not the Home Office," he said.
Mr Salhab said he feared those reported would be caught up in the "Home Office's unjust broken system", citing the Windrush scandal, in which migrants from Commonwealth countries were wrongly categorised as illegal immigrants.
Plaid Cymru MP Hywel Williams, who recently raised the case of Bangor engineering student Shiromini Satkunarajah, one of his constituents, in the House of Commons - helping to stop her imminent deportation to Sri Lanka, said: "I don't think that MPs should be reporting cases to the authorities.
"This would break the trust between MPs and their constituents.
"It would also discourage other vulnerable people from seeking help."
A number of Conservative MPs who declined to sign the pledge, including Alberto Costa and Craig Whittaker, said in a statement that while "sometimes devastating" mistakes had been made by the Home Office, lessons were being learned.
"Like any member of the public, an MP may decide to contact the Home Office to report suspected immigration offences just as he or she would be expected by most constituents to report any suspected illegal activity, not least because that is an obligation we all have."
Additional reporting by Leo Sands.
Watch the BBC's Victoria Derbyshire programme on weekdays between 09:00 and 11:00 BST on BBC Two and the BBC News channel in the UK and on iPlayer afterwards.